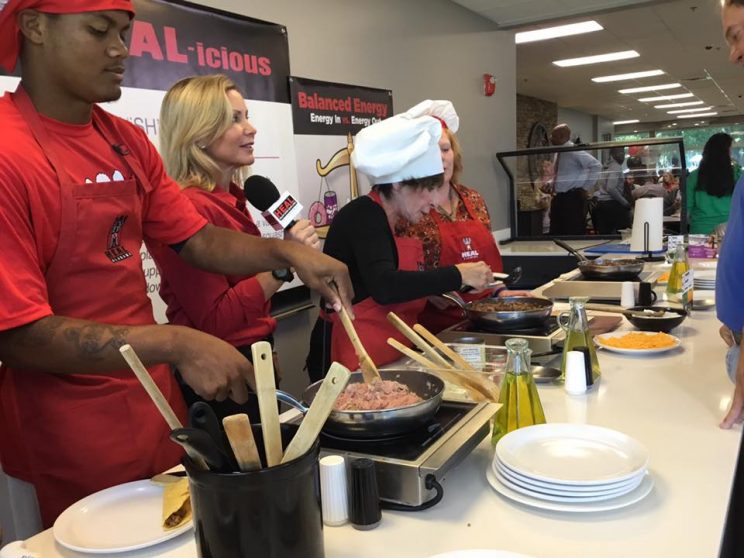 More than a dozen Faulkner University students and faculty are working toward their HEAL Alabama certification to help Faulkner's campus become the healthiest it can be.
Faulkner's partnership with nonprofit Healthy Eating Active Living Alabama kicked off last semester as a way to help college students, faculty, staff and the River Region community benefit from an active lifestyle and healthy diet.
Marquis Gray is one of the students seeking HEAL certification. He plays on the Men's Basketball team and  is majoring in interdisciplinary studies.
Gray hopes to use his HEAL certification to help people reach their fitness goals.
"We all want to be happy and healthy mentally and physically. It's sad that some people can't get that help," said Gray. "When I heard about HEAL Foundation, I immediately wanted to be a part of it. The fact that I could help people physically, mentally and most importantly spiritually – I thought 'this is it'."
Donna Clemons, chair of exercise science and kinesiology, is working with HEAL Alabama founder Christy Swaid to develop what HEAL will look like on Faulkner's campus in the fall semester.
"HEAL certified students and faculty will be certified in Personal Training or Group Fitness. The university can look forward to a variety of fun and engaging exercise classes for all fitness levels in the fall," Clemons said.
"Through HEAL clubs, certified leaders will encourage their peers to get the full-circle perspective of what it means to be healthy in mind, body, and soul. Our goal is to be relevant so education actually translates into real-life behaviors."
University counselors Roxy Wishum and Michelle Bond are two of the faculty members seeking certification.
"I am convinced that in order to 'live life abundantly' as Jesus promised we must feed and nourish our body properly," Wishum said. "I would very much like to see each of our students embrace the journey toward lifetime fitness."
"I would love the Counseling Center to be involved as much as possible because it aligns with our mission of helping students become balanced in mind, body and spirit," Bond said.
"I think this will provide a space for developing new relationships and encourage students, faculty, staff and eventually the community to engage in a healthier lifestyle."