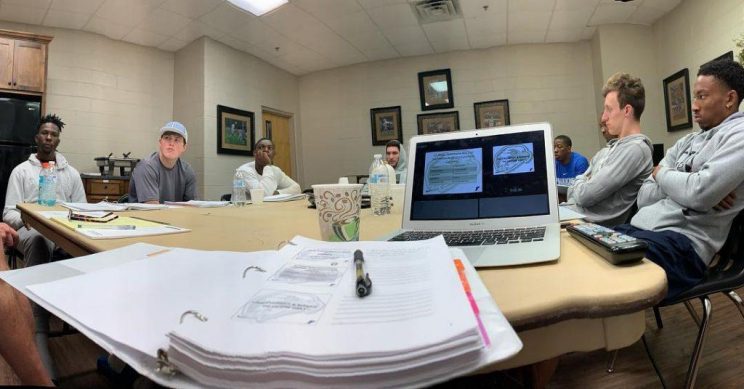 Faulkner Men's Basketball Coach Scott Sanderson is building a culture of leadership within his Eagles Basketball team and it's all starting with his players.
This semester, Sanderson invited friend and leadership coach, Brent Krause, the general manager at Wynlakes Golf and Country Club, to speak to his returning players on how to take ownership of their team and their season next fall.
"Problems arise on a team and they have to work through it," Sanderson said. "When you have an internal leader that everyone trusts, there's one voice in the locker room, not six or seven and that leadership is the difference-maker on and off the floor. They'll be able to hold each other to a higher standard."
"We didn't have an internal leader this year and you recognized throughout the season. Our guys came out hot and lost some games we shouldn't have lost and we never recovered. The year we won our championship, we didn't have the most skilled team, but we had one guy who refused to let our team lose and it was his will that pulled us through," Sanderson said. 
The players met early Thursday morning for about four weeks through March and April. Each day, Krause related his lessons directly to the team, using the game of basketball and examples from the team's last season. Krause attended many of the games and so he understood the dynamics of the team.
He saw, as Sanderson saw, how a coach is important to a team, but to be truly united, a team needs to look up to and respect one of their peers who will rally them on and off the court and encourage them to work hard and never give up, he said. It's a way to boost morale when they find themselves behind in a game or to work harder after a loss.
MORE NEWS: Eagle Leadership Circle
It is clear Sanderson is passionate about his team and wants to coach them into the best men and players they can be. In doing so, he wants to give them tools they can use not only as student athletes, but as career men, fathers and husbands after they graduate.
"Trust is the solid foundation of what our team has and I want to build on that," Sanderson said. "One of the most important things that I want them to know is that I care about them and who them become while there are here in this program."
Sanderson invited Krause to talk with his team, because he cares about their growth; their growth as athletes and their growth as mature men. With the vast number of distractions pulling young people in different directions, Sanderson said it can be difficult for his team to grow into the men they want to be. That's why he was so excited to allow Krause to help them hone their goals and focus.
"The amount of work you put into last season doesn't match the results of last season," Krause told the players. "You have to set the thermostat. You have to take control. How you act going into a game is how you will play. You'll be taking ownership of the new guys next fall."
"You guys have a great nucleus for next year, you have a lot of experience. The new guys will be looking up to you. How you walk in the room, come into practice, go into the game, and leave the court all matters. You need to play with your head on fire. Set the energy level for the rest of the team."