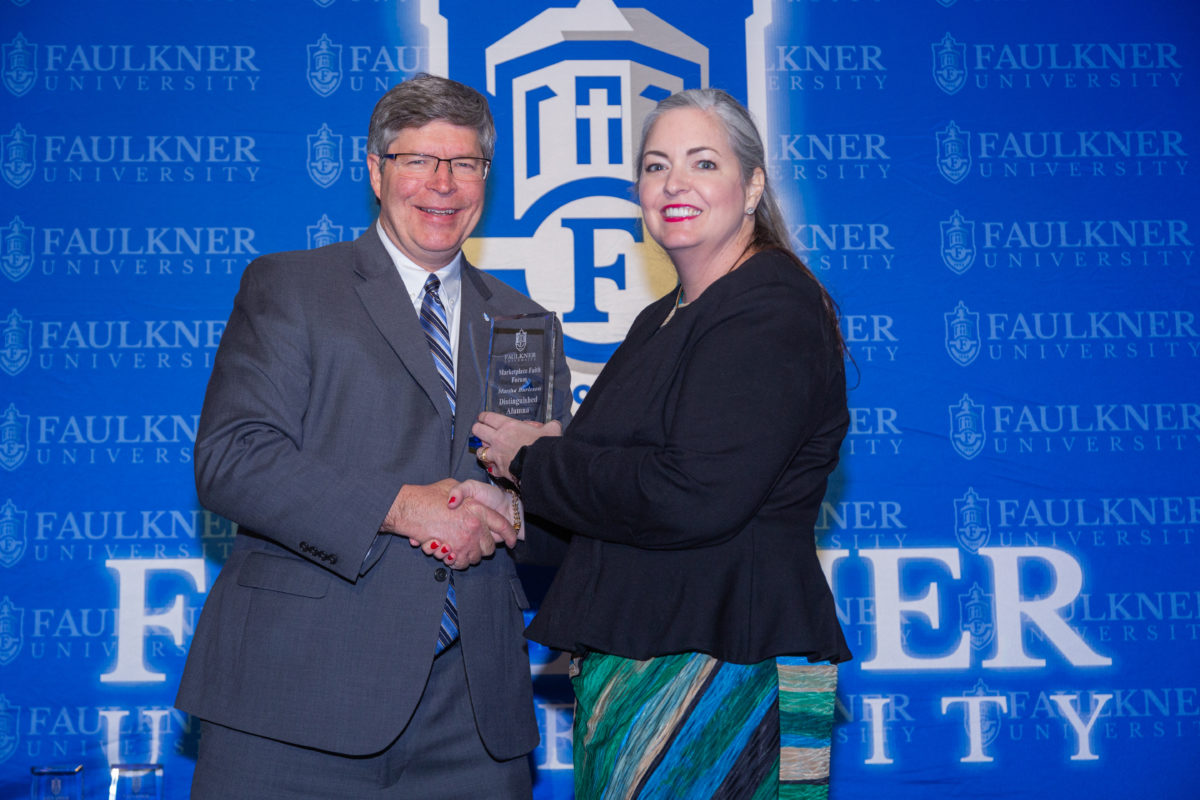 Faulkner alumna and Board of Trustees member Martha Burleson serves as the vice president of the multi-million dollar company, YC Holdings, Inc. and came to speak to students at the 2023 Marketplace Faith Friday Forums about her faith and professional successes.
She was also honored as the Distinguished Alumna for the Harris College of Business at the Alumni Honors Luncheon.
YC Holdings, Inc. manages approximately 14,000 acres of land and $113 Million in assets.  YC Holdings, Inc. sold its largest asset, Patten Seed Company trade named Super-Sod, in September 2020.
Burleson, a fifth-generation member of the Patten Seed Company family, previously served as senior vice president, board of directors member and president and sales manager for the Caroline Division of Patten Seed Company. Before her arrival at Patten Seed Company in 2012, Burleson served as the General Manager for Brown Golf Management, managing two golf clubs in Bluffton, South Carolina. She also worked on Brown Golf Management's Due Diligence team during their expansion process.
She holds a Master's in Business Administration from Clemson University and a Bachelor of Science in Business Administration from Faulkner University. At Faulkner, Burleson learned more than just business in the classroom. She learned principles that would stay with her for the rest of her life.
"Faulkner University cares. Faulkner University's teachers enrich your life with lessons on how to succeed in your business, how to strengthen your marriage, how to treat others, and how to work with others," Burleson said. "Blending faith with management practices makes you a better person and a better manager. Faulkner taught me those principles, and I hope and pray that I always emulated those characteristics for the teams that I managed."
"The skills taught in the classroom are ones I still use every day at work and home. On any given day, I could be building a spreadsheet, deciding on an investment opportunity, making an important management decision, or forecasting the need or desire for a product. Every class mattered!" she added. "Faulkner University built a solid foundation for life and for business. The business and Bible classes both prepared me for work and life. I wouldn't be the person I am today without the foundation built at Faulkner University."
Burleson's primary responsibility as vice president of YC Holdings, Inc. is to manage the day-to-day operations, investments, and leases for YC Holdings, Inc. She is a member of the Faulkner University Board of Trustees, executive member of the Orangeburg Preparatory School Board of Directors, and a member and Events Chair of the Orangeburg Calhoun Technical College Foundation Board. She is also a board member of the Orangeburg Chamber of Commerce. She and her husband, Matt, reside in her hometown of Orangeburg, South Carolina with their two children, Emma Grace and Winston. Burelson attends the Orangeburg Church of Christ where her husband serves as a deacon, and she teaches Sunday school.