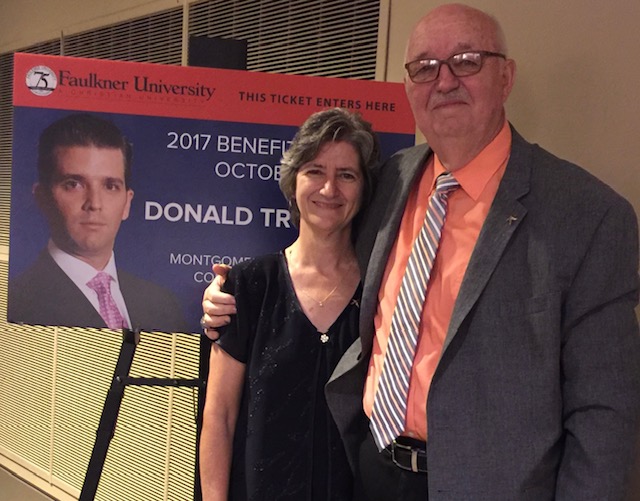 Sometimes blessings bloom out of sorrow and sometimes new love is found when it is least expected.
If you had told that to Martha Grubb three years ago when she lost her husband Mitch Grubb, she may not have believed such was possible. Now, though, as she looks back on the journey the Lord laid out for her life, she can see the hope that came from her sadness and the generosity that God laid on her heart to give to Faulkner University.
Martha met Mitch when she returned home to Montgomery on a holiday from Harding University. She graduated from Alabama Christian Academy (ACA) and left for Searcy, Arkansas, to study for a year and a half. During this time Mitch began teaching at ACA and became good friends with Martha's parents. 
Martha's family has been connected to ACA since 1956 when her oldest sister was enrolled in the first grade there. Her parents, Dan and Mary Myers, became avid supporters of Christian education and though not a wealthy family, found money to help the school pay its bills.
Her parents are the ones who introduced Martha to Mitch during her holiday visit and they fell in love. They married and thus began their decades-long support of Christian education.
They moved from Montgomery and worked at Jefferson Christian Academy in Birmingham for 16 years, then at Arlington Christian School in Fairborn, Georgia for 12 years before returning to ACA in 2013. Mitch retired in 2016 after teaching and coaching for a total of 39 years.
Martha is currently in her 35th year of teaching and her 9th year at ACA teaching Algebra and Pre-Algebra.
When Mitch died, he left Martha a large life insurance policy and she knew she wanted to support Christian education with the gift Mitch left behind. She gave the entire policy to Faulkner University.
"Faulkner, just like ACA and the whole system when it was known as ACC, has always been dear to my heart," Martha said. "My parents were strong believers in Christian education so after Mitch passed away, I wanted to do something to help Faulkner."
"Mitch and I really believed in Christian education because we could see the results," Martha added. "I know Faulkner turns out some really good preachers and people of character and I want to see that continue because I believe that has a profound effect on the Lord's kingdom."
In addition to working alongside several Faulkner graduates at ACA, Martha's two daughters attended Faulkner as well as one of her grandchildren. Her other two grandchildren are attending ACA.
Her story is not only a tale of generosity to support the mission of Faulkner, it's one of new-found love.
Martha, who is a member of the University Church of Christ, met Ronald Honaker there, who lost his wife to cancer three months after Mitch died. As they began to navigate their grief over their loved ones, Martha and Ronald became good friends. Their friendship soon blossomed into a mutual love and affection for one another and they were married on November 20, 2021.
Just as Martha was led to donate her husband's life insurance policy to higher education, you may find yourself in a similar situation.
By transferring a life insurance policy to Faulkner University you receive a tax benefit and it is as easy as contacting your insurance company and requesting a change of beneficiary form. Once signed by both parties and returned, the transfer is complete. To learn more about donating a life insurance policy or any number of giving opportunities along with free resources and information, please visit faulknerheritage.org or call Faulkner's Advancement Office at 334-386-7257.