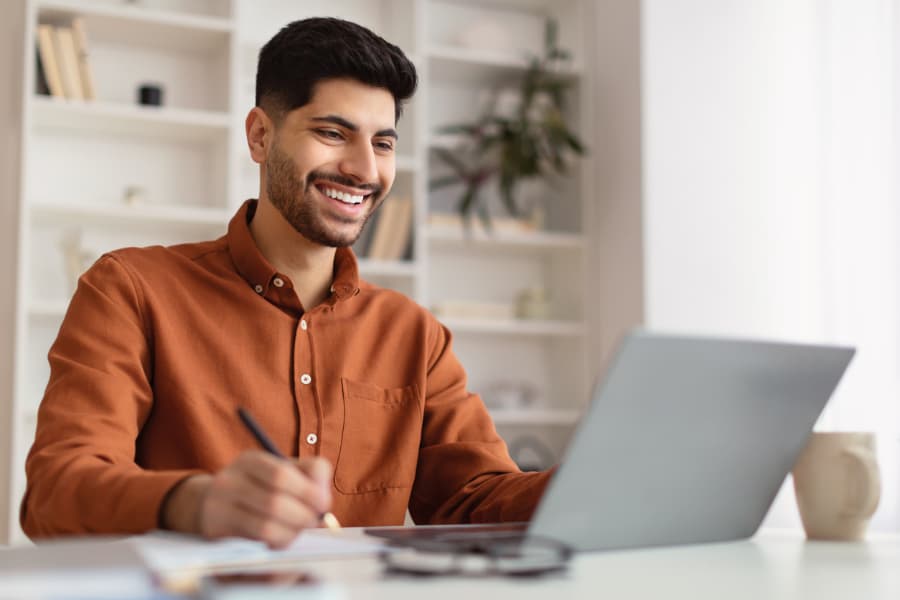 If you are looking for ways to earn more income or get ahead in the job market, getting your Master of Business Administration (MBA) degree can be an excellent choice. Completing this degree can lead to better opportunities, bigger salaries, and more security for yourself and your family. For example, the average starting salary for a new hire with an MBA can be up to 40% more than that of other candidates. Plus, recruiters often put those with an MBA at the front of the line for job placements. An MBA can also help you advance in your current career by giving you a chance to step up the corporate ladder and take on exciting new projects within your company.
If you want to get your MBA, there are a few options. Traditional MBA programs require you to make a full-time two-year commitment to studying in person on campus. For many, this can make getting an MBA almost impossible. You may need to continue working and earning income, or you may not want to spend two years studying full-time. Fortunately, online MBA programs offer an alternative path to earning the degree by giving you the same quality education and advancement opportunities without the demands of an in-person program.
Faulkner University, based in Montgomery, Alabama, offers an online MBA program. Here, we go over the benefits of earning an MBA degree online.
Save Time
Traditional in-person MBA programs require a two-year commitment, at minimum. It can take much longer if you take classes part-time or take semesters off between courses. Alternatively, the best online MBA programs allow you to finish your degree in as little as a year. Faulkner University's online MBA program allows you to take one class at a time and complete your degree in just a year, meaning you will be able to start reaping the benefits of your new degree much sooner.
Save Money
Traditional MBAs can cost up to $100,000. To finance the degree, you may need to take out costly loans, which means facing repayment for several years. Online MBA programs typically cost a fraction of that amount, making them a more affordable investment in your future. You can finance your degree through personal loans, scholarships, or by following a payment schedule provided by the university.
Continue to Work While You Study
Most people cannot stop working for a few years while earning an advanced degree. They must continue working to pay the bills, keep a roof over their head, and provide for their family. Thanks to the flexibility of an online program, you can continue to work while you earn your degree. That makes getting your MBA a lot more feasible. It also means you can immediately start applying what you learn in your MBA classes to the real-world working environment.
Study from Anywhere
Online degree programs use the latest technology and methods to deliver course materials, which allows you to interact with course material anywhere you have an internet connection. That means you can study at the coffee shop before work, at the kitchen table after dinner, or in bed before you fall asleep. You can even sit down and do your homework while your kids work on theirs.
Maintain a Work-Life Balance
Whether you have a family, work commitments, or are involved in community projects, an online MBA program gives you the flexibility to stay involved with those essential aspects of your life while also earning your degree. The MBA program at Faulkner University allows you to study one course at a time, giving you a chance to balance your time between your studies, work, and family.
Build a Diverse Contact Network
People from around the world attend online MBA degree programs. Instead of sitting in a classroom with people from your hometown, you'll interact with a diverse network of individuals worldwide. The diversity of the online classroom allows you to create a robust network of business contacts while also discovering new opportunities in the business world you might not have considered previously.
Earn Your MBA Online with Faulkner University
If you're ready to unlock future career opportunities without a full-time, two-year commitment, now is the time to enroll in an online MBA program. An online MBA degree program can help save you time and money while giving you the flexibility to study from anywhere you have an internet connection. You'll be able to connect with classmates and professors in a state-of-the-art online environment, giving you the same quality education that you would get from a traditional in-person program.
Faulkner University offers an online executive MBA program that you can complete in just a year. Classes start every five weeks, so begin the admissions process now or talk to one of our advisors to learn more about this unique online MBA program.