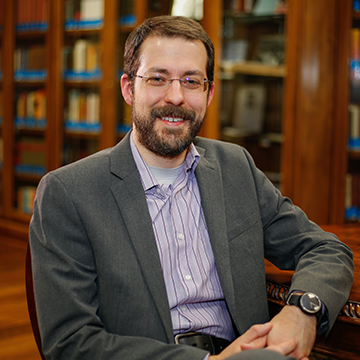 Faulkner University's professor of Biblical Studies, David Stark, PhD, was just named the newest Senior Research Fellow at the Kirby Laing Center (KLC) for Public Theology in Cambridge, England.
Kirby Laing Center is a member of the Cambridge Theological Federation, an association of theological colleges, courses and houses based in Cambridge and founded in 1972. KLC is committed to pursuing Christ through contributions in Christian scholarship across the disciplines while also making their work available at an accessible level, according to their website.
Stark currently serves as a professor of Biblical Studies, and as the Winnie and Cecil May Jr. Biblical Research Fellow at Faulkner's Kearley Graduate School of Theology.
Senior Research Fellows are designated individuals who conduct independent research necessary to the intellectual pursuits of a department or research center. Stark has regularly contributed to KLC's seminar discussions beginning in 2014 and has distinguished himself through his work and his research and will be a valued asset to KLC.
"The center has an agreement with Zondervan Academic to publish up to one volume a year in a series on biblical studies. The first few volumes are in the pipeline, and I'm participating in discussions about how best to frame those that will follow. The center has also expressed a desire to use for their own PhD program some of the online resources I've developed for our PhD students," Stark said.
"I hope my involvement will help raise the profile of Faulkner University's graduate theology programs and will open additional opportunities for fostering the research of the University's students and faculty," he added.
He teaches in Faulkner's fully online, face-to-face, and ATS-accredited MA, ThM, and PhD in Biblical Studies. Stark specializes in Pauline studies and biblical theology. Stark also runs an educational website, jdavidstark.com, where he helps emerging biblical scholars hone their craft so that they can invest in work and relationships that really matter.
Stark is an alumnus of Faulkner University (Bachelors, 2005; Masters, 2007). He holds a PhD in Interdisciplinary Studies, with an emphasis in Hermeneutics, from Southeastern Seminary (2011) and has substantial experience with different institutions as an online faculty member. Stark has a monograph in Bloomsbury T&T Clark's Jewish and Christian Text series, edited by James Charlesworth, under the title Sacred Texts and Paradigmatic Revolutions: The Hermeneutical Worlds of the Qumran Sectarian Manuscripts and the Letter to the Romans (2013) and has contributed to several academic journals. He also has a contract with Lexington, a division of Rowman & Littlefield, for a monograph on 1 Corinthians 15:29.
About Faulkner
Faulkner University is a private, Christian liberal arts university based in Montgomery, Alabama. With a mission to provide an education anchored not only by intellect but also character and service, the Faulkner experience aims to educate the whole person. Serving both traditional and non-traditional students, the university is home to six colleges: the Alabama Christian College of Arts and Sciences, the Harris College of Business and Executive Education, the V.P. Black College of Biblical Studies, the College of Education, Faulkner Law and the College of Health Sciences. In addition to its main campus in Montgomery, Faulkner operates extension campuses in Birmingham, Huntsville and Mobile along with online degree programs.