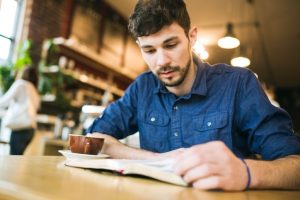 Biblical Studies is an excellent way for students to further their understanding of the Bible and the teachings within. However, what differentiates Biblical Studies from other areas of study is that students will not only gain a deeper understanding of the Bible's historical and religious content but also of their own faith.
Students who are interested in learning about the Bible, their religion and their faith should consider pursuing one of the many Biblical Studies programs that we offer here at Faulkner University.
What do biblical studies consist of?
At Faulkner University, we offer courses in a variety of different fields of Biblical study. These fields include the following:
Biblical studies programs at Faulkner University
The following are some of the programs that we offer at Faulkner University and what you will study over the course of each program:
BA in Biblical Studies – Students who want to complete a Bachelor of Arts in Biblical Studies will have several degree tracks to choose from. These include the Biblical text track, the Biblical language track, the missions track, the ministry track and the youth and family ministry track. Each track requires different coursework. For example, students on the biblical languages track will learn to read Hebrew, Aramaic and Greek so that they can study the Bible in its original languages.
Master of Arts (Biblical Studies) – Students who want to continue their Biblical Studies can pursue a Master of Arts. This program will prepare students for effective service in the church or for further training in biblical studies. Seven core courses are required for students with an undergraduate Biblical Studies degree, nine core courses for those without. Some of these courses include Old Testament Theology, Biblical Interpretation and Studies in Biblical Backgrounds. Five electives are required as well.
Biblical Studies Ph.D. – Our Doctor of Philosophy in Biblical Studies program provides students with the biblical foundation needed to pursue careers in teaching and ministry. Students will be required to take two foundational courses (Biblical Scholarship and Christian Ministry and Advanced Studies in Biblical Hermeneutics), six core classes and six electives. Completion of the program requires a written dissertation.
Enrolling in a Bible Studies program will provide you with a strong foundation of knowledge concerning all aspects of the Bible. For more information about our Biblical Studies programs and how you can enroll, contact us at Faulkner University today.