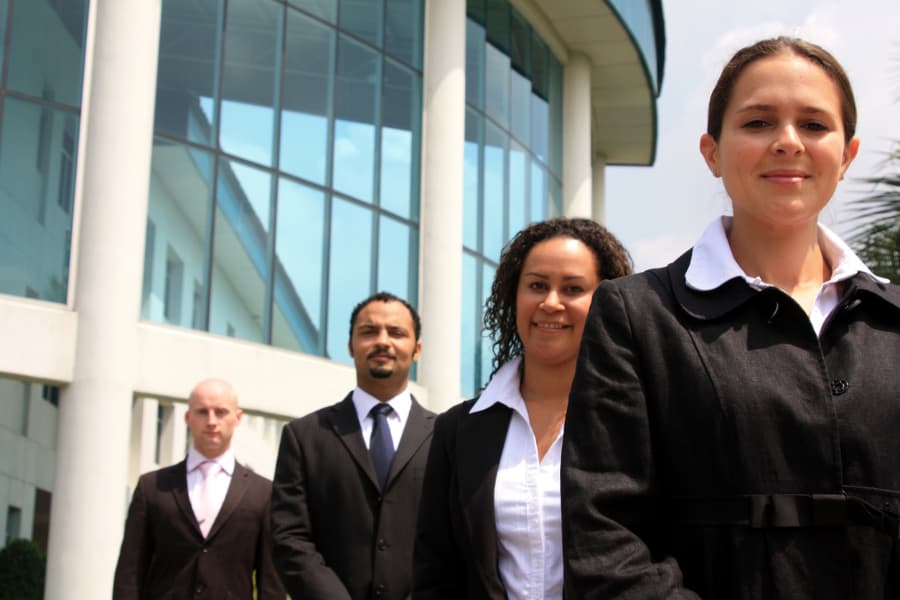 Many of today's highest-paying business jobs require more than just a bachelor's degree. They often require a Master of Business Administration (MBA) or another specialized degree to establish expertise in the field, commitment to long-term projects, and a strong mix of technical and soft skills. Pursuing an MBA is an emerging trend among high-earning professionals and professionals who want to streamline their professional development or get on a more profitable career track. But is there an advantage to pursuing an executive MBA over other master's degrees? Faulkner University is a Christian college based in Montgomery, Alabama. We offer an online executive MBA program along with other academic programs.
Here, we explore what an executive MBA (EMBA) is and what career paths it can open, the cost of the degree, and the short- and long-term career benefits of EMBA programs.
What Is an Executive MBA?
Executive MBA programs are designed for working professionals with an established work history and career. In contrast, conventional MBA programs are often designed for professionals who are early in their careers or continuing students who just graduated with a bachelor's degree. Because of this shift in focus, EMBA programs focus on the needs of professionals who already have management and leadership experience. This allows students to home in on advanced business, leadership, and operational concepts. In today's world, experienced business leaders can find themselves held back by the lack of a master's degree despite years of exceptional work. Additional aspects of EMBAs include:
More flexibility for working professionals with busy schedules
Shorter completion schedules
Advanced concepts
More flexibility regarding credits for certain areas of work experience
Older classmates, as the average age of EMBA students is 38 years old, and most have multiple years of managerial experience
What Kind of Jobs Require an Executive MBA?
While all MBAs can prepare professionals for managerial and leadership roles, executive MBAs are often more tailored for upper-level management roles. EMBAs or conventional MBAs are often required for accounting, finance, marketing, and HR leadership roles. Many leadership roles within your current organization may require an MBA, even for internal hires, so getting an EMBA can provide an advantage over external applicants with MBAs or internal applicants without the degree.
Like many other business degrees, EMBAs allow students to specialize within key areas most vital to their career paths, such as healthcare management, supplemental HR certifications, and more. Pursuing these specialized degrees tells prospective employers that you have the credentials and expertise to manage business-critical roles.
How Much Does It Cost to Get an Executive MBA?
Executive MBAs can fall within a wide price range depending on the university and the length of time it takes to complete the program. You might expect to pay between $25,000 and $60,000 for your EMBA, though extremely competitive programs can stretch into the six figures. As you browse for potential universities, look for options that provide transparent pricing per semester or per semester hour, additional course fees, and other potential costs.
Another way to measure the cost of an EMBA is the return on investment you'll see throughout your career. Based on salary research, EMBA graduates earn $175,000 on average. Because an EMBA can open so many doors, the resulting increase in salary can help you recoup the cost of the degree quickly.
Immediate Benefits of an EMBA
Executive MBAs offer a substantial advantage throughout your entire career, but they also provide immediate benefits that can help you stay motivated. These advantages include:
Access to Internal Promotions
If your organization requires higher degrees for leadership roles, getting your EMBA can immediately remove a barrier to your career growth.
Stand Out from the Competition
If you're searching for a new position, an executive MBA can catch the eye of recruiters and hiring managers who are looking for a long-term hire in a leadership role.
Speed of the Program
The time commitment of a conventional MBA can make many professionals hesitate. But executive MBA programs are streamlined and can even be 100% online so you can quickly complete your coursework on your own terms.
Long-Term Benefits of an EMBA
Executive MBAs become even more appealing when you consider the benefits over your entire career. These benefits include:
Higher Lifetime Earning Potential
Professionals with MBAs can out-earn professionals with an undergraduate degree by over $2 million over their lifetime.
Access New Career Tracks
Having an MBA allows you to apply for more leadership roles and promotions throughout your career.
Networking
Universities and professional networking groups often have exclusive resources for participants in MBA programs or who have MBAs. This allows you to grow connections with other ambitious professionals inside and outside of your industry.
Earn Your Executive MBA From Faulkner University
Once you're committed to obtaining an executive MBA, choose a program that's just as committed to your success as you are. At Faulkner University, we offer an online executive MBA program that's built to meet your needs and increase your knowledge. With our concise, 10-course program, you can have your complete EMBA in as little as one year. Get started with our online application and see how easily your EMBA coursework can fit into your schedule.