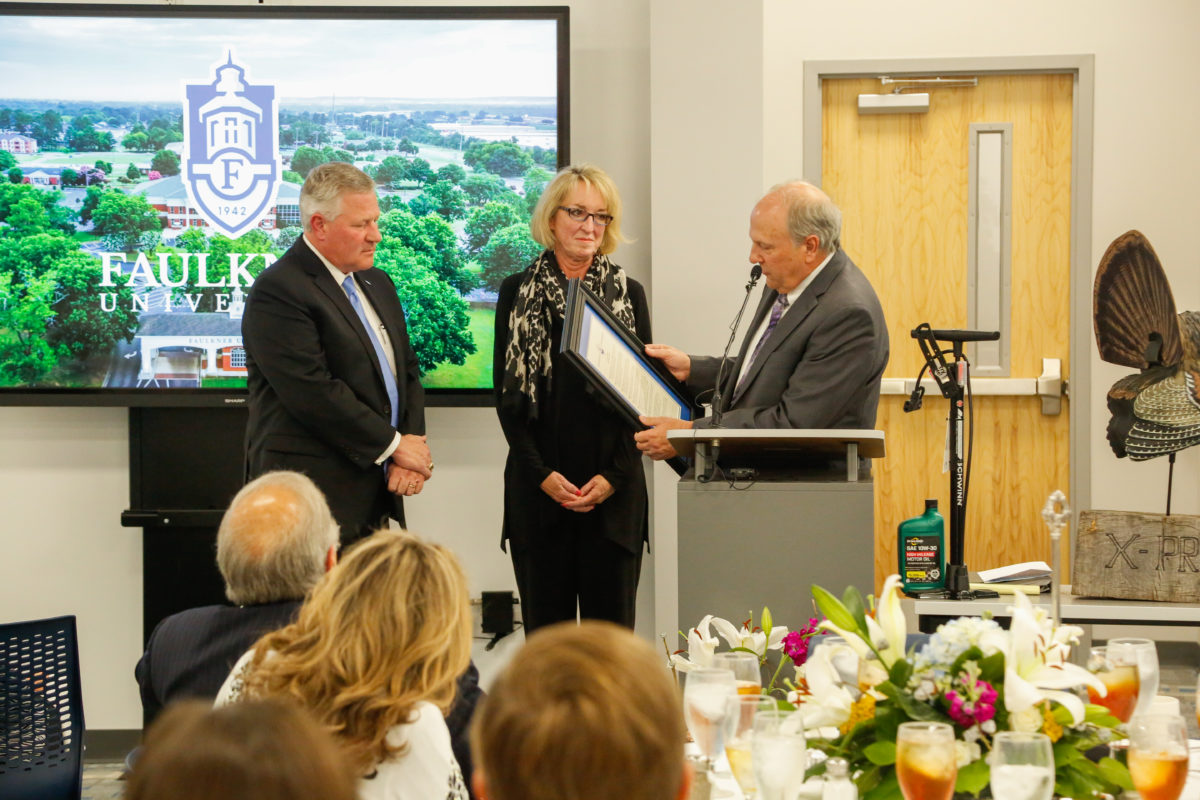 As members of Faulkner University's Board of Trustees gathered on April 7, 2022 to bid Mike and Lisa Williams a warm farewell, their parting gesture was a resolution to name the Autism Center in Faulkner University's Center for Therapy and Research, the Mike and Lisa Williams Center for Autism, A place of Help and Hope.
Chairman of the Board Dale Kirkland said Mike Williams' challenging and hopeful vision to create an autism center in Montgomery, was the "crowning jewel" of his endeavors as president. The mission of the center will be to prepare Christian professionals to boldly address the escalating tide of autism in the nation.
"Richard Howe, the project manager with Marshall Design-Build LLC, told me that as he sat in his truck looking at the work that still needed to be done, he saw a car pull up to the Speech-Language Pathology Clinic. A woman came out to open the door for a man using a walker and they made their way to the clinic door. Then another car pulled up and someone got out to help a child with cerebral palsy. He was brought to tears," Williams said. "When he told me that story, I realized this place is a center for help and hope. They go to Faulkner University where they are provided with exceptional service and care, but more importantly they see Jesus Christ in the lives of the people here. To be a part of the effort is beyond words, so we thank you for your blessing of allowing our names to be a part of the autism center, but please know the blessings go to the Holy One who takes those small fishes and loaves and multiplies them beyond our wildest imagination. Thank you for your vision and support for this opportunity. Thank you for seven wonderful years."
The evening, which included a dinner and expressions of gratitude and humor, brought together board members, deans, friends and family to honor Mike and Lisa Williams as they recognized their accomplishments as President and First Lady of Faulkner.
"Mike and Lisa it has been an honor and a privilege to work with you these years and I think I speak for everyone here tonight when I say how much you are loved and how much you'll be missed," Kirkland said. "We wish you the best as you return home and start a new chapter in your life."
Williams will relinquish his role as Faulkner's president on May 6 as he begins his new role as Harding University's president in June.
Carl Barranco was one of the first people in Montgomery who Williams was introduced to when he came in 2015 to serve as Faulkner's president. Williams shared with him his extensive plans for the community and Barranco was eager to help.
"Mike had a mission and that was to enhance the value of Faulkner University, to the Montgomery community and to the business community, to become a part of the business community and to help put this part of the campus on the map," Barranco said. "And let me tell you, he did his job and he put Faulkner on the map with his visibility. It was already there through the great efforts of Billy Hilyer and everyone who has had a hand in the university, and Mike steered the ship one more time and brought it to an era of visibility like a shining star. It was like a gem in the City of Montgomery that has gone on too long without its due recognition. For that Mike, for what you've done, this city is eternally grateful."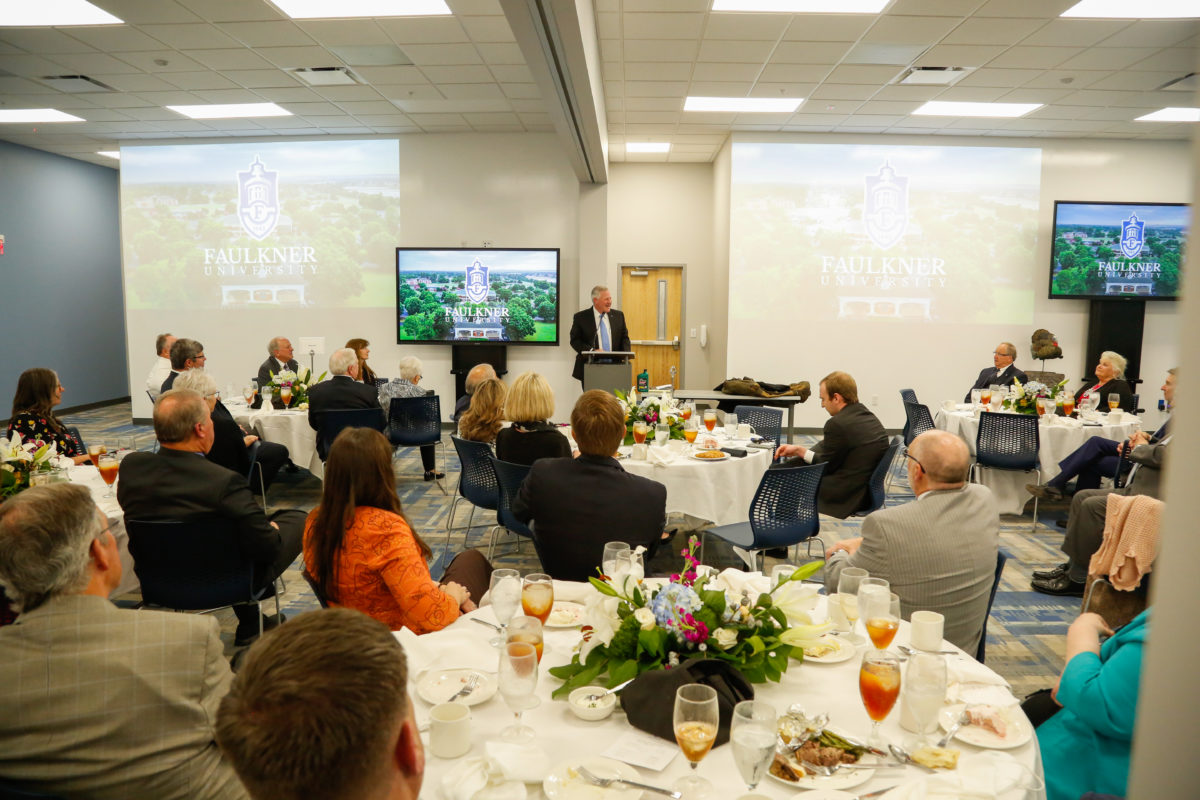 During his tenure at Faulkner, Williams not only elevated Faulkner's visibility, he did so by finding meaningful ways Faulkner could be a direct part of the community to help, to support and to serve the needs there. One of those opportunities was establishing a relationship with Montgomery Public School's Davis Elementary to mentor and encourage students. Each year, Faulkner students, athletes, band members, faculty and staff greet students on their first day of school, invite them to campus for football games and fall harvest games and provide education classes and mentorship opportunities.
In addition, Williams oversaw the establishment of two Alabama First Pre-K classrooms that offer tuition-free classes to four-year-olds as a part of an initiative by Governor Kay Ivey and the Alabama Department of Early Childhood Education.
Another relationship was created with HEAL, or Healthy Eating Active Living, a nonprofit organization that emphasizes preventive health measures, healthy eating and lots of exercise. Faulkner's department of exercise science and kinesiology teamed with HEAL to create opportunities for students to engage the community and curb the drastic percentage of children and adults suffering from obesity and diabetes.
Williams also supported the expansion of the university's academic offerings including the Doctorate of Philosophy in Biblical Studies available through a distance learning format, the Executive JD program which law students can take significant amount of coursework online in addition to weekend classes and the establishment of the College of Health Sciences, which includes speech-language pathology, physicians assistant, physical therapy and occupational therapy. 
Most recently, Williams, in honor of Faulkner alumnus and Lads to Leaders founder, Dr. Jack Zorn, announced the university would be awarding full tuition scholarships to traditional undergraduate Bible majors beginning with those enrolling in the fall 2022 semester.
Williams was also instrumental in offering first responders all over the country tuition discounts. Whether they serve in law enforcement, a fire department, EMS personnel or retired from full-time service, Faulkner offers them tuition reduction to show the university's support of our nation's protectors.
Additionally, Williams dramatically improved the appearance and impact of the Montgomery campus by creating a striking new front entrance for the university and expanded the university's physical footprint by acquiring land directly adjacent to the Montgomery campus. The purchase added 151,000 square feet of store front property and 13 acres of land, which is now the home of the College of Health Sciences and the Mike and Lisa Williams Center for Autism.
Kirkland presented the resolution to Mike and Lisa Williams who joined him at the podium. Together, they thanked him and the board for their love and support.
"This has been an incredible journey and a great adventure. It has been one of the biggest blessings in our life," Lisa Williams said. "You have extended love and grace to us the entire time we've been here and your support has not only been pivotal to this university but has made this work an honor to do.  Your commitment to the Lord's work through a Christian university is paramount and it ripples across through each generation that is still yet to come. It has life-saving implications for eternity … It's not only changing the lives of students and staff and faculty but it's changing the administration as well and you've provided an incredible place for us to live and work and serve the Lord every day. Because of you we will always be eagles."