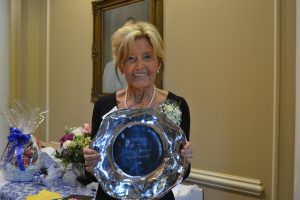 Andre Carter poked his head into the small quarters of Dr. Ed Hicks' office at Faulkner University. He was smiling after just finishing the drive from Tuskegee University, where he is currently a Master's candidate after completing his undergrad at Faulkner.
"I want to make sure I talk with you and thank you before I go," he told Hicks.
Both Dr. Ed Hicks, a history and political science professor and his wife, Dr. Dixie Hicks, a history lecturer, get that a lot – surprise visits, letters or emails from former students who have graduated and have come back years later to thank the Hicks for their tough love and tutelage during their undergraduate years.
They are seeing it more often now after they announced their joint retirement following decades of educating students at Faulkner University.
"Those notes and visits make all the difference," Ed Hicks said. "We're encouraged by those who come back, who write us and thank us for something we have taught them or encouraged them along the way. Sometimes we really need that."
"Graduate students thank us for preparing them to successful attain their Master's."
The Hicks have been helping prepare students for nearly 30 years since coming to Faulkner. They officially retired on May 9.
In 1991, Ed Hicks decided to leave a lucrative job in Tennessee to help a floundering Faulkner University get back on its feet. He considered it their mission. Instead of traveling across the seas to a foreign mission field, he believed God was providing an opportunity for education to be their mission field.
Years later, he knows that was the right call.
"We've seen such tremendous growth at Faulkner since coming here," Ed Hicks said. "The constant flow of really good students who come to us have made us really proud that we had something to do with their progress."
"I think the situation of Faulkner in the Montgomery community has changed drastically since we've been here. There was a period where the school struggled financially and there were months we didn't get paid."
He didn't get paid during some of the first months he began working at Faulkner, Ed Hicks said. At the time he commuted home to Tennessee on the weekends where his wife, Dixie Hicks and their two sons were still living.
Dixie Hicks said she couldn't believe it when he told her. One of their sons was about to head to college and not getting paid for a month of teaching was not what she wanted to hear. Despite her initial shock, Dixie finished her doctorate degree from the University of Memphis a followed Ed Hicks to teach at Faulkner a year later.
"We have enjoyed working here in the Christian environment with these students," Dixie Hicks said. "It has certainly been rewarding. Just the atmosphere here is so different from out in the world. We had taught at secular schools and there was no comparison. We loved it here."
It was five years before Faulkner, under the leadership of then President Billy Hilyer, started to stabilize and given the chance to flourish.  During their time here, the Hicks were mainly responsible for invigorating the history and political science department, teaching every class offered in the catalog at one time or another and added several classes on the subjects of civil rights, women's history, state and local government, African history, writing and research just to name a few as well as lead the first groups of the Study Abroad program.
"We were not convinced it was going to flourish like it has," Ed Hicks said. "But we did know that this particular idea of a Christian college was important and we wanted to see what we could do to help accomplish that mission. God had put us here for a reason."
The Hicks are retiring primarily to allow Dixie Hicks to fully recover from her recent back surgery. They are also planning a decades-long dream trip to Alaska to visit family.
Ed Hicks received his bachelor's degree in history from Claremont McKenna College in 1968, a master's degree in political science from Claremont Graduate University in 1971, and a Ph.D. in history from the University of Memphis in 1990.  He has taught history for more than 45 years.
Hicks specialized in teaching courses in European history, political science, historiography, church history, and research and writing in history as well starting the Study Abroad program in 2005. The Biblical emphasis to the tours began in 2009 with visits to Biblical sites in Italy, Greece, Turkey and Israel. At first, the Hicks took students to the United Kingdom and then it shifted to Italy.
"We felt touring Biblical sites was so important that the administration made the study abroad program mandatory for Bible Majors.  There are always exceptions to that mandate, but we have tried to raise funds to help as many Bible majors as possible to make the trip," Ed Hicks said. "We called the trip for these students, "Seeing is Believing." We are very happy that Dr. Terry Edwards is taking over the study abroad program for us because he will retain the Biblical emphasis."
Dixie Hicks received her bachelor's degree in history from California State University at Fullerton in 1970, a master's degree in history from the University of Memphis in 1990 and a Ph.D. in history from the same school in 1992.  She has taught history at the college level for more than 30 years.
Her areas of specialization include modern America, African- American history and the Civil Rights Movement, in which she teaches upper-level courses.  She also taught cultural anthropology, archaeological fieldwork and survey courses in U.S. history.