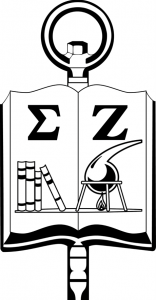 Twenty six students were inducted into Faulkner University's charter chapter of the Sigma Zeta National Science & Mathematics Honor Society during a ceremony at 5 p.m. on October 11.
The induction ceremony, located in Lester Chapel featured the National President of Sigma Zeta, Dr. Charles Hall.
"We are thrilled to announce the beginning of this new chapter of the Sigma Zeta National Science and Mathematics Honor Society on campus for our students," said Dr. Uduak Afangideh, Chair of the Department of Natural and Physical Sciences. "Creating this chapter is the fulfillment of three to four years of prayer and a lot of work."
"The collaboration between our students and student members of the Association nationally will forge a connection that will improve their academic experience here at Faulkner and will give them an edge when they seek to apply to post-graduate and professional schools."
The students a part of the new chapter will also have an opportunity to attend conferences, present results of their independent undergraduate research projects and compete with other high achieving students that will also enhance their undergraduate
The 26 students inducted hail from the departments of mathematics, computer science and natural and physical sciences. They have completed at least 25 semester hours including 15 hours in natural sciences, computer science or math and have at least a 3.00 or higher GPA in science and math and a 3.00 or higher GPA overall.
Sigma Zeta is a national undergraduate honor society to encourage and foster scholarly activity and recognize academic scholarship in the natural and computer sciences and mathematics
Sigma Zeta was founded at Shurtleff College in Alton, Illinois, in the autumn of 1925 through the efforts of three members of the science staff. These three men, who may be justly regarded as the founders of the society, are Elmer E. List, professor of biology and geology; J. Ellis Powell, mathematics; and Ralph K. Carleton, chemistry. All were young men, just out of graduate school and imbued with the ideals of sound scholarship.
Inductees:
James Reynolds
Hannahlee Harris
Alayna Poston
Taylor Jones
Deidra Justus
Kayla Key
Cody Parmer
Jon Sargent
Aisha Anderson
Saul Soto
Thomas Gentle
Caitlin Perry
William Hester
Margaret Tipton
Zillin Chin
David Gregor
Leo Dunkelburger
Spencer Jones
Rachel Mims
Ashleigh Presley
Javan Rampersad
Johnathan Sabir
Alison Simonton
Madeleine Nekola
Zachery Tomlin
Lydia Hicks