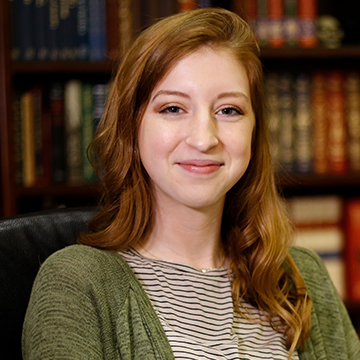 Growing up in an Air Force family, Abigail Collins is no stranger to moving from one big city to another every two or four years so living in a bustling metropolis was normal. 
Moving to Montgomery, Ala. to attend Faulkner University, came as a shock. No skyscrapers or subway systems and a quick trip to Walmart for school supplies and groceries turned into a social visit with complete strangers, she said. She had never been so far south, let alone by herself, but the way she was warmly welcomed was a sweet surprise.
"People would come up and talk with me, especially on campus. I can walk from my dorms to the Fine Arts Center and have conversations with a dozen people," Collins said. "They are so interested and open and friendly and genuinely want to find out more about me. It's been really nice."
Once she arrives at the Fine Arts Center, the senior music education major is either there for a Great Books Honors class, a music class, or a rehearsal for chorus or Faulkner Singers. She has nurtured a love for music since she was young, and it is that gift that first drew her to Faulkner. 
Collins was looking at several different colleges during her senior year of high school. During her visit to Faulkner, she was brought into the Tine Davis Gymnasium for daily Chapel and was stunned at the singing she heard coming from the bleachers.
"Faulkner was actually my last stop, but when I walked into Chapel and heard the singing, I felt so connected to the whole body of Christian, it was really a special moment for me," Collins said. "Music speaks to me. I knew from their singing that they were seeking Him. That's the way it's supposed to be. I could get an education anywhere, but I wanted to a place I knew I could grow as a Christian and Faulkner was that place."
Ever since Collins was a young girl, music has opened her eyes to a different way of viewing the world. She wrote short scripts for musicals for her and her friends to perform and later began singing in musical theater in high school.
Once she enrolled at Faulkner, she continued to nurture that passion and took music classes with Art Williams, Chair of the Fine Arts Department. She knew then she wanted to share her love for music with children and is currently pursuing a degree in elementary music education.
Music is a way to see God's creative beauty in the world, she said.
She's been able to articulate that thought through her Great Books courses, which expose her to the most significant ideas of Western Civilization. Students take that training and apply it to modern, sometimes controversial topics in order to better understand the world through a Christ-center lens, Collins said.
"The classes are formatted to connect us with each other, dig deeper into conversations and the 'whys' of how things work together. I've gained a deeper appreciation and understanding for music and how it impacts people differently. I have learned that music is one way to appreciate the world," said Collins.
Her goal after graduation is to pursue her master's degree, become certified to teach and move back to Washington D.C. although she said that could change depending on what God has in store for her.
"God has a sense of humor and I'm open and flexible to whatever he has in store for me, because I know what he has planned is much better than I can ever hope for," Collins said. "He brought me to Faulkner and surrounded me with friends and fellow Christians and mentors who made me a better person and a better Christian. That's priceless."
Collins is a member of Alpha Chi Honors Society, the Faulkner Singers, Faulkner University Chorus, Great Books, the Faulkner Chapter of the National Association for Music Education (NAfME) and the Faulkner Chapter of the National Society of Leadership and Success. She is also a member of Delta Xi Omega social club and participates in the Dalraida Church of Christ college ministry. She is currently working on her Great Books Honors thesis on the topic, the Vices and Virtues of Music Majors.