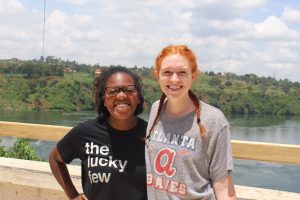 Students Emily Ann Linder and Tashara "Jazzy" Harrison, interned during the 2017 fall semester with non-profit organization, Heal Ministries, in Jinja, Uganda. Heal Ministries is a nonprofit organization that offers Bible study, classes in sustainable farming, and vocational training to women who have been widowed, abandoned, or who are looking for ways to support themselves without giving their children up for adoption. Childcare is provided so the women can work and attend classes.
When Harrison and Linder arrived in September, they were assigned to work in the child care center for the first week. They also worked with KidsClub, where all children are welcome to come play games, have a snack and hear about Jesus. They also get a chance to wash their hands.
"You wouldn't think getting to wash your hands is a big deal," said Harrison. "For some of these children, KidsClub is the only time they can wash their hands all day."
Next, they worked with the women in the program. Harrison often worked in the sewing room. She said as she worked alongside the women she learned humility, patience and to have an open mind to those who look or act differently.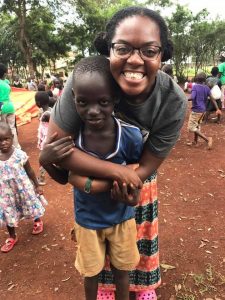 "They don't always understand you and you don't always understand them, but we were invited into their culture. I learned to respect their way of life even if it's different from mine," Harrison said
Linder was learning about making pottery when she met Betty. Betty speaks English, so they talked as they worked and soon became friends. Betty invited Linder to her home, where she and five of her daughters live in one room.
"Betty was overjoyed to have me," Linder said. "I had told Betty the Ugandan dishes I liked most and she whipped it all up over some hot stones outside in what she called her 'African stove'."
Linder compared Betty to the poor widow in Mark 12 who gave everything she had.
"She shared a huge plate of food with her friend who happened to walk by while we were eating. That is the way Betty lives; generously. She's a giver of joy, grace, hugs, really wonderful food, and love that only comes from being filled with Jesus."
"My time at HEAL taught me to love harder, to be more intentional, more present, and to always validate the people around me," Linder said.
"Jesus lifted people to a high place of worthiness; He gives us the title of worthy because of His perfect sacrifice. We should do the same, and always remind others of the beauty and greatness that is within them."