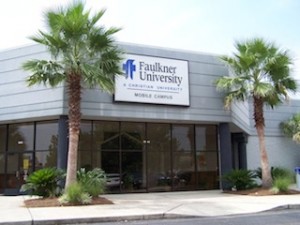 The Harrison, Eubanks and May families have a love for Faulkner University that spans across generations.
Their recent and generous multi-million dollar donation to Faulkner University is a testament of their devotion to the university and their desire to see their alma mater flourish.
Situated in the Mobile, Alabama area, Lamar Harrison and his family have leased the land and the building which Faulkner University at Mobile occupies, for more than 20 years.
Now, Lamar Harrison and his family have generously donated the entire property to Faulkner University. It is one of the largest donations the university has received in its history.
"Words cannot express the depth of our gratitude toward the Harrison and Eubanks families for their generous donation of the Mobile Campus property," said Faulkner University Mobile Campus Director, Diane Newell. "This donation will provide many more years of service to the Mobile and neighboring communities for Christian higher education."
Mike Eubanks, Harrison's son-in-law, said it was always his family's intention to one day give the property to the school.
"With how things are going at Faulkner, things are exciting, there is a strong spiritual emphasis and it was a really good time to give Faulkner University ownership of the Mobile campus."
Several members of the Harrison, Eubanks and May families have attended and graduated from Faulkner University and because of that, they have been strong long-time supporters of the school and its mission.
Harrison has also served on Faulkner University's Board of Directors for many years.
"Faulkner University is important to our family and what it means to each and every student," Eubanks said. "It prepares each student to go out into the world with an education of the whole person.
"Our prayer for the school is for Faulkner to do well and grow and reach more lives."