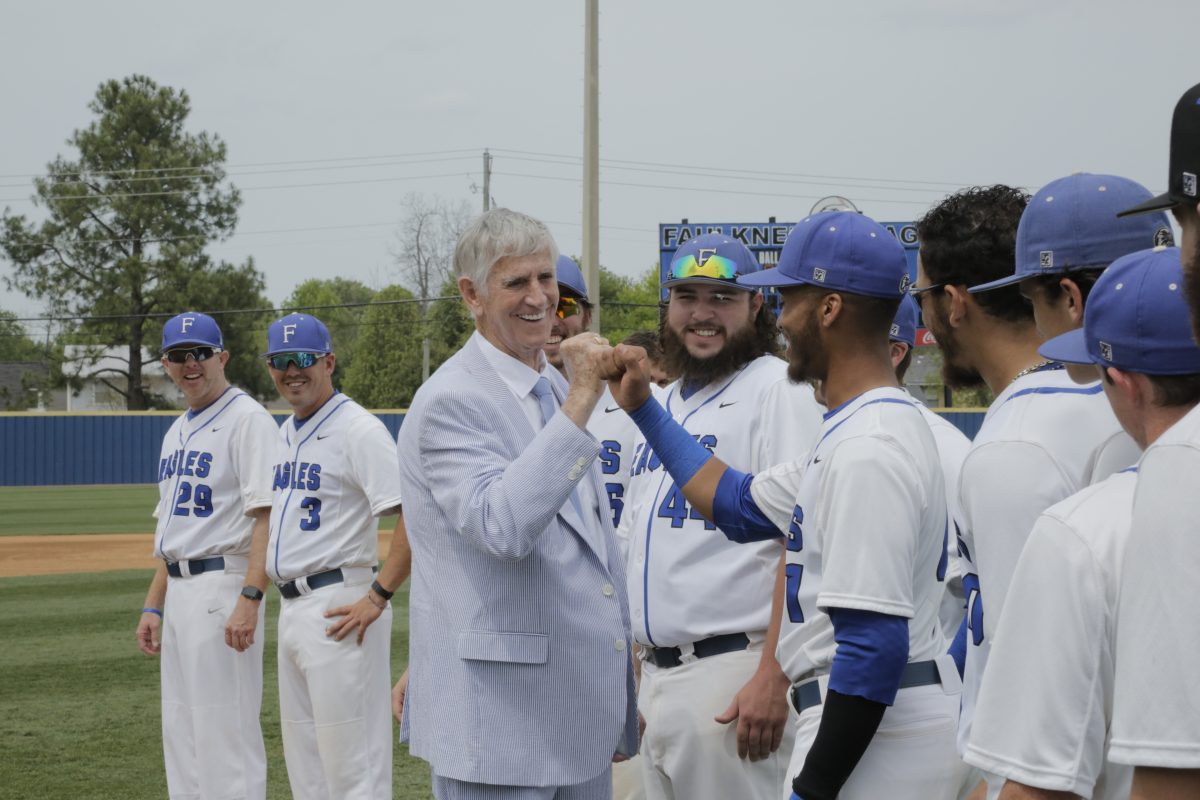 Dr. Lamar Allen Harrison is a household name at Faulkner University. Whether you've enjoyed a Faulkner Eagles Baseball game at the Lamar Harrison Baseball Field or visited the Faulkner Mobile campus property donated by the Harrison family, you've seen the evidence of Harrison's ardent support of Faulkner and its mission. 
Harrison, who passed away on June 17, 2021, will live on at Faulkner for his generosity toward the school's mission and support of its students.
He believed in supporting all areas of the university which is evident from The Freeman- Harrison Student Multiplex and the Harrison Apartments, a four building complex, which all bear his name. Harrison is also responsible for the physical facilities of Faulkner's Huntsville campus.
"Mr. Harrison believed in Faulkner's mission and knew if they had a strong athletic department, they would have a strong school," said Mike Eubanks, Harrison's son-in-law. "He loved the school and wanted the best for Faulkner."
Harrison believed in supporting Christian higher education in order to give aspiring young men and women the opportunity to follow their dreams. Harrison was never afforded the opportunity of a higher education and instead overcame many obstacles to become a successful businessman.
His support began after meeting and befriending Dr. James Faulkner, a fellow businessman and longtime supporter, trustee and chairman of Faulkner University. Faulkner University was named in Dr. Faulkner's honor in 1985 from Alabama Christian Academy.
Since Harrison was only able to finish the 9th grade, he made sure his two daughters, Lisha Harrison May and Tanya Harrison Eubanks received a Christian education at Faulkner.
Harrison was born on February 21, 1935 and grew up in Andalusia, Alabama. He dropped out of school in order to help his parents and worked full-time from a young age to make ends meet. His first job was driving the school bus for children older than he was.
When he turned 19, he hitchhiked to Mobile, Alabama with less than $20 in his pockets and sold coffee and vacuum cleaners. He eventually began working at an international paper company, served in the Alabama National Guard and later started his own business in Wilmer, Alabama. There he built and ran a hardware store, gas station, drive-in restaurant and skating rink all in the same area of town.
When his children were still young in 1972, he and his wife Marceil founded and operated Dirt Inc. Shortly thereafter, they started to invest in real estate and later went on to found and become the original owners of Gulf Hauling & Construction.
"He was the smartest man I've ever known," Eubanks said. "He could look at an undesirable property and turn it into a very desirable shopping center. He started many different businesses, but also started and supported many different ministries as well."
Along with his support of Faulkner, Lamar Harrison was also influential in the growth of Mobile Christian School and helped build their football and baseball fields. He also supported Team Focus, a ministry to help fatherless boy have mentors who guide them into becoming Christian gentlemen and productive adults and founded Gulf Coast Bible Camp, a nonprofit summer camp and retreat facility that is affiliated with the Churches of Christ and located outside of Lucedale, Mississippi.
Harrison was a long-time member of the Azalea City Church of Christ in Semmes, Alabama as well as a long-time Faulkner University Board of Trustees member and Trustee Emeritus.
In honor of his dedication to Faulkner University over the years, Harrison was conferred an honorary Doctorate of Humane Letters on December 17, 2005 for being "a devoted supporter of Christian education."
Harrison is survived by his brother; Larry Harrison, his two daughters, two grandsons: Jeffrey Harrison May and Michael Scott Eubanks Jr., two granddaughters, Ashley May Barnes and Kristin Eubanks Hatcher, six great-granddaughters and three great-grandsons.