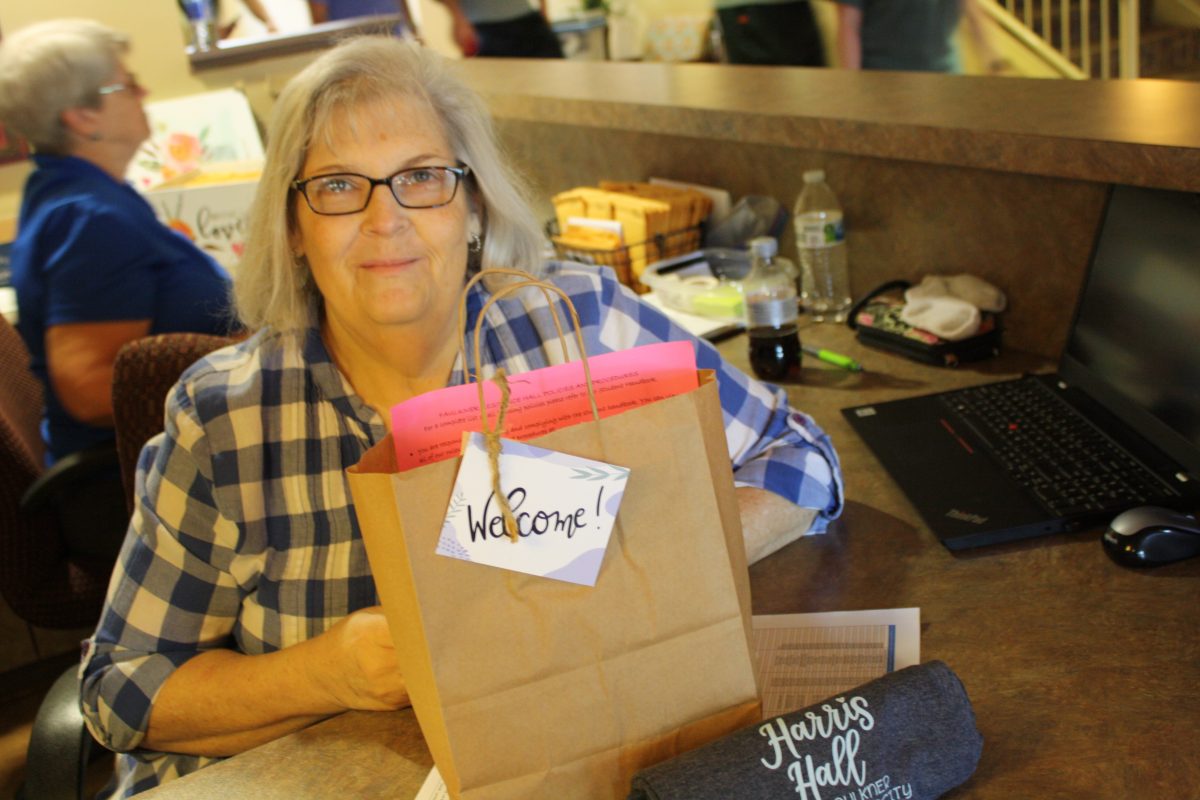 "Home sweet home" is what Peggy Oliver hopes the freshman girls call the Margaret Berry Harris Residence Hall. Resident director of Harris dorms for eight years, Oliver goes above and beyond to welcome students to their new home. 
Much thought and planning go into making freshmen girls feel comfortable and cared for as they undergo this major life change. Before students step foot on campus, their doors are decorated with nameplates, and goody bags are packed with highlighters and pens, coupons from local restaurants and even homemade chocolate chip cookies. "We just want to help them get started," Oliver said, hoping these practical, everyday items will give them a head start.
One of Oliver's favorite parts about a new school year is seeing the new students excited about coming to Faulkner. Making students feel at home and forming new relationships with them is why she became a dorm mom in the first place and why she continues to enjoy her job.
At the beginning of each school year, Oliver and her resident advisors decide on an encouraging theme. This year's theme, "humble and kind," is incorporated into t-shirt designs, water bottle logos, and notepads, all of which are included in their goody bags on move-in day.
Oliver is notorious for these small personal touches, and she continues to foster a caring environment throughout the school year. She often sits at the desk in the lobby to let students know she's there for them and wants to get to know them better. As each student passes, she greets them with a smile and asks how their day is going, always willing to provide a listening ear or words of wisdom.
Students quickly learn they can come to her when they have a problem, need advice or simply want to talk. Her friendly face alone is enough to brighten their day. Sometimes she leaves baked goods at the desk to give them an extra boost of encouragement. "I just want them to know we're here for them, and we want to see them succeed," Oliver said.
Even though the school year is busy with homework and athletic events, Oliver and her resident advisors coordinate activities, planning game nights, paint parties, and other fun activities to help the girls get to know each other. For the resident's birthdays, Oliver helps them celebrate with cupcakes at the end of the month, and at Christmas, they always have a holiday party with Santa Claus and Mrs. Claus as their special guests.
When the school year draws to a close and the girls get ready to leave for the summer, Oliver and her resident advisors throw a party to reflect on the past year and say goodbye to their new friends and community.
Oliver considers building a strong sense of community one of the most important aspects about her role as resident director, and she wants to give freshmen every opportunity to get involved, make new relationships, and flourish.