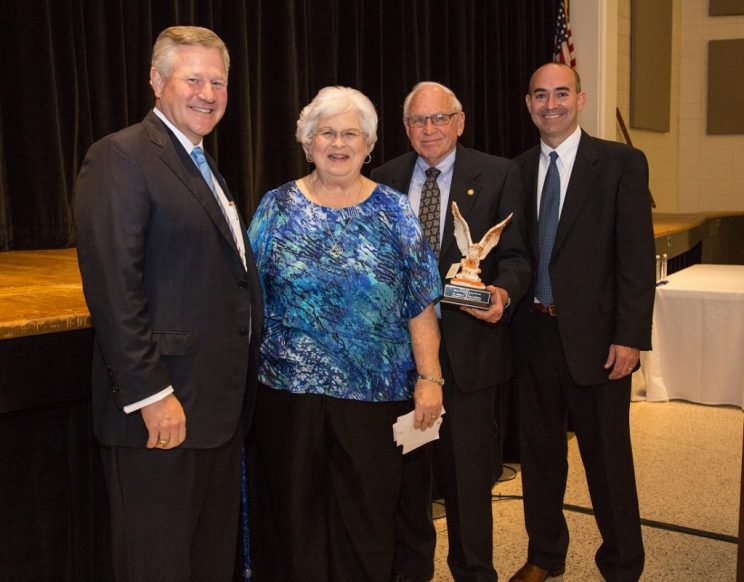 Jim Crabtree ('59), pulled out an old annual from the bottom of his living room shelf, opened it and began flipping through the pages from years gone by.
He bent over the yearbook, glancing over black and white photographs and pointed out several of his old classmates and friends who had attended Alabama Christian College in the early years. That was decades before the school was renamed Faulkner University.
He paused at photos that depicted what the campus looked like on Ann Street before the school was moved east to Atlanta Highway.
"Oh my, the memories are just flooding back," Jim said.
James "Jim" Crabtree and his wife, Sue Howard Crabtree ('60) were honored during Faulkner's 75th anniversary Homecoming Weekend Alumni Honors Luncheon as Alumni of the Year.
Jim and Sue recalled life on the old Ann Street campus with fond memories. Yes, the living conditions were poor, the facilities were bare and the rations were sparse, but it was there that they found something special.
"The school was like a breath of fresh air," Sue said. "People loved the Lord and that was the emphasis of everything. I became totally interested in studying the Bible.
I sat on the front row in classes and asked questions. At night I remember in the dorms, the other girls and I would stay up all hours of the night and debate Biblical issues."
The Ann Street campus was where Jim and Sue first met during a "Get Acquainted" mixer where they played Flying Dutchman, Red Rover and other games. That was a few years after Jim first arrived on campus.
Jim came from a farming family in Tennessee and came to ACC a year after his older sister began working at the school as an elementary teacher. The campus at the time was made up of an elementary school, a high school and college.
He took the Trailways Bus on September 4, 1954 and arrived on campus late in the afternoon. His sister met him at the bus station.
"We were coming over the hill on Ann Street when I noticed this long, low building," Jim said. "I thought that must be the chicken house from my farming background. A few minutes later I found out that was the dining room on campus.
"It was actually called the chicken house, so it must have been converted."
His first meal there was spam, green peas and apple sauce. There was a loaf of bread on the table with a large jar of peanut butter, which Jim discovered were staples of the college students' diet.
"You ate what you could of the meal and filled up with peanut butter," Jim said.
"The school had little money," Sue added. "It was just trying to survive."
The poor conditions on campus remained the same when Sue arrived four years later in 1958. Dr. Furman Kearley had preached at her home church and assured her that any student who wanted an education would not be turned away.
"President Rex Turner's motto was no worthy student would be turned away for a lack of money,' so anyone who wanted to come could work their way through," Sue said.
"Everyone worked."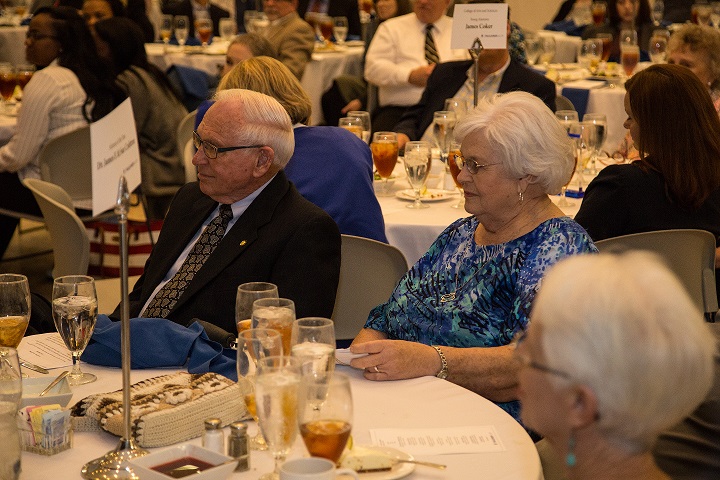 Students worked in the laundry room, the cafeteria, the print shop, the school offices. Students were on the janitorial staff and drove the buses. For years, Jim threw newspapers before dawn, worked in the printing press on campus while Sue worked in the Registrar's office. She also sang with the college's chorus and traveled to sing at different churches.
Unlike today, where college campuses connect over traditions like Homecoming, sporting events and fun activities, there was no time or money for those things when Jim and Sue went to school.
Of course some students found ways to have fun like using a glass Coke bottle to slide down the wooden stairs of the men's dormitory or organize a pick-up game of basketball at the outside dirt court.
A date was going to church service or taking a long walk to the cafeteria for dinner. If they were lucky and had 55 cents, they could buy a two-piece chicken dinner, a roll, French fries and a Coke at George's restaurant just down the road.
"We didn't have much back then, but nobody had much," Sue said. "I think that was one of the blessings. We all loved one another and took care of one another."
The only four-year degree offered then was in Bible and then later a business degree was added. Jim took all the classes the school had to offer. When he finally earned enough credits to graduate, the Registrar, R.A. Baker called him in to the office.
"He sat me down and told me I had enough credits, but he had no idea what my major was," Jim recalled with a laugh. "We agreed to just call it Christian Education."
Sue finished at ACC with a junior college degree and transferred to Troy University for two more years. While at ACC, her favorite professor was Dr. E.R. Brannan.
Jim worked at ACC after he graduated and began a 57 year career in Christian Education working under every president at ACC, Faulkner University and Amridge University. He retired in 2017.
Sue left her job with the Montgomery Public School system to come back to teach at ACC, even when she knew she might not be paid for several months. She stayed and taught for 32 years in the Bible department teaching a girl's Bible class each semester. She is now retired and volunteers with the Inner City Church in Montgomery where she continues to teach several Bible classes each week.
Over the decades, the Crabtrees have witnessed the changes and prosperity that God provided during the early years to the school's move to what once was a cotton field to today's flourishing and modern campus.
"It has to be an answer to prayers that the school survived in those days and through the accreditation process, which took a lot of money the school didn't have," Sue said. "It was all in God's plan. If our founders could see the campus today, they would be surprised how far it's come.
"It's because of men like Joe Greer, Rex Turner and  Leonard Johnson who sacrificed and made it work. So often today we give up when things get hard. They kept on even when they couldn't see the end and that's why the school is here today."
"We stayed with it too," Jim said. "We went months without pay sometimes, but we stayed through the hard times because we believed in the mission of the school. When you believe in something, you keep on like those forefathers. God has blessed us and blessed Faulkner."