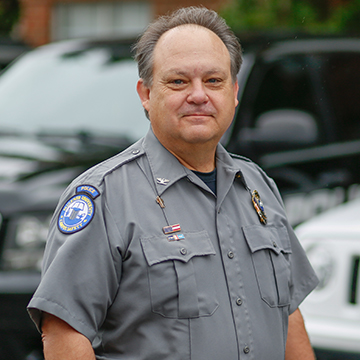 Faulkner University officially welcomed Phillip Calvert as the new Chief of Police of Faulkner's Campus Safety & Police Department on May 31, 2018 after he served as Faulkner's interim chief of police since March.
He has been employed at Faulkner since April 2012 and was promoted to the BCJ Director and Assistant Professor of the Criminal Justice and Legal Studies Department in November of that same year.
Calvert is a retired captain and assistant director for the Alabama Alcoholic Beverage Control Board's Law Enforcement Division, and has over 32 years of law enforcement experience with the Hanceville, Alabama Police Department, Cullman County, Alabama Sheriff's Department, Alabama ABC Enforcement, and Faulkner University Police Department.  He is a graduate of the FBI National Academy.
"Chief Calvert has done a phenomenal job providing sound leadership for this important area and is highly regarded regionally for his leadership in law enforcement," said Dr. Jean-Noel Thompson, vice president for student services. "Our current staff has high trust and respect for Chief Calvert in his new role."
Calvert will no longer direct the BCJ program, but he will continue to teach courses where appropriate while serving as Chief of Police full-time.
Calvert received an avionics technology diploma from Alabama Aviation and Technical College; a bachelor's degree in management of human resources from Faulkner University; a master's degree in management from Faulkner University; and completed additional graduate level work in criminal justice at Troy University Dothan, the University of Virginia and American Military University.
He worked in the aviation industry for several years before beginning a career in law enforcement. He was born in New Mexico, but spent most of his youth in Cullman County, Alabama.