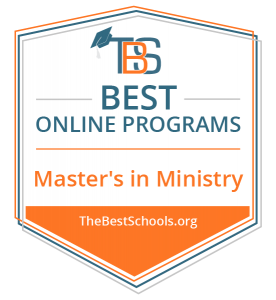 Faulkner University was recently ranked among the top six schools in the nation for the Best Online Master's in Ministry Programs in 2018 according to The Best Schools.
Faulkner's Master of Arts in Christian Counseling and Family Ministry program was ranked 6th in the listing based on "the quality of the program and range of courses provided, as well as school awards, rankings and reputation."
The Best Schools is an independent educational research publisher and is an organizational member of the National Association for College Admission Counseling. Their team reviewed all accredited online Master's in Ministry degree programs in the U.S. to select the top six programs in the nation. They assessed each school's characteristics, academic excellence in curriculum, strength of faculty scholarship, reputation, financial aid, range of degree programs and strength of online instruction methodology.
"We are thrilled that our Master's in Christian counseling and family ministry placed so well in this recent ranking," said Scott Gleaves, the dean of the V.P. Black College of Biblical Studies at Faulkner. "The primary objective of this degree program is to prepare students for successful employment in field and/or entrance into further graduate education programs."
"This recent recognition shows that we are doing just that."
Faulkner's Master of Arts in Christian Counseling and Family Ministry program is an interdisciplinary online program. The curriculum includes five family studies courses from the Kearley Graduate School of Theology and seven counseling courses from the College of Education, for a total of 36 semester hour's credit. This program is designed for church workers who do not seek licensure, but who provide ministerial counsel and family guidance.