Millions of students are now receiving higher education through online courses. Faulkner University has been providing higher education to students for over 70 years, and today the school takes that dedication into the new century with comprehensive online classes. Here are the three reasons why you should receive an online master's degree from Faulkner University: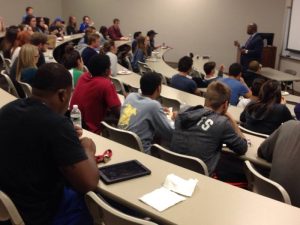 Receive Financial Gain
One great benefit of receiving an online master's degree is the likelihood of a heightened salary. According to US News, there's approximately a 30% difference in salaries between those who have a master's degree and bachelor degree recipients. Completing a Faulkner online master's degree program consistently results in a return on investment. Browse the program list and get inspired.
Stand Out in the Job Market
According to Jaclyn Smith, professionals these days view higher education as a tool for career advancement, and more people are enrolling now than ever before. It seems to be paying off, too: Smith's article reflects that "[in 2012] 3.5% of graduate degree holders were unemployed, versus 6.2% of associate degree holders." Recently it has become common for workers to return to school to learn new skills. At Faulkner, there is an assortment of classes available as part of our online master's degree program that teaches new skills or refines existing ones. See what's available and start thinking for the future.
Achieve a Goal
For many, achieving a master's degree makes the bucket list. Why not achieve that goal and inspire others to do the same? Sometimes it is important to fulfill educational goals for one's well being, US News confirms. Faulkner University deeply understands the connection between education and the whole person and wants to inspire every student to strengthen that link. With plenty of counseling services and resources to help every step of the way, Faulkner's online master's degree program sets students up for success. View the online student handbook to learn more.
When the time is right to begin online courses, rely on Faulkner University to provide an education in a convenient and flexible environment.