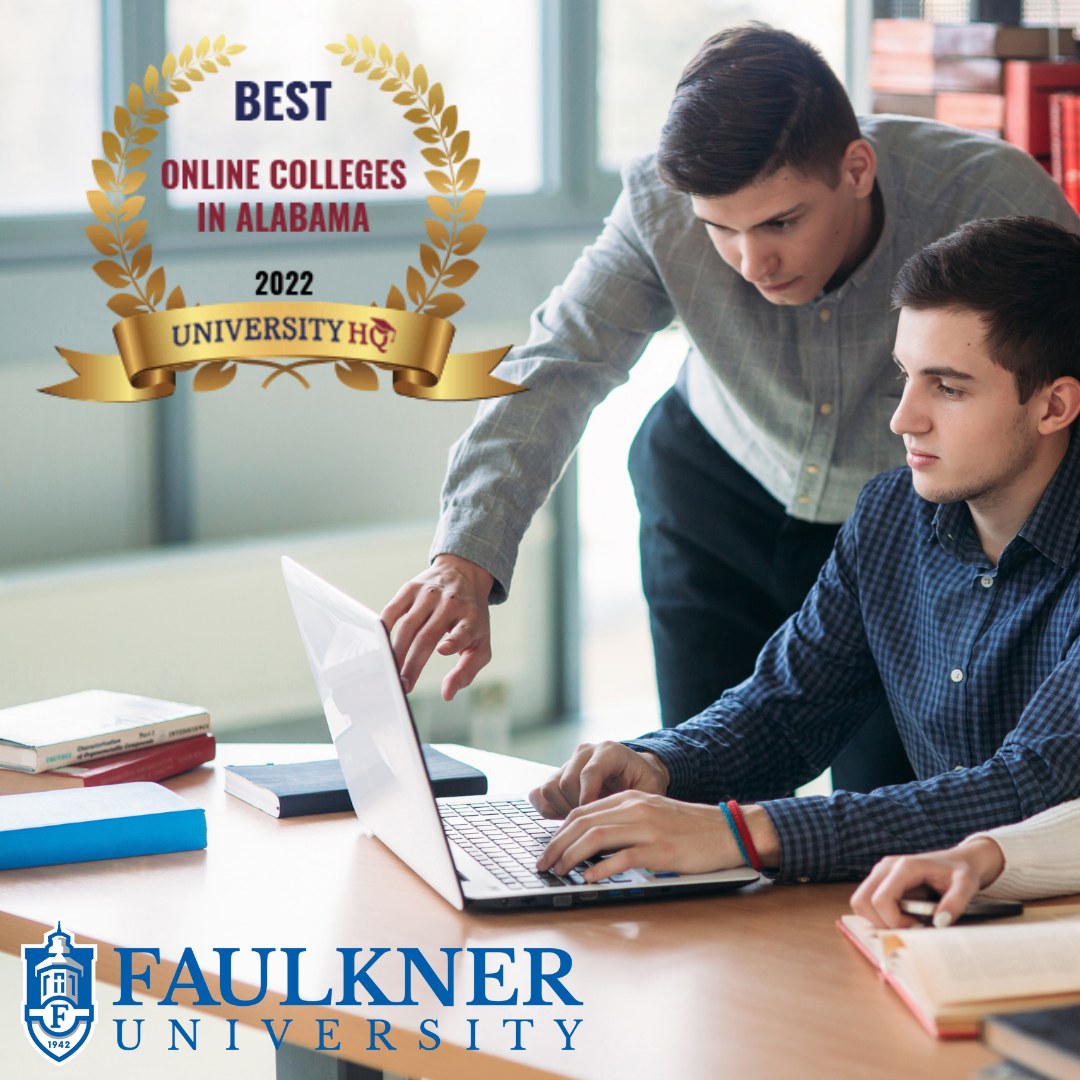 An online degree from Faulkner University just gained even more prestige for graduates and prospective students, as the college was recognized by University Headquarters as one of the top 23 Best Online Colleges in Alabama for 2022.
Faulkner University was also ranked #26 for the Best Bachelor's Degree in Alabama by University Headquarters.
In addition to its full selection of on-campus programs, Faulkner allows students the opportunity to complete a wide range of its degrees completely online. This approach offers a more personalized and flexible experience for students without compromising the quality of education and strong curriculum. Most importantly, Faulkner maintains its commitment to its mission and values, proudly teaching Christian ideals through any type of subject matter.
An online degree program at Faulkner offers a more customized schedule, competitive tuition rates, few, if any, requirements to report to campus and more leeway to determine where and how one studies, making it ideal for working adults. Additional benefits are also available for current military, veterans and dependents. 
Different degree options of all levels are available in the online format. Associate degrees in liberal arts or computer and information science can be earned this way. Online students interested in a standard four-year program have several choices of bachelor degrees, some of which are humanities, business, general and clinical psychology, sports psychology, criminal justice and human resource management. Graduates who are looking to continue their education can get masters degrees in fields of study such as business administration, management, Christian ministry, elementary education, justice administration and more. In addition, Doctor of Philosophy in Biblical Studies, Humanities and Health Sciences can be accomplished entirely online through Faulkner as well.
University Headquarters uses reliable sources such as government and job search websites to gather information for its college rankings, as it makes an effort to review based on objective factors that many find helpful so that prospective college students can then apply their subjective preferences to those that already meet some criteria. The site takes into account cost of tuition, admission rate, retention rate, graduation rate, graduating salary, number of programs offered as well as online ones, loan default rate, diplomas awarded, percent of students receiving financial aid and reputation and expert opinion.
For more information on Faulkner's online degree offerings, visit https://www.faulkner.edu/online/.