Faulkner University places faith as a core value to our academic institution. Those who pursue a degree in Biblical Studies at Faulkner University will find a deeper understanding of God and the Bible. God gives instruction for His word in Joshua 1:8 when He tells us to study and meditate on His Word in order to walk in obedience. Students at Faulkner who enroll in the online Ph.D. in Biblical Studies program will get a well-rounded perspective of Biblical doctrine.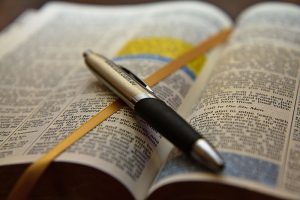 About the Program
Faulkner University's Ph.D. program will explore the Bible from Genesis to Revelation. Our rigorous program expands biblical principles that are still relevant to modern-day Christianity. Students enrolled in the program will have a challenging and rewarding experience that will strengthen their faith and biblical knowledge. Students will also appreciate the comprehensive structure of the program, which includes:
– Learning the traditional biblical languages (Greek, Hebrew, and Aramaic)
– Partaking in seven core courses that will explore complex biblical concepts
– Taking two biblical literature courses that focus on the Old and New Testament
– Completing a four-module dissertation process
At first glance, the online Ph.D. in Biblical Studies program may seem overwhelming. However, it's a positive experience that opens up the mind and the spirit and prepares students for a spiritual leadership role. During the four- or five-year process, students will learn how to study the Word in its entirety. They will engage in thought-provoking conversation with their peers in order to help others, and themselves, find a deeper understanding of God.
Theology in a Nutshell
Faulkner University's comprehensive theology department offers various perspectives on Bible-applicative study. The online Ph.D. in Biblical Studies program offers students the flexibility to work full-time. Faulkner's biblical studies degree will continue to help students discover God and learn how to teach others about His greatness.