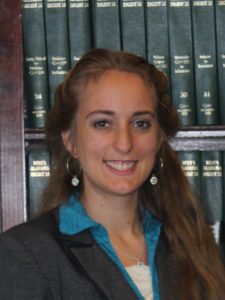 Young Alumni honoree Moriah Hagel fled a dangerous situation to find safety, community and Christ's love on Faulkner's campus.
She thrived in the College of Arts and Sciences' Social and Behavioral Sciences department and graduated in 2016 Summa Cum Laude with a degree in Social Science with a Political Science emphasis.
Today she works as a paralegal at the Kotouc and Vogel Law Firm and is a notary public.
She and her sisters transferred to Faulkner to find a safe college campus. Faulkner was only an hour away from home and they began to build trusting relationships with their peers and professors she said.
"I felt like a person and not just a student. The professors actually cared enough to have a relationship with you," Hagel said. "I felt as though I was able to touch more people at Faulkner than I had at my other college. There used to be a sign up that said Faulkner felt like one big family and I began to agree with that."
An example of that was occurred in the spring of 2015 when one of her sisters at Faulkner had to spend a week in ICU. The way the faculty and staff supported them and prayed for them, both astounded and blessed them, Hagel said.
"Dr. Andrew Jacobs sent messages not only to my sister's instructors, but to all of our instructors excusing us from class for a family emergency. On top of that, Mr. Austin and Dr. Gerald Jones came to visit my sister in the hospital, and they were not even her instructors," Hagel said. "We were floored, and I cannot tell you what an impact that made on our entire family. One of our instructors who had all three of us in class began the class with prayer for our sister."
She recently came back to campus for the Marketplace Faith Friday Forums where she had the chance to speak with current students on how Faulkner shaped her faith and how she continues to lean on God in the workplace.
"Ever since I was fourteen I had a passion for politics, however, while at Faulkner, God began to change my focus and direct me toward single adults," Hagel said. "I could feel the direction change and found my passion in desiring to speak at conferences to single adults to encourage them in their walk with the Lord. After graduation, I began working at the Law Firm of Kotouc and Vogel. Here God has merged my two passions."
"I am still able to work in the legal field and this fall we will be hosting our first singles conference in Wetumpka Alabama. God has always established my steps. He brought me to Faulkner where I would be pushed to excel beyond what I had thought I could, and then He sent me to an openly Christian law firm where I am encouraged to pursue God's plans for my life."
While at Faulkner, Hagel interned at the Foundation for Moral Law, was nominated for the Greatest Generation Award, and received the Social Science Award. Additionally she was inducted in the Alpha Chi Honors Society in the spring of 2016.
In June 2017 she published a Bible study on Ephesians titled "First and Forever: Singleness in Ephesians" and is currently working on a second book study on Isaiah.