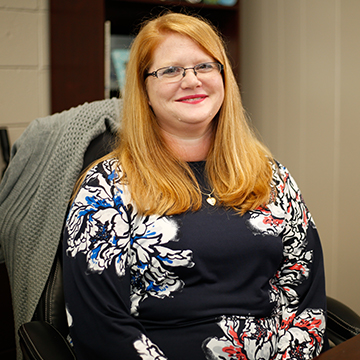 Cassie Green thought she was going to teach, but God had other plans.
A graduate of Faulkner University, Green has worked at Faulkner for 10 years in Financial Aid and now as the Online Student Success Advisor with ecampus. Her support and compassion has made her a fan with students.
"It is through faith in God and love for Him that I am able to be a servant leader and treat others with respect," Green said. "I believe it is my faith which allows me to have relationship skills and a desire to help people.   
Green graduated Faulkner in 1995 with a Liberal Arts degree with an emphasis in Behavioral Science.
She first heard about Faulkner through Lads to Leaders/Leaderettes.
"Those students were so awesome and spoke so highly of Faulkner that I decided to visit and ultimately to come here for school," Green said.
The experience shaped her into the person she is today, she said.
"Ms. Waters was my teacher and advisor.  She played a role during my time here at Faulkner in shaping me.  Both my husband, Jason and I have called her over the years to ask her opinion and seek her advice.  I believe that she helped me to have confidence in my abilities and pushed me to do more than I thought that I could do." 
Green said she has seen God work in her life through her education and work journey. She encouraged students of the College of Arts and Science's Social and Behavioral Science department during this year's Marketplace Faith Friday Forums to trust in God's plan for their lives, even when it seems unexpected.
"I decided that I was going to be a teacher and I went back to school to get a teaching certificate, but then my husband was offered a great job in Prattville as a Youth Minister and I began looking for a job," Green said.
"I really never thought that I would be working at Faulkner.  I interviewed in Financial Aid and it was a job which I loved.  Then a couple of years ago, a co-worker convinced me to get my Master's Degree here in Masters of Science Management. Having my master's degree led me to a new job as Online Student Success Advisor which gives me the opportunity to help many people which is very fulfilling.  God is good all the time and He will lead us in His own time."
She earned her Master's in Science in Management in August 2018. She is married to Jason Green, youth minister at Prattville Church of Christ and stays busy with activities involving the youth group.
They have been married 24 years and have two children, Brad and Kara. Brad graduated from Faulkner and Kara is currently a student.