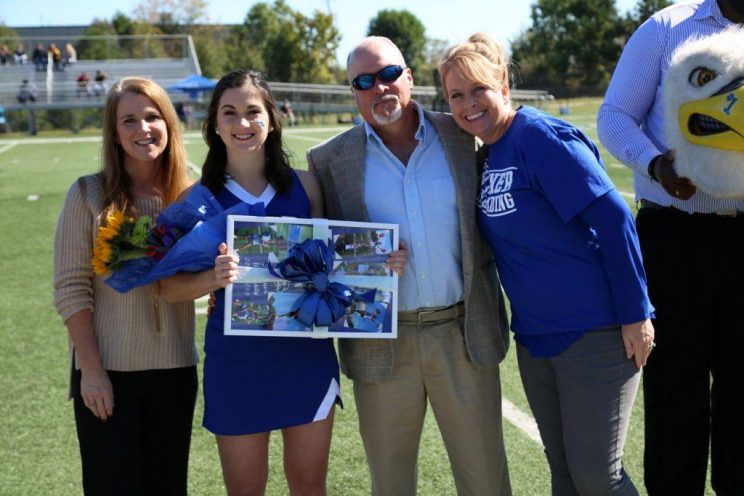 Kinsey Fickling was in eighth grade when she made up her mind to go to college.
For some families, college is the rule. It's expected – unquestioned. That was not the case for Fickling, who worked hard to become the first college graduate in her family and officially walked across the stage at this year's 2019 Faulkner University graduation ceremony on May 3. 
Fickling had two older sisters who attended college, but they realized that was not the direction they wanted for their lives and they dropped out before graduating. Fickling's parents did not attend college and both have successful careers, but she knew the college was the right path for her, to help her accomplish her dream  of becoming a literary editor and publisher.
So Fickling set a goal, one she was determined to accomplish at all costs: She would be the first member of her family to graduate college.
Even though Fickling lived in Mobile and she attended Mobile Christian Academy where her mom worked as a counselor, Faulkner University was not in her sights. She applied for some local colleges, and even visited one or two. Nothing seemed right. She wanted to travel, and dreamed of attending school out of state, possibly as far as New York.
Her mother prompted her to look into Faulkner, so, on a whim, she visited Faulkner's campus in Montgomery. She has never looked back.
"It just felt right you know? I met the Christian people here and fell in love with it. I came for Scholars Day and interviewed with Dr. Jon Wright and he and the students and just everyone I met were so welcoming. I felt like I was already a part of it."
Because college was something new for the Fickling family, money had not been set aside to pay for it. Fickling had to find other ways to help her financial situation.
Neil Scott, director of admissions, encouraged her to try out for a cheer scholarship and to apply to work in admissions. Taking dual enrollment classes in high school also helped, because it will allow her to finish her degree in English within three years.
"I've been so thankful for my decision and how God placed people in my life to help with the process, help with loans and to finish. It's been a fun and exciting journey."
Along with cheer, Fickling also took part in social club life and formed a bond with her sisters in Delta Xi Omega. She undertook the responsibility of being the lead Jamboree coordinator for Delta Xi Omega and Epsilon Phi Upsilon in the spring of 2018, when they were overall show winners. More recently, she was crowned Faulkner's Homecoming Queen this February.
Before she walked across stage to get her diploma, Fickling reflected on her college journey.
"It is exciting and scary to think about," Fickling said. "It's been hard at times to keep going, because going to college wasn't expected of me to begin with. I just knew that I wanted to go and the time here has been so much fun."
Her family was in attendance and cheered for her from the audience.
"They are all very excited for me and proud of me," Fickling said. "My mom has been super encouraging, but going to college and finishing was definitely something I had to decide for myself."
Now she is looking into schools to obtain her Master's degree and pursue her dream job.
"To anyone who finds themselves where I was, you will have to decide if college is what you want and then finish no matter what, because those days will come when you want to say, 'I'm done,' and there will be no one to stop you from dropping out. Be strong and surround yourself with strong people."