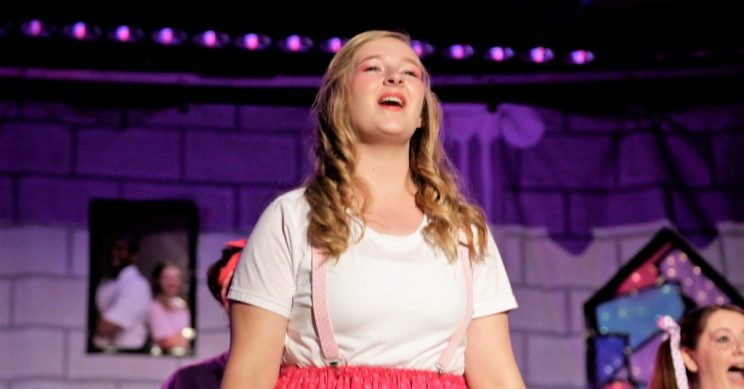 The cheering and the chanting has stilled, the Rotunda stage stands empty and another Jamboree is in the books, but for the students who participated in this annual Faulkner tradition, it's not over. Each Jamboree lives on long past the final performance.
This year's theme, Home, is in honor of the school's 75th anniversary.
"It's about coming back to a place that helped to raise you," said Natasha Kasarjian, faculty director of Jamboree. "Faulkner was a big part of your life and helped you to grow up. It's all about friendships and memories."
Jamboree is the memories of the clubs roaring their admiration for each other until the floor shakes. It's recalling the rush of adrenaline on stage as you listen to the shouts and cheers. It's the lingering glow of the hugs, high-fives and fist-bumps for a job well done. Jamboree is all about coming together and encouraging each other.
The audience really only sees a glimpse of what makes Jamboree so special. For a moment, when the students pack the stage after the final show, during the celebration of a job well done, their energy is palpable. As the winners are announced, the audience gets to share their exhilaration as they jump and scream, pumping their fists in jubilation.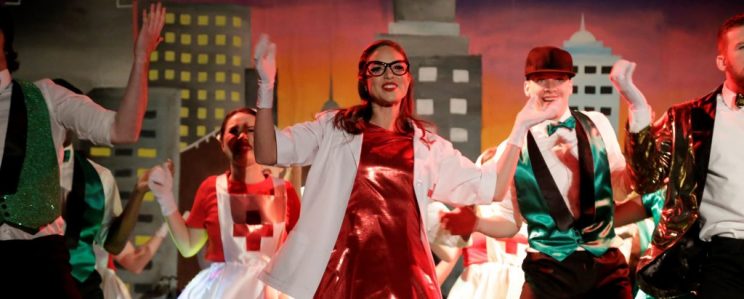 That one moment is created by hundreds and thousands of other moments. Jamboree begins well before the audience gathers in the auditorium. Everyone works behind the scenes for months. There are hours of practice, coordination, sweat, singing, painting and months of choreography and run-throughs, mess ups and falls, tears, tired limbs and hard work. It's a night that dozens of Faulkner students sacrifice hours of rest for to put on a great show.
"Honestly, all of that hard work will pay off when we chat on that last night all together," said Adam "Simba" Gifford, a senior youth and family ministry major. "The show is over, but the bond stays. Win or lose that's what I look forward to."
"Then it's time to get some pancakes."
Eliza Norton, a senior business management major and president of Phi Lambda, was in charge of costumes this year. She attended Jamboree when she visited campus as a high school student.
"It looked like so much fun. I knew I had to get in on that," said Norton. "This is the time of year where everyone gets to be together and know each other on a deeper level."
"There is no better time at Faulkner for me than Jamboree."
In January skit ideas were formulated, and by February themes and storylines were hammered out. The vision for each brother and sister club duo was becoming a reality.
To illustrate the idea of coming home each club selected a nursery rhyme then gave it their own twist, adding mystery or tragedy, building toward an inevitable confrontation, and finally, of course, a happy ending.
Traditionally, most of the action happens through songs and choreography. Each club writes new lyrics to popular songs, then records them for the shows' soundtrack.
Practices usually last several hours nearly every night of the week from January until the performances on April 6 and 7. Students learned choreographed, memorized lines, and designed backdrops used to set the scene on the Rotunda stage.
In the final weeks before the show, professional crews set up lighting and sound systems in the Rotunda. Student host and hostess rehearse the numbers they will perform between club shows. Costumes and props are ordered or made.
Considering all the hard work, it's a wonder any students sign up for Jamboree a second time, but in nearly every case, once it's over, they're ready to start all over the next year.
"The first year I did Jamboree I thought I was going to hate it, but I did it anyway," said Gifford, who is Kappa Sigma Phi's head coordinator this year. " I loved it. I was in a group where I knew some people, but not everyone. Since I was going to be with them for the next three months we just became friends."
Kappa Sigma Phi together with sister club, Phi Lamda, brought the story of "Jack and Jill" to life. In their version the brother and sister are separated as children and journey to find each other and come back home.
Delta Xi Omega lead coordinator, sophomore Kinsey Fickling, grew up cheerleading so Jamboree feels familiar and exciting.
"It is stressful, but it's very enjoyable," Fickling said "Seeing our work actually created is cool. I love this kind of stuff, but the best part is the relationships you form. You normally wouldn't be with these people over and over again, so it's really nice."
Delta Xi Omega, along with brother club Epsilon Phi Upsilon, were the overall winners of this year's Jamboree. Their show was a mystery twist to the story of Humpty Dumpty's fall and the ensuing investigation.
Delta's president, Madison Lariscy, who portrays a doctor in the story, has participated in the last three Jamborees. Although she doesn't normally enjoy getting in front of a crowd, she says that's part of the magic of Jamboree.
"When you're going to practice, you may dread it, but your attitude completely changes because you're with everyone, you're all in a good mood and everyone just laughs. You get it done," Lariscy said. "The show is always a disaster until the week before, then it comes together."
"It's such a big production, but through it all, you can't get any closer than we do. All the clubs come together and it's fun to see that."
Chi Omicron Chi's coordinator, senior Caitlian Deuter, loved theater in high school, so Jamboree was the perfect fit.
"For Chi and Sigma, it's very much our time to bond as brothers and sisters," Deuter said. "Putting together a huge show, starting from nowhere and ending up with a 12-minute performance – we're always very proud of it."
"The night of the show, we walk on stage with no regrets and put on the best show we can."
Chi and Sigma's show was a completely new take on Tweedle Dee and Tweedle Dum. The twins were portrayed as spoiled heirs, fighting over their father's throne until an evil cousin arrived to challenge them. The duo finally settled their differences with the help and encouragement of their little sister, and they rule the kingdom as a united family.
"Every year we walk away from the stage with new friends and new memories of the fun things that happened," Deuter said.
"Jamboree is always a very memorable time."