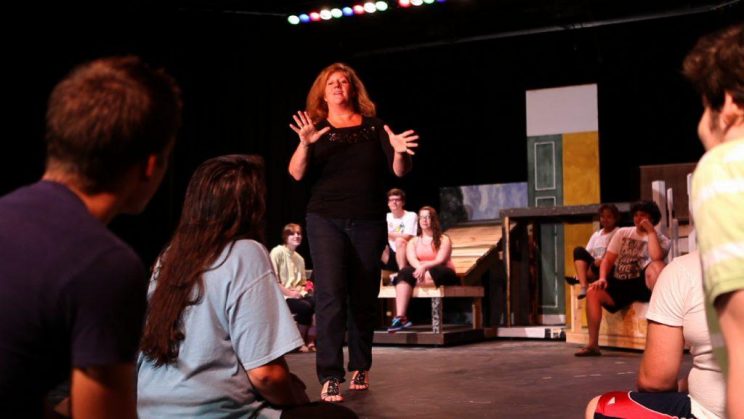 Angela Dickson stepped into the barn in the back of Faulkner's campus more than 30 years ago as an undergraduate and began what would become a decades-long affair with the art of theater.
Her journey began at the very infancy of the Dinner Theater program, which spanned 30 years and included 194 shows at Faulkner. It is now a very special part of Faulkner University's history.  It's a legacy is one that lives on through the lives, careers and memories of the more than 754 students, faculty, staff and community members who through the years donned a costume, sang a song, painted a backdrop, pointed the spotlight and much more on the beloved stage at Faulkner.
Dickson is proud to have had a part in that legacy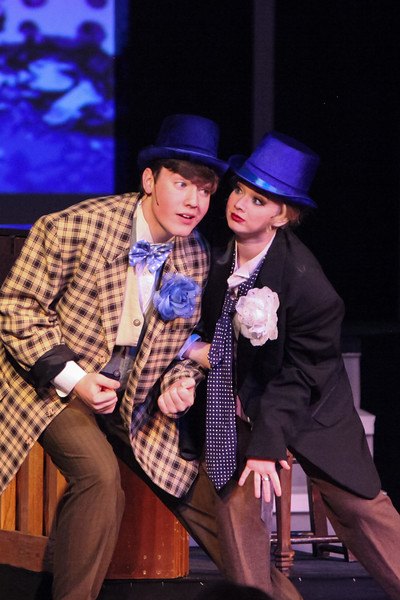 and to impart her knowledge of theatre, empathy, caring and peace with her pupils who have ventured into realms of business, the classroom and the even the battlefield. She is continuing to inspire a new generation through theatre as the theater teacher at Alabama Christian College.
The Dinner Theater opened in June 1987 as a barn in the back corner of Faulkner's then new campus on Atlanta Highway. It housed a stage, seating and area for a catered dinner which was served there for the theater's first show, "The Star-Spangled Girl." The space also served as the student commons, an area bustling with activity.
Throughout the years, The Barn took on new looks as the facility was renovated to meet the changing needs of the university. Seating was rearranged, more room was given for the audience and the building was given a whole new look as the new Fine Arts Center housing both theatrical, music and choral departments. In 2011 the Dinner Theater was moved across Atlanta Highway from the campus in a separate, larger venue in the Eastmont Plaza. The theater was styled after popular theaters of the 1950s complete with a marquee and the first showing there was "The Phantom of the Opera." The last show there was "Joseph and the Technicolor Dream Coat," in May 2018.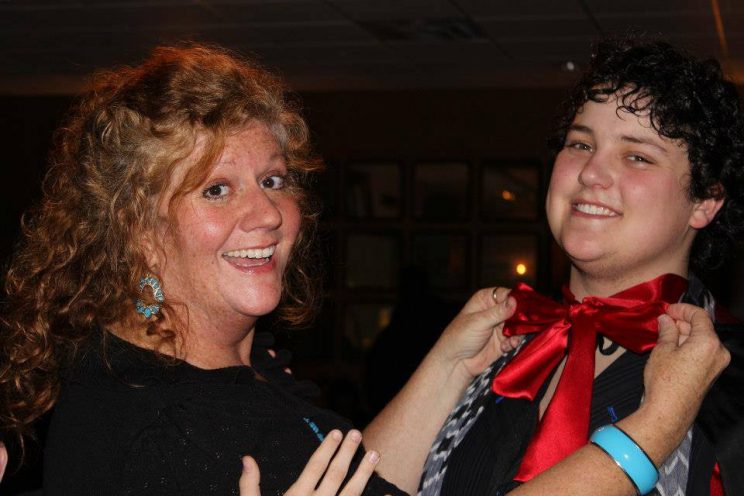 The Dinner Theater began as an idea of then Faulkner theatre professor, Phillip Sprayberry. His idea was realized in 1987 with the new barn. Students, faculty, staff and community members flocked to take part in every part of production from lights, cameras, props, backdrops, rehearsals, auditions and on stage performances.
Angie will be the first to tell you that those entrenched in the life of theatre instantly create lasting bonds with everyone who is part of the show. It takes everyone's part and unique skills to make a show successful. Just like a family, those in theatre grow together as friends, brothers and sisters.
"We were all just in the trenches together. We laughed, we picked on each other, but we also encouraged and lifted each other up," she said.
Dickson reflected humorously on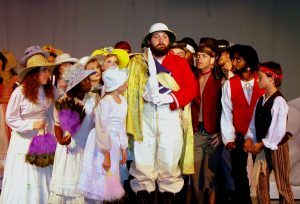 her time as a student when a fellow actress botched a line in the play, A Westside Story.  She came running off stage mortified. Dickson took her by the arms firmly and told her, "You just got to do cool. Come on! You got this." Off the girl went to finish the play.
Dickson laughed at the memory and said there were scores of others just like that stored away as delightful memories of being a student at Faulkner and embracing the world of theatre.
Likewise, Faulkner professor of kinesiology and exercise science, Terry Brown, Ph.D., began acting and singing on stage under the direction of Sprayberry just two years after Brown came to Faulkner to teach. He still remembers the exhilaration of being on stage in the barn.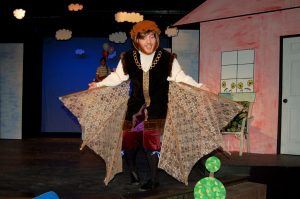 "The interaction between what was happening on stage and the audience was very intimate," Brown said. "In Carousel, the character I played, killed Billy Bigelow on a pier. So we constructed this pier to extend right into the audience."
"We were so close to the audience that when our singing and the orchestra stopped, all we could hear was their breathing. "
"It was surreal. We were capturing their emotions. We were pulling them in. When they cried, you knew they were moved by what they saw and heard. It was those little moments that meant so much to me being a part of the theater. It was fun and exciting and I never thought I would get my chance at being on stage."
Dickson discovered her passion for theatre when she arrived on Faulkner's campus, initially coming with a tennis scholarship in the early 1980s, a short time before the first Dinner Theater show. Before that, 20 shows were held in the Rotunda from May 1976 to February 1987.
Dickson had her first shot at the stage when Sprayberry put on the schools' first Dinner Theater shows the summer of 1987.
"Star-Spangled Girl, Some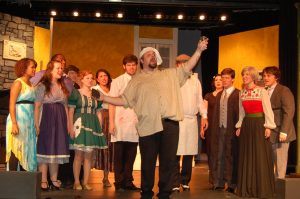 Enchanted Evening and Oklahoma were some of the first shows that summer," Dickson said. "That first summer had quite a number of shows for our first year. Six or more I believe."
"My friends were involved in some of the shows and I began auditioning and just fell in love with theatre," Dickson said.  "The relationships that you build through performing were incredible. We would work until the wee hours of the morning all the time. We loved it."
Dickson would be a part of many shows before graduating from Faulkner and then starting her work at Booker T. Washington High School in Montgomery as the theater teacher in 1995.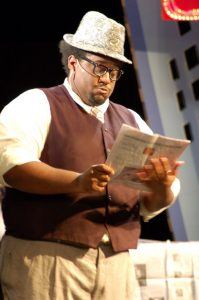 She was still in town, so she often helped Sprayberry with the Dinner Theater and worked there for a couple of years before heading to graduate school. She would later work at the theater full time in the 1990s as interim director.  Between 1990 and 2018, Rebecca Carter, Sam Wallace, Jason South, Dickson and Tony Davison all served as either director or co-director of the theater after Sprayberry left in 1990.
Moving from student to mentor, Dickson had the chance to infuse her passion and knowledge into Faulkner students coming through the program years after her. Seeing them graduate and become successful on Broadway, working with the Montgomery County Sheriff's Office, teaching at Alabama Christian Academy and starting their own Christian entertainment company has been the highlight of her career.
Branching out into unconventional roles from a theatre background proves the versatility of theatre Dickson said.
"It's a little overwhelming to watch. To study theatre is life-changing," Dickson said. "Students will tell you it's the degree in empathy. It opens their eyes and you don't see the world the same. It's freeing and enlightening. You want to believe that you've done a good job and hope you've done some good in these students."
Faulkner graduate, Michael Morrow,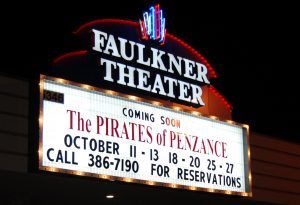 is one who took an unconventional route after graduating in 2010 with an undergraduate degree in theatre, something he learned to love as a child. He pursued criminal justice for his master's degree at Faulkner and is now a K9 handler for the Montgomery County Sheriff's Office.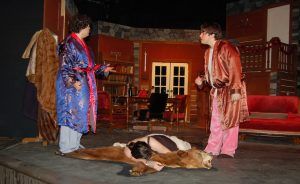 "I had always wanted to be a deputy and the theater has actually helped me in my field with talking to people, witnesses, victims and suspects alike, handling a scene, managing a crowd and thinking on my feet especially," Morrow explained.
As an actor, and often a lead character in many of the Dinner Theater shows, Morrow was used to things going awry on stage and became a master at improvisation. Like the time he grabbed a door knob and it flew right out of his hand.
Aside from on-stage near-catastrophes, what he cherishes most are the relationships and the friendships he gained through theatre and the memories from shows like Guys and Dolls, 1776, Thoroughly Modern Millie, Everybody Loves Opal and Man Day, which he wrote and directed with friends Daniel Monplaisir, Chris Kelly and Tony Davidson.
"I gained unbelievable friendships from being involved in the Dinner Theater that have stayed with me," Morrow said. "The memories, the people, you just couldn't forget them in a good way. There was never a bad memory."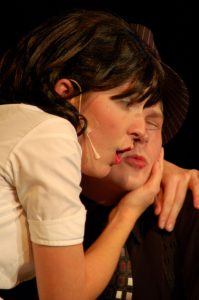 Monplaisir is a 2010 theatre graduate who took a different role right out of college as a soldier and continues to serve in the Army National Guard. He most recently joined his friend, Taylor Griswold in starting a new Christian interactive entertainment production for children under the company name, Epic Entertainment, and continues to act in local theaters across Texas.
"In the military and doing Solider Shows, I can understand people because of theatre," Monplaisir said. "It helped me develop into a leader who has authority over his unit, but who can also relate to them and convey my point to them in a way that they understand. As an actor, I've had to jump into other people's lives, which has taught me to understand different people's perspectives and choices."
"From the Dinner Theater, I developed into a presenter, getting in front of people, memorizing a scripts, doing rehearsals, which has helped me now as a full-time entertainer from set design, creating creative comedic content and all the technical aspects of a show," Monplaisir added. "We were trained well at Faulkner to be true professionals at our craft."
That's what Dickson hoped for all along. For her students to be successful in whatever role in life they chose.
"The shows were just a means to an end,"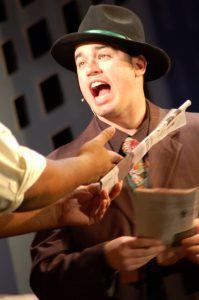 Dickson said. "It allowed the audience to see the growth of the students and for the students to get the whole experience. It was always about doing what we could to make these students succeed."
Staying a bit closer to home, 2010 musical theatre major Kari Kelly lives with her husband, Chris Kelly in Montgomery while she teaches elementary music at Alabama Christian Academy.
Theatre was certainly not a major that was in her sights after she finished her Associates degree from a school in Andalusia. She first came to see a show at the Dinner Theater with a friend.
"Just like that, I knew that's where I wanted to be," she said. "I always loved musicals! I grew up watching a lot of musicals and there weren't a lot of opportunities for that kind of thing in my hometown. I've always loved performing and the Faulkner Dinner Theater stage looked like the perfect venue to stretch my skills and grow."
Not only did she grow as a performer at Faulkner through shows like "The Drowsy Chaperone," A Midsummer Night's Dream," "Fiddler on the Roof" and "Pirates of Penzance," she gained friendships and fell in love with her husband.
"There are so many good memories," Kelly said. "I made some great new friends that are still a part of my life, including one who was my roommate and now lives around the corner from me, and our children are growing up together. Another actor and I had good chemistry together… as captain and henchman on stage. I'm married to that guy now."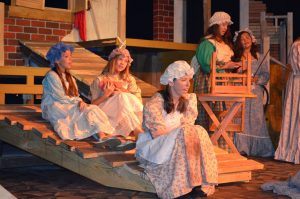 "The Faulkner Dinner Theater changed my life. I wouldn't be who I am today if I had not had it to help build my confidence and awareness of the people around me. I can't say enough about the effect of Mrs. Dickson's teachings and support and Mr. Jason South's encouragement through my time there and afterwards as I became part of the community side of it."
Morgan Baker and Tatyana Thompson are two of the more recent graduates from the program and are continuing to work and study theatre.
After spending nights talking to fellow cast members in the parking lot of the Dinner Theater, Baker now plans to earn his Master's in acting at University of Southern Mississippi and become a theatre professor. He began acting at the Dinner Theater when he was a student at Alabama Christian Academy.
Acting gave him meaning to life, he said.
"There's a real humanity in it all. When you see someone forget their line or run into a door, it's like real life," Baker said.
"Also when you learn acting, you not only learn the craft of it, you learn how to see within yourself. I see my life with so much more clarity than I did five years ago."
Technical theatre student Tatyana Thompson is now working with the Alabama Shakespeare Festival as a quick-change artist sewing the performers' costumes after graduating in 2017.
She started working at the dinner theater her sophomore year and did a lot of work with lighting and sound and of course costumes.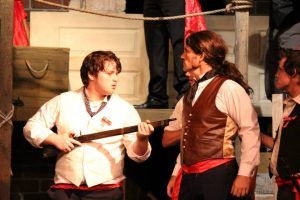 "Being backstage is stressful, but I thrive on that. It's that crisis situation that makes stage life fun," Thompson said. "The audience only gets to see the top of the iceberg. There is a lot of excitement, a lot of nerves and a lot of things not working the night of a show, but we are taught to be on alert, improvise and that's what makes the end result so worth it."
Those skills prepared her well for the higher-profile work at ASF working on theatrical projects like Christmas Carol, Shakespeare's Twelfth Night and most recently, Annie.
"It has been a smooth transition from working with the Dinner Theater to working with actors and actresses at ASF," Thompson said. "Faulkner's Dinner Theater prepared us well."
"Knowing the legacy that the Dinner Theater has makes me humble. To know that so many people were in it and loved it for so long is overwhelming. I would not be at ASF if it had not been for everyone at the Dinner Theatre pouring their knowledge into me. I'm truly appreciative."
Dickson is no longer the girl who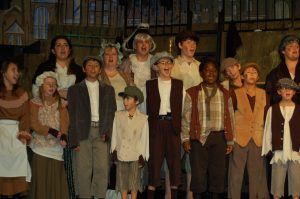 walked into The Barn nearly three decades ago. She's a seasoned actor and professional director. She sits in one of the Dinner Theater's lobby chairs with a comfortable smile and looks about her at the cardboard boxes ready to be packed away. Scenes of past shows captured on the walls in frames hang above her. The door to the theater full of memories is open to her left. She looks toward it.
"It was never about the shows. It was always about the relationships around us," Dickson said. "The Dinner Theater was truly like a family – estranged members, crazy members, lovable members and all. It means so much to know I may have made a difference in the lives of some of my students."