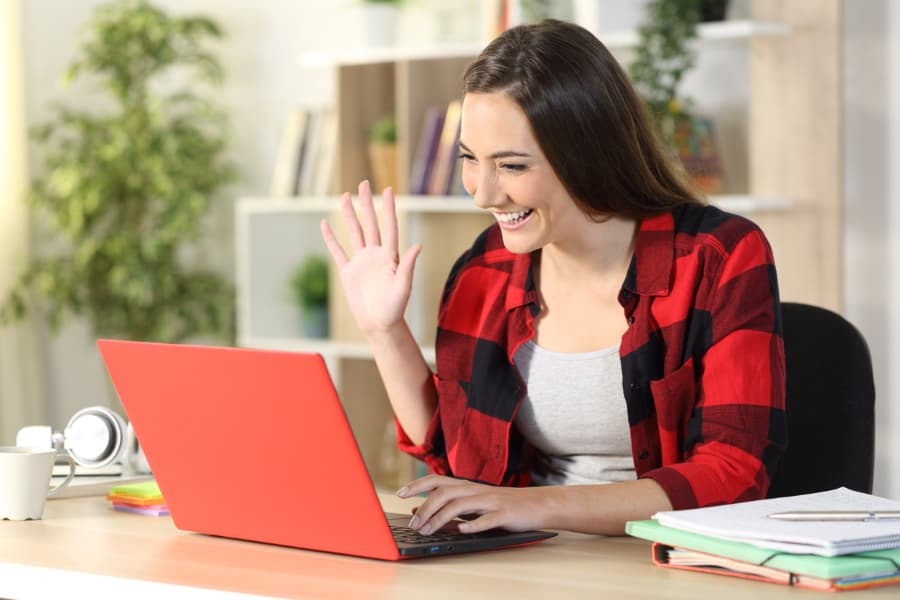 Virtual learning gives students the freedom to learn how they want and when they want. And often, online degree programs make it easier for busy adults to balance this new college routine with the work and personal responsibilities already in place. Faulkner University has online classes, as well as campuses in Montgomery, Birmingham, Mobile, and Huntsville, AL. Here, we provide some tips to set yourself up for success during your online college program.
Work from a Dedicated Office Space
It may sound fundamental, but having a quiet, well-organized place to study can help keep you in the right frame of mind. If your classes were in-person, you'd meet in a classroom or lecture hall – having a space with a similar atmosphere can help you stay focused when it's time to attend class and hit the books. Here are some ways you can make the most of this space:
Carve out a dedicated workspace: This can be an office with a closed door or a corner of the living room. Having a go-to space helps make setup easier each time you virtually attend class and study solo. Plus, you can streamline the study process by putting everything you need at your fingertips.
Eliminate distractions: Working away from an ongoing television, kids, and other family members can make it easier to concentrate on projects and absorb learning material. Using headphones to minimize background noise that's out of your control also may help.
Have reliable internet access: A reliable connection will help ensure your classes go smoothly and you can view webinars, videos, and other online resources with ease.
Students have found all kinds of ways to maximize their available space in ways that put their minds in focus mode – it's up to you to figure out what works best for your routine and learning style.
Start a Study Group
Even with all its advantages, an online program may feel isolating at times for some students. If you miss the collaboration and camaraderie that comes from attending in-person classes, consider forming a study group. This can give you those interpersonal connections you crave with your peers, without putting too much strain on your schedule. These groups can serve many purposes, including:
Going over lectures and assignments from the week
Reviewing learning materials for upcoming exams
Collaborating on class projects
Finding support if there's something you don't understand
Fueling accountability
For your study group, designate a time and date that works for everyone to meet. This can be at the university's library, a local café, or even someone's house. Even if you only meet for an hour once a week, you may be surprised at how meaningful these relationships will become by the end of the semester. You may even be able to expand your professional network in the process.
Use the Resources Available for Online Learners
It's important to remember that the school you attend is dedicated to the academic success of every student. Just like those of traditional, in-person programs, your instructors and other departments likely have a host of online education resources available ­­– but it's up to you to take advantage of them. These may include:
Office hours for discussion
Workshops and other supplemental learning opportunities
Tutoring resources
Writing skills instruction
Counseling resources
Depending on where you are in your program, any one of the above resources may prove to be significantly helpful. Make sure you keep a lookout for additional support made available by your instructor and don't hesitate to ask your academic adviser about anything you might need along the way.
Take Advantage of Career Services
As graduation approaches, the college's career services department can be just the thing you need to transition from student to professional. This department can connect you with potential employers, help you create and post online resumes and portfolios, and much more. At many colleges, the resources in this department also are available to alumni. So, if you want to transition to a new career or are looking for ways to advance in your current role years down the road, they can assist.
If your goal after this online degree program is to pursue a graduate degree, career services can assist in this area, as well. Just ask about available graduate school preparation and testing resources.
Explore the Online Degree Programs at Faulkner University
Whether your goal is to earn an associate degree or you're ready to earn a doctoral degree, Faulkner University in Montgomery, AL, can help you in your educational pursuits. We have several online degree programs available, plus campuses in Montgomery, Mobile, Birmingham, and Huntsville. Apply for your preferred choice or request info today.