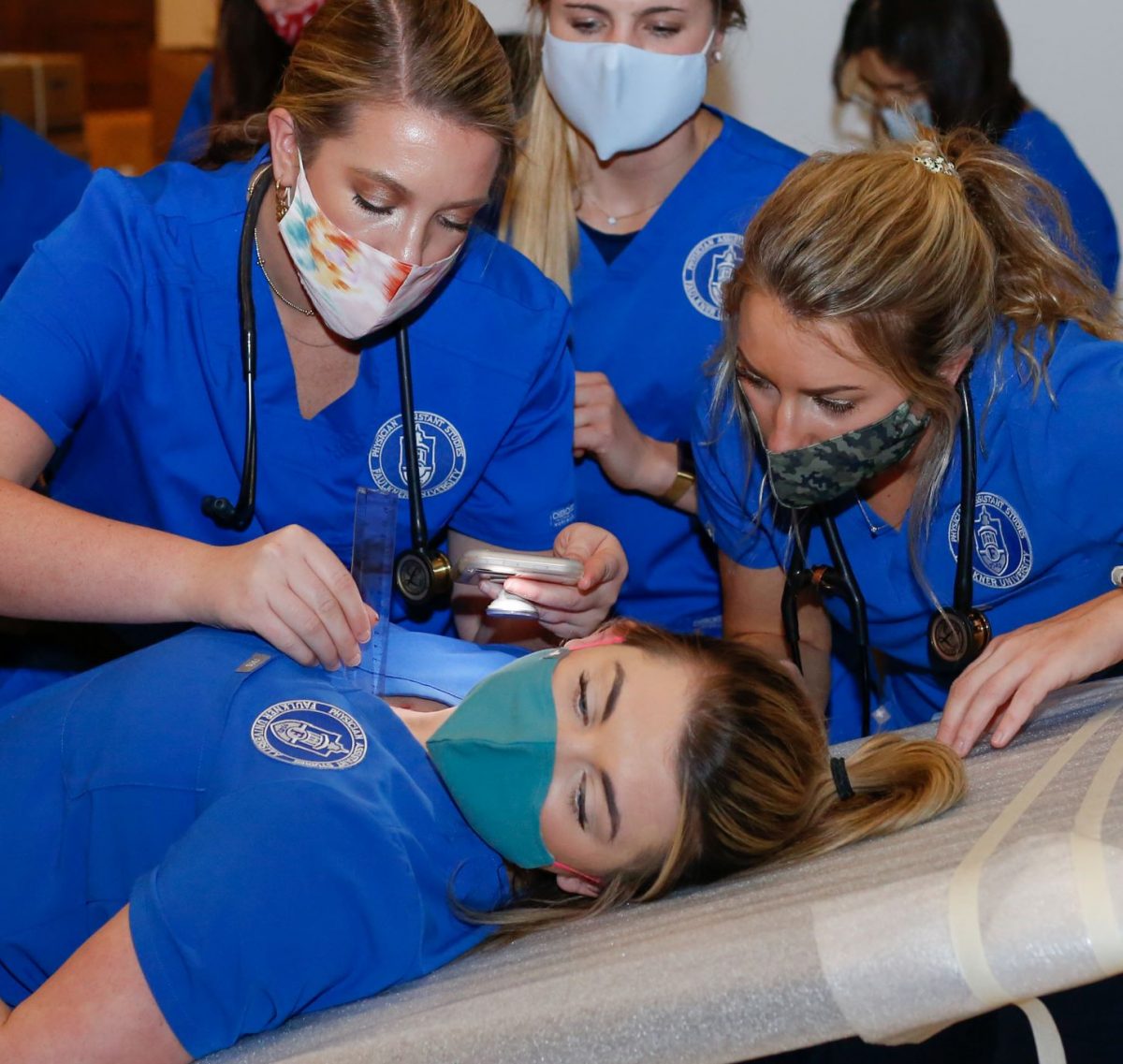 If you ventured onto Faulkner's campus recently, you may have noticed a group of students dressed from head to toe in Faulkner blue scrubs. They are a part of Faulkner University's new physician assistant program (PA), the second program in the university's college of health sciences.
Thirty-five PA students enrolled in the inaugural program to create a cohort, or a class with a unified purpose of healthcare. The term cohort is commonly used in health science education because of the unique learning environment it creates. Students go through each course together from the beginning of the program until the end, establishing a non-competitive bond among peers and faculty that will grow into professional relationships upon graduation.
The students joined the university's speech-language pathology students in October. The next PA cohort will begin in August 2021 with 50 students, and four additional faculty members. There are already 200 verified applicants and interviews began in December.
The PA program, which will allow students to earn a Master of Science in Physician Assistant Studies (MS-PAS), was granted Accreditation-Provisional status by the Accreditation Review Commission on Education for the Physician Assistant, Inc. (ARC-PA).
"We are blessed to have a very resilient student body and faculty as we explore uncharted territory for Faulkner," said Dr. Paul Jordan, director of the physician assistant program. "Our students are doing very well with the rigorous and condensed academic load."
On June 25, 2020, President Mike Williams announced the 13-acre purchase of the Montgomery East Plaza Shopping Center as the new site for the College of Health Sciences and where SLP and PA programs will soon call home.
Renovations of the empty Burlington Coat Factory building are underway to create a state-of-the-art science center that will house labs, classrooms and research areas with large virtual touch-pad cadaver tables. The tables allow PA students to digitally analyze cadavers and medical anomalies.
Students will also have access to Baptist Health South's 22,500 square-foot Institute for Patient Safety and Medical Simulation facility, one of the largest and best equipped training centers for new and experienced healthcare professionals in the country.
One PA student, Edward "Matt" Maner, 31, came from Augusta, Georgia to be a part of the inaugural cohort after he was drawn to Faulkner's Christian values. After earning his Bachelor of Science in Kinesiology from Augusta University he learned about the university's new PA program through the CASPA application service.
"I was accepted into other programs, but the campus and all of the scripture on the walls drew me to the school. I felt led here," Maner said. "Being a part of the first class here was a dream. I was excited to help form new traditions. I wake every morning, thankful for this opportunity."
Maner's father is a retired PA and is Maner's inspiration. Growing up, Maner yearned to help his family overcome their medical ailments. Becoming a PA is a way for him to care professionally for his loved ones and for other families as well.
Made up of a diverse group of students, the cohort includes individuals born in eight different countries and who come from states all across the country. The program unites their differences as students bond over the challenges of the course and must learn to rely on one another to succeed.
"We all seem to get along well and have navigated multiple challenges together and are working to form a vision for this cohort," Maner said. "I know I can speak for everyone when I say 'thank you to Faulkner University for accepting us into the school and campus.' We have received a warm welcome from everyone."
Anna Mangra, another PA student, was born in Guyana, South America, but calls Ariton, Alabama her home after her family immigrated to the United States in 1993.
She earned her biomedical science degree from Troy University and heard about Faulkner University's PA program from a friend who attended Faulkner Law. Enrolling in Faulkner's program allows her to be close to the support of her family and friends, while being a part of a faith-based institution.
"The PA Program staff is absolutely phenomenal! I truly feel that they care for each student here. There have been many times they have prayed for and with us. I genuinely believe that speaks to their characters, as well as their love for and dedication to us and this program," Mangra said.
Since she grew up in a rural town, Mangra has been motivated to serve. Becoming a PA seemed the perfect fit.
"Growing up in a medically underserved area magnified the need and accessibility for healthcare in much of our state," Mangra said. "I knew I wanted to be a part of providing that service and care for others."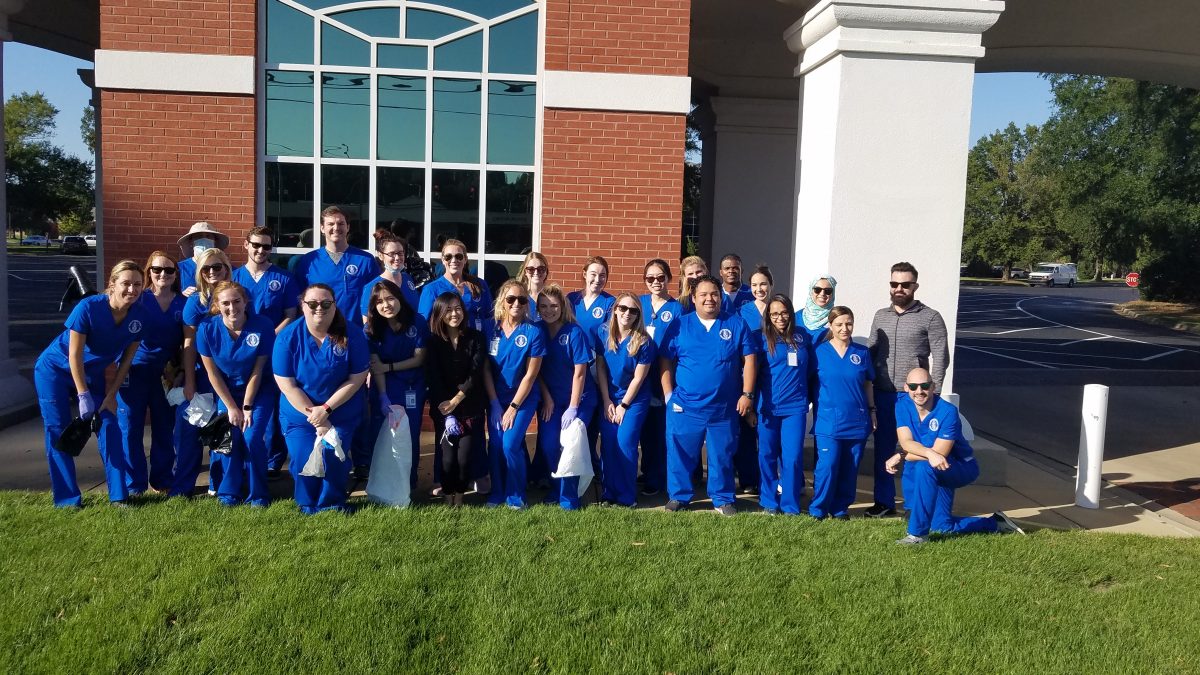 "The flexibility of the PA profession is something that is very appealing. PAs do not have to declare a particular medical specialty for the entirety of their careers. Having the ability to change specialties to develop new knowledge and skills really drew me to this profession," she added.
As opposed to Mangra and Maner who found their calling early on, 25-year-old McKenzi Mayfield decided to become a PA during college after a summer mission trip centered around sharing her faith and teaching English. She realized her ease in gaining rapport with others would be instrumental in a healthcare environment. Later, when Mayfield faced several medical issues herself, she realized the need for knowledgeable and compassionate medical care professionals and changed her major from engineering to pre-medicine.
"Having received some exceptionally thorough medical treatment from a few PAs, I decided I wanted to extend the same elite care that I received," Mayfield said.
She graduated with a degree in Biology from West Texas A&M University and submitted her application to Faulkner's PA program. She has known about Faulkner, but did not know about the new college of health sciences.
"In my early years of high school my grandparent's visited Faulkner University for a conference. They came back singing praises about the university, and urged me to consider applying," Mayfield said. "When I came across Faulkner's PA program, I decided it was about time that I take their suggestion and I am glad I did!"
PA students began their first year with in-class instruction on anatomy and physiology, introduction to education and ethics among others. They have 20 hours of classes a week that includes role-playing different clinical scenarios.
They will have a total of seven semesters. Four of which will be on site classroom studies and lab work, while the other three will be dedicated to nine rotations of clinical work in the areas of family medicine, internal medicine, pediatrics, emergency medicine, general surgery, women's health and behavioral and mental health.
Additional health programs to be added in 2021 and 2022 include Physical Therapy and Occupational Therapy respectively.