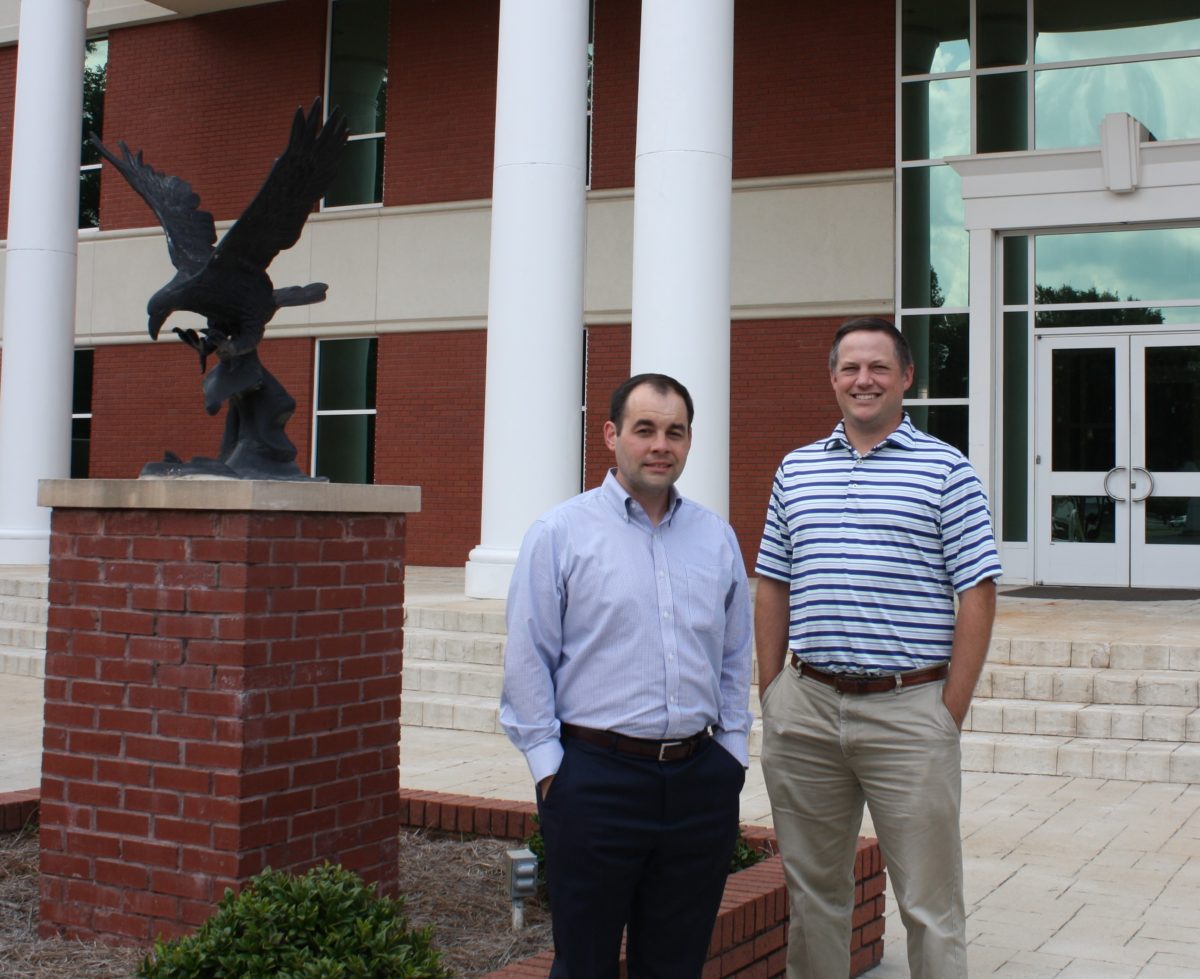 In order to better serve their students, Master of Business Administration (MBA) Director William Cooper and business professor and STEM Series Coordinator Justin Boyd are pursuing their PhDs at The University of South Alabama's Mitchell College of Business.
Cooper, who is pursuing his PhD in Business Administration with a concentration in Business Analytics, believes the pursuit of higher education will allow him to have an even more significant impact in the classroom and on the spiritual lives of his students he said.
"I look forward to many years of serving students at Faulkner University upon completing my degree. My time at Faulkner as an undergraduate student positively impacted the trajectory of my life and has had a lasting impact on God's Kingdom. I hope this degree will allow me to share my experience with others in the classroom and impact future generations for God's glory," Cooper said.
Cooper earned his MBA with a concentration in finance from Pepperdine University after graduating from Faulkner with his undergraduate degree and has worked in higher education for 15 years. Having a terminal degree is essential for career growth he said.
"Focusing on business analytics leverages my academic pursuits in information systems, computer science, and finance," Cooper said. "The professors in the PhD program are global leaders in their respective fields. I am gaining knowledge about the subject matter while also forming relationships with my cohorts that may lead to future research opportunities."
Boyd, who is pursuing a PhD in Business Administration with a concentration on Marketing looks forward to using his PhD to help him become the best college professor he can be.
"This degree will allow me to spend the rest of my career educating, molding, and mentoring the next generation of business leaders," Boyd said. "Obtaining this degree allows me to serve the academic needs of the students better. As a professor, I intend not only to educate them on how to be successful business people, but I intend to teach them how to be good people that are good business leaders. And to be able to do this as a part of the Faulkner University family where I can freely reflect the love of God in the classroom is truly an honor and a privilege."
Like Cooper, Boyd also chose to pursue his degree from the University of South Alabama's Mitchell College of Business.
"The innovative executive-style PhD program offered by the University of South Alabama allows me to remain a full-time employee at Faulkner and a full-time father/husband at home," Boyd said. "In addition, the faculty members within the Mitchell College of Business are world-class contributors to their respective fields. It is invigorating to learn from such an accomplished lineup of instructors."