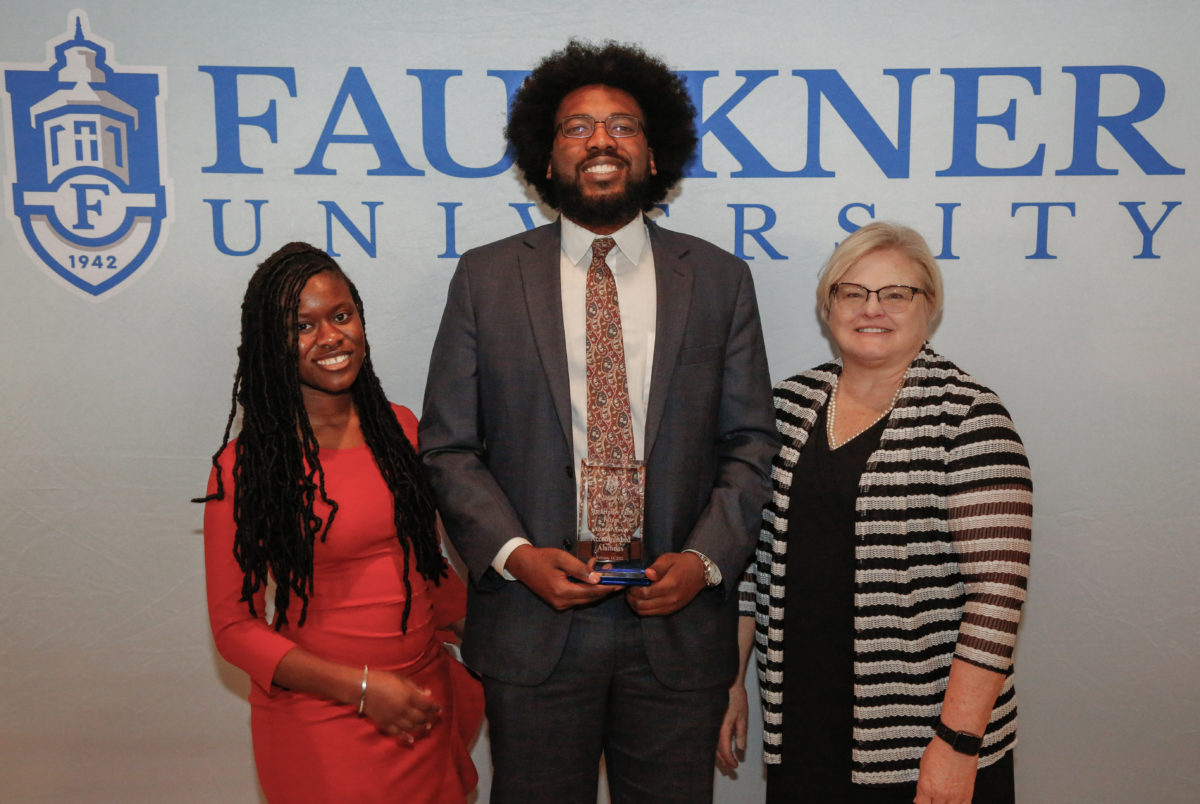 Ahmad L. Smith, a native of Tuscaloosa and an alumnus of Faulkner University is helping those in Montgomery County recover what they have lost as the Deputy District Attorney with Alabama's 15th Judicial Circuit's District Attorney Office.
As Deputy District Attorney, Smith serves as a trial attorney in the Street Crimes Unit, handling cases involving property and drug offenses.
"In this position I have an opportunity to help victims," Smith said. "Also, a lot of defendants suffer from mental issues or drug abuse. I am able to use my position to put those individuals on a path to get the help that they need."
Helping others is one way Smith is able to share his faith with the people and the community he serves. Getting a higher education at Faulkner, where his faith was nurtured and diversity was celebrated, was important to Smith.
"Faulkner gave me the space to allow me to explore my faith in depth as well as the opportunity to meet individuals from every part of the globe," Smith said. "By being able to fellowship with individuals from so many different cultures, it allowed me to expand my perspective on life and gave me a more open mind to the endless possibilities that life has to offer."
Smith earned his Bachelor of Science in Legal Studies from Faulkner and then graduated with his Juris Doctorate from Faulkner's Jones School of Law in 2021. He was admitted to the Alabama Bar in October of 2021.  He returned to Faulkner's campus in February 2022 where he was honored as the Accomplished Alumnus for the College of Arts and Sciences' Legal Studies department.
Smith spent his collegiate years working with Faulkner's athletic department and as a fire prevention technician with the Montgomery Fire Equipment Company. He also served an internship with the ADA Group law firm. During the summer months of his college years, Smith dedicated his time to Alabama Special Camp for Children and Adults (ASCCA), as a camp counselor for persons with mental and physical disabilities. 
During his time at Faulkner Law, Smith served as the treasurer and president for the Ernestine S. Sapp Chapter of the Black Law Student Association, (BLSA) as well as Treasurer for the Jones Public Interest Law Foundation (JPILF). Smith also held a position as a law clerk for the Hon. Jimmy B. Pool, state circuit judge, where Smith's work focused primarily on post-conviction matters. He held this position throughout law school until receiving confirmation of his passing of the 2021 Bar results. He was sworn in as Deputy District Attorney in November 2021 by the Honorable Lloria James.
"Faulkner University and the professors that teach there challenged me to step out of my comfort zone and taught me not to settle on being average," Smith said. "During my time at Faulkner, I learned that the hardest step on any journey is the first step, and after you take that first step you'll find yourself soaring before you know it."