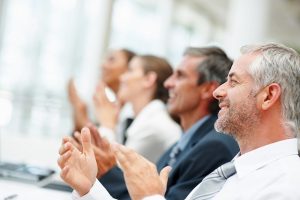 Perhaps you'd like to earn a higher degree in order to be considered for a promotion or a raise at your current job. Maybe you're interested in broadening your skill set and maybe one day exploring an alternate career path. These are two of the many reasons that people return to school after they have already joined the workforce.
Moving Up The Corporate Ladder
Recent years have shown an increase in millennials who continue on to receive postsecondary education, with 47% of 25-34 year olds receiving associate, bachelor, or graduate degrees in 2013. As more of the American workforce goes on to earn specialized degrees, employers are responding by creating more sophisticated and specific jobs that have a higher level of complexity and specialization. A Master's degree in your specific field may help you stay competitive and give you the chance to be considered for a promotion, as well as an annual salary raise. If you're already working full-time at the moment, consider earning an online Master's degree. As someone already in the workforce, an online education may be the right option for you so that you can balance both your job and your continued education. With an online education, you'll have the option to attend classes on the weekends or in the evenings, after your normal workday. You're also not limited to earning a degree at a school within driving distance of your home.
Broadening Your Skill Set
In earlier decades, most of the American workforce hoped to earn a job with a stable company so that they could work there until their retirement. However, in today's world, lifelong jobs are so uncommon that they are almost an anachronism. In fact, many industries have been so disrupted by global outsourcing, foreign competition, and economies of scale, that stable and predictable jobs are nearly a thing of the past. Having the ability to wear more than one hat may help you weather unexpected changes within your company or your industry as a whole.
In summary, you should consider going back to school if you're looking to earn a higher income or strengthen your future job security. If you're already in the workforce, an online education may be an appealing option for you, as you are not limited to either a physical school's distance from your home, nor to set class times that may not fit within your weekly work schedule. Faulkner University is proud to be an accredited, non-profit institution offering online Master's degrees in counseling, justice administration, Biblical studies, and Christian ministry.
Photo Credit: tec_estromberg