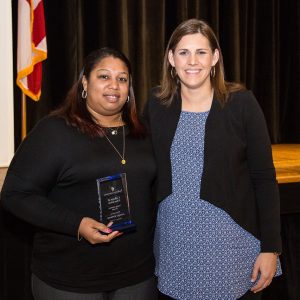 A graduate from Faulkner University, Jennifer Robinson decided to stay in Montgomery and start a successful career as a teacher. She was recently honored by her alma mater as the College of Education's Young Alumna of the Year.
After graduating from Faulkner in the fall of 2014, Jennifer began substituting for Montgomery Public Schools. While substituting, she was offered a paraprofessional position at Dozier Elementary from March to May 2015.
After that job opportunity, she received a Kindergarten position at Garrett Elementary, the same school where she finished her college internship. Under the leadership of the principal, she began her first year of teaching and was nominated and awarded The Golden Apple Award in March of 2016.
She graduated with a Master's in education in December 2016 from Auburn University in Montgomery and is currently in the Ed.S. program at AUM, expecting to graduate in December 2018.