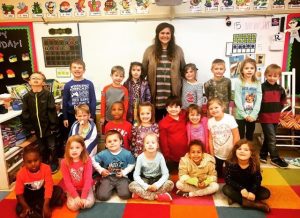 One new way Faulkner University's College of Education is training and preparing students for a job right after graduation is by helping them ace the new edTPA test.
College of Education Dean Leslie Cowell is constantly looking for ways to help her students stand out among the rest of the state's education majors to land their first teaching job.
"It's important to us that our students have a high first-time passing rate with the edTPA," Cowell said.  "So we've put in this structure embedded into our program for students along with high quality faculty to support them to ensure that they are successful in taking the edTPA test."
Although the edTPA will be required for everyone seeking a teacher certification this fall semester, Faulkner has already been implementing edTPA requirements into its classrooms and internship evaluations for the last two years.
Faulkner graduate Laura Lambert was one of the department's 13 students who took the test and passed on the first try. Lambert graduated this May with a Bachelor of Science in elementary education and is currently in Faulkner's online graduate program.
"I was extremely stressed before I even knew what it was, but then we had our first meeting to discuss what exactly edTPA is and I felt completely relieved. It is what we had been doing in our classes for the last year," Lambert said.
"That's probably what prepared me the most. We had practice. We were also blessed to have professors who truly cared about how we performed. They were always available to answer any questions and to cheer us on. Even after graduating, I still feel as though my professors would be available to help me with anything."
Fellow graduate, Cassidy Bailie, also passed the edTPA and attributes her success and preparation to her professors and Faulkner's program.
"The professors were so welcoming, encouraging and supportive. They helped me with everything I needed in and out of school and really prepared me for the field of education including the edTPA," Bailie said.
"Even though I graduated and the edTPA wasn't required then, I was taught throughout the semester in each of my classes, components of the edTPA that allowed me to pass it and put it on my resume."
The edTPA is defined as a "performance-based, subject-specific assessment and support system used by teacher preparation programs throughout the United States to emphasize, measure and support the skills and knowledge that all teachers need from Day 1 in the classroom" according to edTPA.com.
The edTPA tests in the areas of planning, instruction and assessment. Candidates are required to plan 3-5 lessons, record themselves teaching and provide video clips, analyze student data and critique themselves.
Beginning September 1, 2018, those seeking a teaching certification in Alabama will be required to participate and pass a teacher performance assessment for licensure, which includes the edTPA.
This spring semester 13 out of the 17 Faulkner education majors who took the edTPA assessment passed on their first try. Students in the department were required to prepare a portfolio of materials, demonstrate readiness to teach through lesson plans, engage real students, analyze their students' learning and adjust their instruction accordingly. They also submitted unedited video recordings of themselves teaching a class as part of their portfolio.
Cowell and her team reviewed their students' portfolio, met with their students twice a week to provide one-on-one feedback.