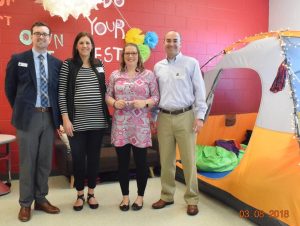 Britney Fureigh found a successful career in teaching at the new Pike Road School after she received her Bachelor's degree in elementary education in 2002 from Faulkner. While at Faulkner, she played on the volleyball and softball teams on full scholarships.
She was recently honored during Faulkner's Homecoming weekend for being a light to the community and her classroom.
Fureigh received her Master's degree in elementary education from Auburn University of Montgomery in 2004 and is currently in her 16th year of teaching and has taught in Elmore County at Millbrook Middle, Wetumpka Intermediate and Redland Elementary.
She is in her third year at Pike Road School where she is a lead learner for Community Four Math and Science and serves as the head volleyball coach for the Pike Road Patriots. She has been married to Faulkner alumnus Joseph Fureigh for 15 years and they have two children, Rylie, Connor.