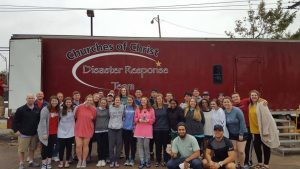 Stepping off the bus with more than 40 other college students, Faulkner University business administration major, Israel Afangideh stopped in his tracks.
Devastation, debris, and destroyed homes were left in the wake of Hurricane Harvey after the storm hit the Texas coastline in August. Houston and its suburbs were in the news for several weeks as rain pounded homes, families and livestock.
As the rain stopped, their plight faded from the headlines. All the while, families returning to their homes, found most of their possessions had been washed away by the floodwaters. Their days continue to be filled with sadness as they face the challenges of rebuilding.
Israel and more than 15 students from Faulkner University and Landmark Church teamed up with about 30 Troy Christian Student Center students as they left Alabama to help the Disaster Response Team and to do their part in the continued relief efforts for Texas.
When Israel saw how much they were needed, he knew his decision to give up a few days of his Thanksgiving break was one of the best he could have made.
"Many of those who we helped were members of the church," Israel said. "I can't imagine the feeling that they must have had – that they were on their own. Then you have us coming from Montgomery, a 10-hour drive, and other members of the church coming from farther away to their aid to help them.
"I know that gave them such a feeling of hope that was immeasurable."
Israel and the group from Faulkner University were sent to serve the victims in Beaumont, Texas by removing water-logged items from the homes and putting them on the curb.
Along with drywall and insulation, the student relief team removed children's toys, Christmas decorations, carpets, clothes and personal items that had belonged to the families who lived there. One family of three generations looked on as the team worked.
The relief team eventually shifted into demolition work to remove more of the structure of the homes in order to rebuild.
"It struck me that for that family looking at us work, success for them that day meant destroying their house. We had one man tell us that he used to think that his house and all his stuff was what made him happy.
"Then he realized that it was that stuff that was stopping him from being happy."
When asked if he would go again, Israel, without hesitating, said yes.
"I went to help others, but I came away with a whole new outlook. Just imagine what we typically do in a weekend. Going there, I was able to do meaningful work that made a difference.
"It also taught me to look at what I buy and use my money for. It's not about getting more stuff, because that can be gone in an instant.  Life is so much more than that."