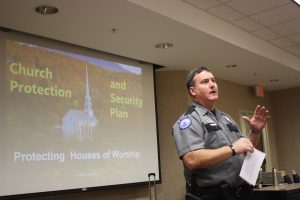 More than 50 church members and law enforcement officers from around central Alabama came together on Faulkner University's campus in Montgomery on Friday with one mission – to protect their congregations and community from being the target of a deadly shooting incident.
More and more, mass shootings targeting churches are being reported in the news including the recent attack in Sutherland Springs, Texas last year. In response to such a rise in church shootings, Faulkner University made a plan to offer Church Protection and Security Plan seminars at each of its campuses in Huntsville, Montgomery, Birmingham and Mobile to serve the churches in those surrounding areas.
Since 1999, there have been 1,691 church related incidents using deadly force and 810 church related deaths according to information presented by guest speaker, Robert Thetford.
Thetford, retired from the FBI, has 25 years of experience as a legal adviser and served as Special Agent with the FBI, served on the FBI's SWAT Team for 16 years. He is a practicing attorney and former prosecutor, a certified police instructor and is an author and coauthor of five books and numerous articles dealing with terrorism and legal issues.
Thetford presents similar material at each Faulkner campus during the six-hour seminar, which goes over material to help participants formulate a Crisis Plan to prevent and prepare for a possible shooting incident or other common criminal attacks on churches such as burglary, robbery, vandalism or hate crimes.
Faulkner University's Chief of Police Everette Johnson helps organize each event so that churches leave with effective ways their members can protect themselves and how they can learn to work fluidly with local police officers.
"Who would have thought that our churches would be under attack?" Johnson said. "Who would have thought that we would have to talk about protecting our places of worship?"
"I hope that by the end of today that you will have some resources, some information and knowledge. I know that you will be able to take this valuable information back to your congregations and help you implement a plan to protect your congregations."
Thetford and Everette believe that everyone is responsible for protecting each other from harm whether that person wears the uniform or not. Thetford's presentation referred to examples in recent news of citizens in congregations who were instrumental in stopping a shooter.
One example he used was the 2015 shooting in Selma, Alabama at the Oasis Tabernacle Church where a man shot at his month-old son at the time and the child's mother as they sat in the front pew of the church.
Parishioners, including the pastor, quickly overcame the man moments after he opened fire and held him for authorities to take him into custody. The mother and child survived the attack.
"Who intervened in this instance? It was the church members," Thetford said. "You might as a private citizen have to do the same.
"Those who are working in the church should get with local law enforcement and get them to help you with a plan to adapt to your church's specific needs. You should form a security plan, have officers review them, have them review your security and practice with officers on how to implement those plans."
Thetford covered nine areas of protection including legal aspects of protection, recent active shooter and violent incidents, understanding situational awareness, major criminal threats, security considerations, developing emergency protocols, working with law enforcement, acting on threat indicators and mandatory after incident actions to protect your organization.
The first seminar was held in Huntsville last year. The next seminar will take place in Birmingham on February 16 and Mobile will hold theirs in March.
Faulkner University is dedicated to a thriving and flourishing church body and believes it is the university's responsibility to help our local congregations. Through offering resources and creating community connections to help the church prepare for an active shooter event, Faulkner is helping the church be more safe and secure.