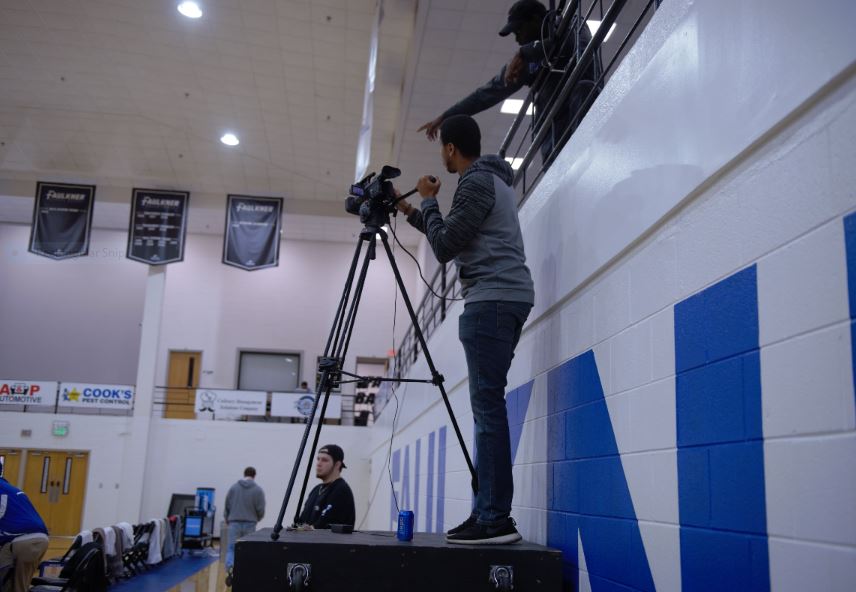 Desean Bullock was a young boy when he wrote and recorded his first newscast. He knew he wanted to grow up and be on a real news team.
Bullock's childhood dream came true at Faulkner University through the Faulkner Sport Network (FSN).
FSN began in 2011 under the leadership of Doug Amos, but has recently expanded under the direction of Jeremy Smith, who became director of sports information in the fall of 2018. Smith saw a golden opportunity to cultivate students in the business of sports media.
Under Smith's direction, FSN has become student focused, providing opportunities for students interested in sports management, broadcast journalism, graphic design, photography and more. The students learn everything that goes into making a sporting event a success, from game set up to break down, and everything in between.
"Our students are not only getting amazing work experience to help them land jobs after graduation, but when they are a part of FSN, they are representing Faulkner to our guests at sporting events," Smith said. "Our students have high standards to uphold in a place where we value character and they live up to those values."
Students who work with FSN learn all the roles so they can help wherever they are needed, but they primarily focus on their areas of interest.
Bullock is one of more than 30 students who comprise the revamped FSN. He's getting his chance to shine as a talent on camera while others have the opportunity to explore photography, on air commentating, tracking stats, running concessions, and much more.
"I came to visit Faulkner and Jeremy told me about FSN," Bullock said. "I didn't know something like that was even offered here, but I thought it was a great opportunity to do something I have wanted to do since I was young. It's a big reason why I came here."
Bullock is an interdisciplinary studies major, which allows him to build a personalized degree plan around the areas he's passionate about including writing, marketing, crafting features and sport stories, working with production software and working the cameras. He's also taking classes in liberal arts, sports management and psychology.
FSN has grown from one student to 30 students who are on scholarships and work study jobs through FSN. They are all getting the same hands-on experience. They are the first ones at the gym hours before a game starts and the very last ones to leave as they prepare for and break down for each event.
"We're taking a different approach to the games, partly to help our department because there is a lot we have to do and secondly, it has become a major draw for students already here and a talking point when recruiting high school seniors," said Smith. "They livestream from every conference home game, and working on doing real broadcasts with commentary for every sports' home game."
"It's a big endeavor, but I know our students are up for the challenge."
The students have helped increased coverage of all Faulkner sports through livestream videos, photography and social media, and an athletic podcast is in the planning stages.
Carter Moles, Faulkner's sports information assistant, was a part of FSN as a student. He is able to see the benefits provided to the students and the athletic department.
"It makes it so much easier for all of us to cover the different athletic events, especially when you get in the seasons where everything just seems to overlap," Moles said. "Any given weekend, we can have a volleyball match at home, a soccer game on the road and football going on at the same time. With more people helping, we can give everyone the coverage they need."
Ethan Forsman is another student has put a lot of work into FSN. Forsman, a "jack of all trades," works on athletic promo graphics, mans the camera, helps with sound, and is often the called upon to troubleshoot problems.
We're like a family and we trust each other," Forsman said. "We can do our homework, talk about classes and this group will be honest with me. I love working with this group because I love solving puzzles and working in a fast-paced environment."
FSN is looking for video editors, graphic designers, and students who are social media and sports media savvy. Students who want to learn more about being involved with FSN, can contact Jeremy Smith at jsmith@faulkner.edu