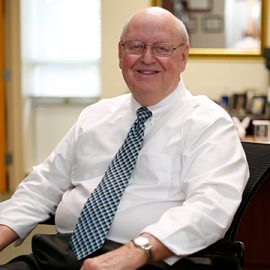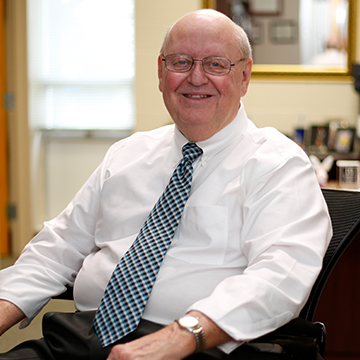 Currently serving Faulkner as a recruiter for Graduate and Adult Enrollment since 2016, Austin, 71, graduated from Faulkner with a Bachelor's degree in Biblical studies in 2006 while working at the school.
Having been employed at Faulkner for 17 years has allowed him to exercise his faith in God in so many ways, he said.
"Having worked with young people for 30 years, in the church, in South Carolina and having a degree in counseling has given me the tolls to help college students stay on the right path to please God," Austin said.
Austin was first the Director of Student Housing from 2001 to 2003 and was the Assistant Dean of Students from 2003 to 2005 and Dean of Students from 2005-2014. He then became a Transfer Admissions Counselor prior to his current role.
He received his Master's degree from Liberty University in counseling in 2009 and received three certificates from the Mendoza School of Business from the University of Notre Dame in 2003.
From 1970-1985 he was self-employed in Charleston, South Carolina with his business, the Austin Tire Company and worked in the Import and Export business there from 1985 until 2001.
Austin is a Vietnam War veteran while serving in the United States Air Force. He was awarded the Air Force Commendation Medal while serving in Vietnam. He served as a Scout Master for 19 years and currently serves the University Church of Christ as an elder and teaches Bible classes. He has served on the Board of Directors of Herald of Truth for six years and currently serves as board chairman. He has made six trips to Israel to excavate at Tel Beth-Shemesh and has invited students, faculty and staff to join him. Austin has also made five mission trips to Cuba.
Austin has been to England, Israel, Greece, Jordan and Egypt. He is married to his wife, Margie for 50 years and they have two children and three grandchildren.