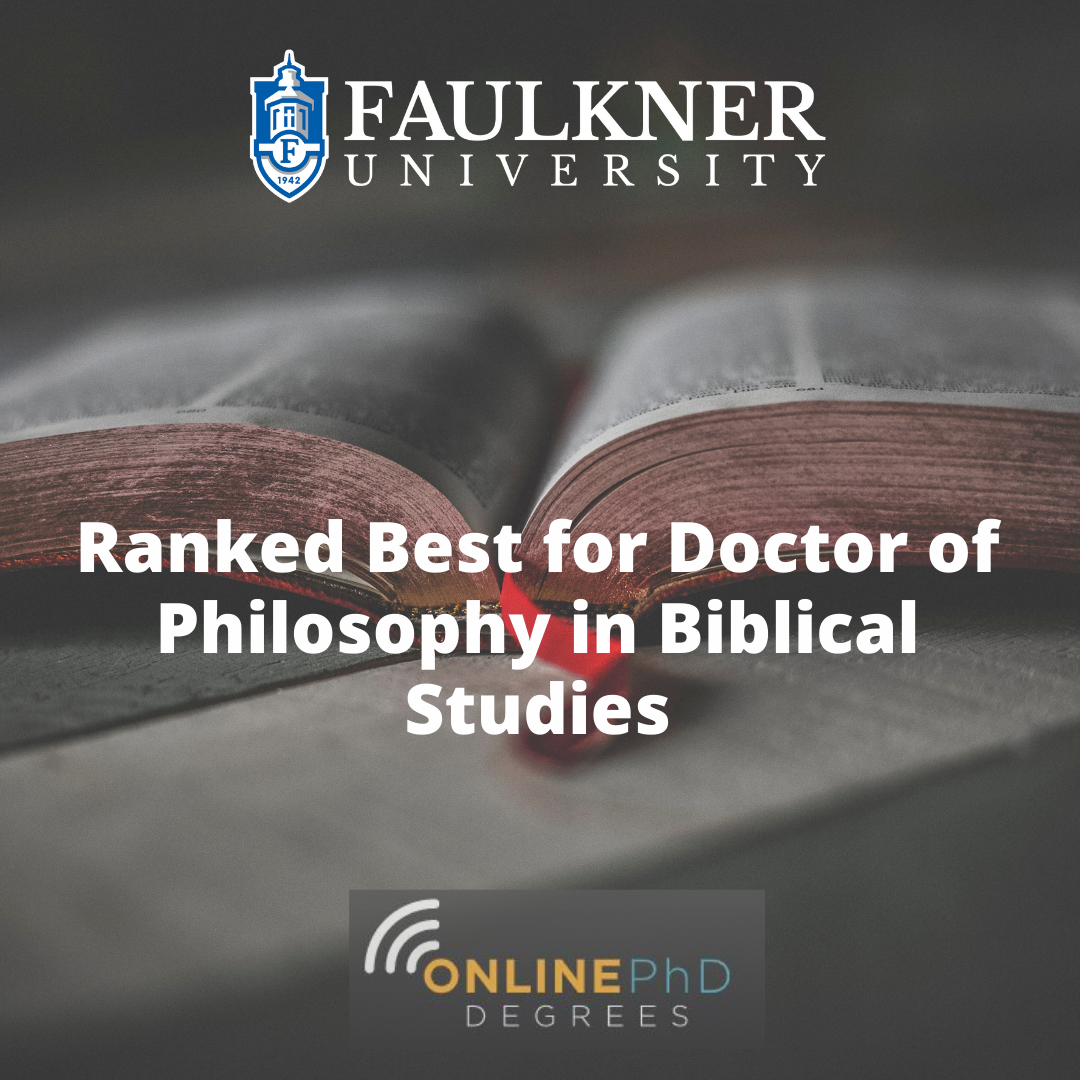 Faulkner University's very own Doctor of Philosophy in Biblical Studies found itself highly praised on Online-PhD-Degrees.com's ranking of the 8 best online Doctorate in Theology programs. Faulkner's Bible program aims to acquaint students with a much deeper understanding of theology, biblical interpretation, biblical history, and the skills needed for life of teaching and ministering.
According to their methodology, Online-PhD-Degrees.com researched online Bible programs from across the nation and evaluated each one's flexibility, structure, accreditation, student success, supplemental services, and sincere passion for teaching the gospel of Christ, and they found Faulkner's online Doctorate of Philosophy in Biblical Studies program to be an outstanding course for students seeking further education.
Completing this doctorate program at Faulkner is a four-to-five-year process that includes a number of courses such as "Biblical Scholarship," "Christian Ministry," and "Advanced Studies in Biblical Hermeneutics." Doctorate students will also complete seminar courses in biblical languages such as Hebrew, Aramaic, and Greek. The program culminates in completing four dissertation modules, all of which are accomplished with the ease of online services.
Online-PhD-Degrees.com praised Faulkner's well-rounded approach to an online Bible program, its thorough course options, and its earnest desire to make its students better Christians. They see Faulkner as a university that provides graduates with "credentials for teaching at the university level, research, pastoring, Christian writing, and leading community outreach" and believe "graduates of this online doctorate program are provided with the essential knowledge in the critical areas of biblical education with the needed preparation for scholarly undertakings."
Faulkner University is delighted to provide online graduate-level students with the tools they need to fulfill their education goals as they seek new knowledge and opportunities to share and understand God's Word, and we are honored to have our program and our students recognized for their achievements.
To learn more, visit us our program page here.