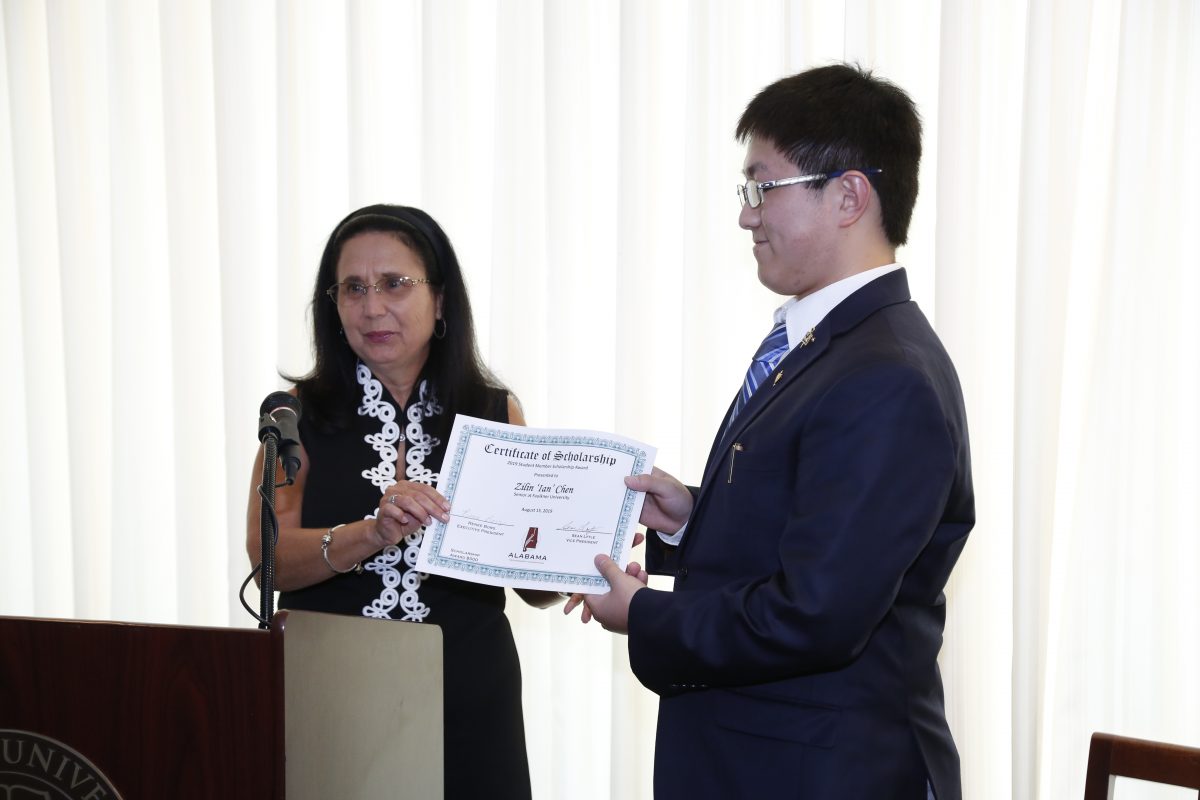 MONTGOMERY, Ala. – Faulkner senior and computer science major Zilin "Ian" Chen was told to dress in his best suit and meet Dr. Susan Hammond, Chair of the Computer Science Department in her office. Together they walked into a conference room where Chen was met with a surprise from the members of the Alabama Technology Foundation (ATF).
ATF held a formal presentation on Faulkner's campus Thursday to award Chen with a $500 ATF Student Member Scholarship for his work in the computer science field and for joining ATF's innovative professional database. ATF director and members of the ATF Board of Directors extended a personal invitation to other Faulkner computer science students to take part in ATF and join their database as well.
"It was very much a surprise, but what a blessing this is!" said Chen, who was joined by Faulkner College of Arts and Sciences Dean Dr. Jeff Arrington, Vice President of Academic Affairs Dr. Dave Rampersad and Faulkner President Mike Williams.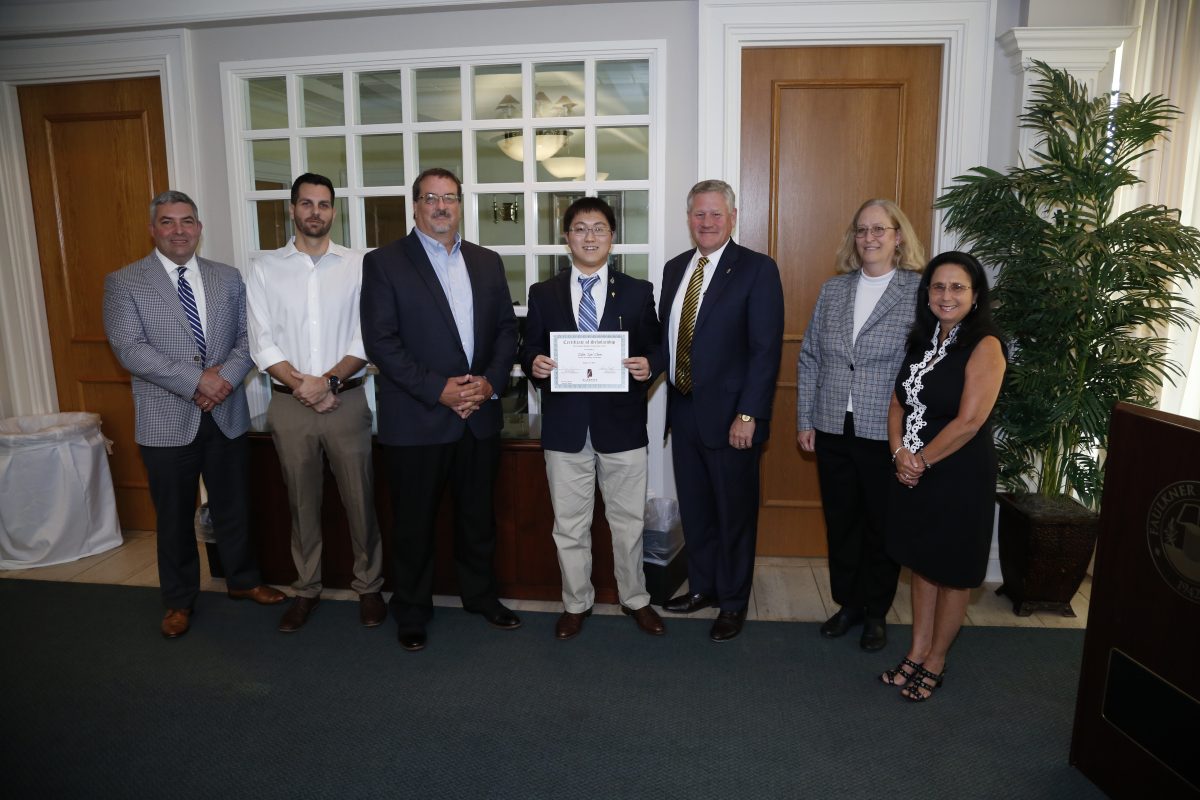 Chen is a Computer Science major entering his senior year this fall. An international student, Chen hails from northern China and came to Alabama when he was still in high school. Chen has maintained a 4.0 average GPA and is a member of the Alpha Chi Honor Society, the Faulkner Computer Club and Sigma Zeta, the National Science and Mathematics Honor Society.
Chen met all the requirements to achieve the scholarship, which included enrollment in an Alabama university as a freshman, sophomore, junior or senior or a graduate student with at least 6-9 hours per semester. In addition, he provided a resume and unofficial transcript, completed a full semester before enrolling, has a GPA of 2.5 or higher, is enrolled in engineering and/or IT specialties and provided a letter of recommendation.
"Once selected we contacted your university to ensure that this particular student met all of our requirements. It was proven that not only did he meet our requirements, but excelled in all of them," said Renee Borg, the Executive Director for the Alabama Technology Foundation.
"Ian, your membership proves that we are heading in the right direction with our database. Any company would be proud to have you in their workforce. I would like to congratulate you on your academic achievements and express that it is an honor to present this award to you."
The Alabama Technology Foundation is a non-profit outreach organization that is supporting the Alabama business industry by developing Engineers and IT professionals through Academia and Workforce Development. ATF is helping provide students an opportunity to be seen by all of Alabama's businesses. The organization is designed to help both the students in Higher Education and the Alabama businesses looking for them.
ATF is positioning the State of Alabama as a leader in Technology by providing one of the largest academic Engineering and IT databases accessible to the Alabama workforce industry. This database will consist of ATF Student Members that attend Alabama colleges and universities and getting degrees in all areas of IT and Engineering.
"The benefit of being a student member of the ATF is that your profile will be seen by hundreds of business sponsors. Because all businesses that attend our Alabama Business Technology Conference will have access to this database," Borg said.
"In retrospect, our businesses will be able to see hundreds of students from multiple colleges and universities by accessing our database. They will be able to narrow their search by institute, student's GPA, Major, Experience, Certification, Internship, grade level or graduation date. Our business advisory board members have committed to using this database to hire interns and students for permanent job placements. One of my quests today is to ask Faulkner's IT and Engineering students to join our organization."
It is free to join. Visit https://alabamatechnologyfoundation.org and select the Students tab.