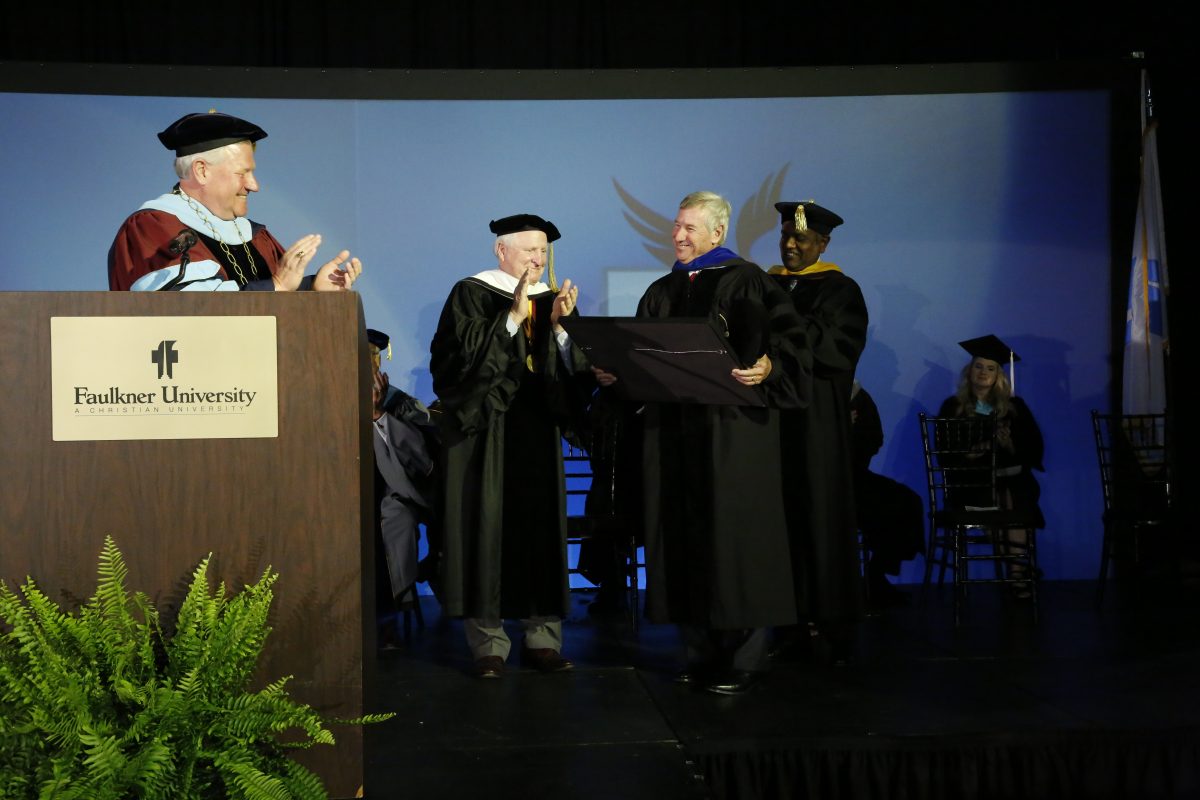 This year's annual Faulkner University Convocation ceremony was not only a celebration of the start of a new school year by students and faculty, but it was a special way to recognize outgoing Mayor Todd Strange for his ten years of service to the City of Montgomery.
The Tine Davis Gym on Faulkner's campus was filled on Monday with nearly 2,000 new and returning Faulkner Eagles, faculty and staff and guests from Alabama Christian Academy for the event.
Following a processional and introduction of the university's faculty, performances by the University Chorus and remarks from President Mike Williams, Williams along with Chancellor Billy Hilyer and Vice President of Academic Affairs Dave Rampersad, bestowed the university's highest honor, an honorary Doctor of Humane Letters to Mayor Todd Strange.
With a broad smile, Williams introduced the "newly-minted doctor" to the applause of the crowd while a comic-book style introduction played on the screens. "Here is the true, 'Dr. Strange,'" Williams said.
Strange was overcome with emotion.
"There are very few times I have chill bumps when I lose my train of thought and this was one of those times," Strange said. "I've said before that is has been the greatest honor of my life to be able to serve this community for ten years and for Faulkner, who is just a beacon of light in this community, who does so much great work in particular with education, to recognize my years in office and to honor me in this way, I'm grateful and I'm just honored."
When Williams first came to Montgomery five years ago, Strange was one of the first leaders in the city to reach out and introduce himself and the two have forged a friendship and a shared vision to better Montgomery, Williams said. Since then, Faulkner has partnered with Montgomery Public School's Davis Elementary to support and mentor students in and out of the classroom. Additionally Faulkner has made huge strides to create an autism center for the River Region and currently provides speech and language therapy at no cost to the community.
"As a newcomer to Montgomery, I met with Mayor Strange to lay out a vision of Faulkner to be deeply integrated in Montgomery," Williams said. "He just met me with open arms, and basically said 'we want to help propel Faulkner because we want what Faulkner has to offer.' It's just been a great partnership and to recognize him and our partnership is a great celebration. We join the whole city in celebrating ten years of growth in Montgomery and it is due in large part to Todd's leadership."
"Mayor Todd Strange understands that the way to solve society's challenges is through partnership. He sees the potential, not just the problem. Mayor Todd Strange is the epitome of a public servant."