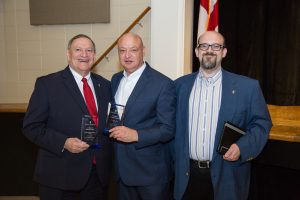 Thirty one graduates from Faulkner University came from near and far this February to return to Faulkner's familiar campus. It was a way for many to pay homage, meet with old friends and professors and speak with current students on how Faulkner helped launch them on their successful career paths.
It was the second annual Marketplace Faith Forums where every college on campus reached out to its distinguished alumni to come back and reflect on the ways their classes, professors and faith helped them succeed.
This year, the forums were a part of Faulkner's 75th anniversary Homecoming Weekend and the atmosphere for many returning, was like coming back home. They were grateful to have a chance to give back to a university that had poured so much into them, they said.
The College of Biblical Studies awarded alumnus, Frank "Butch" Jones the Distinguished Alumnus of the Year and Andrew Itson as Young Alumnus of the Year. Several other graduates from the Bible department also spoke during the forum.
College of Biblical Studies
Frank "Butch" Jones- Distinguished Alumnus
Jones, 65, lives in Georgia and graduated from Faulkner University when it was still known as Alabama Christian College. He is also a graduate of Alabama Christian School of Religion.
While at ACC, he participated in Phi Sigma Delta, Religious Emphasis Club and the College Chorus.
"I want those who graduate from Faulkner with a degree in Biblical studies to realize that they are making a difference in the lives of those they minister to by becoming servants," Jones said. "Jesus helped and served, but was not enough for him just to say that. He was a servant himself."
He currently serves the Evangelism and Outreach Minister for the Ellijay Church of Christ in Ellijay, Georgia, which he has served since 1980. He also serves on the Faulkner University board of trustees and has been involved in a variety of community service endeavors including the chamber of commerce, the children and youth council for Gilmer County, the Boy Scouts, North Georgia Bible Camp, the Georgia Policy Council for Children and Families, the Georgia Welfare Reform Advisory Council and other.
He was awarded as the 1990 Citizen of the Year for Gilmer County.
Jones is married to Susan Anderson Jones, has two children, Jenny and Brandon and four grandchildren. He enjoys hunting, fishing and camping.