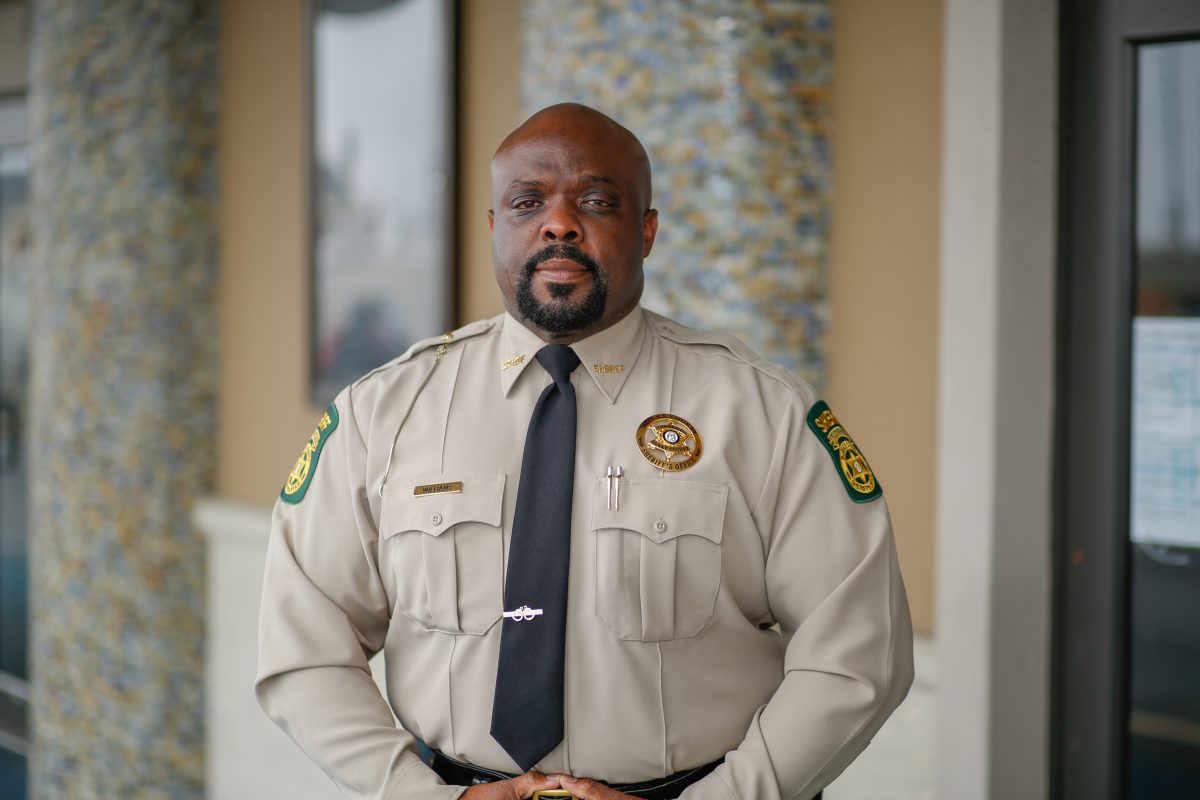 Eight-year-old Alfonzo Williams looked outside his window in public housing and could see his neighbors fighting. He then watched in awe as the police officers who were dispatched to his neighborhood garnered respect, served others and restored order.
At an early age, Faulkner alumnus Williams knew he wanted to wear the uniform and walk the thin blue line.
From growing up in a single-parent home where indoor plumbing and casual comforts were in short supply, then moving to the city surrounded by domestic violence, to finally achieving his dream of becoming sheriff, Chief Williams attributes his faith in Christ, the support of his mother and a Faulkner education to being the man he is today.
"Becoming a sheriff has been a lifelong dream for me," Williams said. "I grew up poor as one of seven kids to a single mother and all throughout my life, I watched my mother, who made mistakes, turn her life around. I adopted her personal outlook on living a life of service."
"She brought us up in the admonition of the Lord," Williams added. "No matter how little we had, it was enough to say grace over, she would say. When we were struggling to make ends meet, we always said grace and went to church. Growing up, we knew Christ died so we could live eternally. And like Christ, my mother has a servant-heart and attended daily to the needs of others. I remember the pound cakes she would bake to uplift those who were down and out, even when she had nothing."
In his career and in his life, Williams adopted the same purpose – to serve others. He's even been known to bake a pound cake or two.
His service-before-self attitude has garnered respect and trust among the police department and his community.
As the first African American Sheriff of Burke County, Georgia, Williams is not only making history and making his community safer, but he is also using his platform to be a strong voice of reason and justice in an age when law enforcement officers are under fire.
His experience that comes from over three decades in law enforcement was called upon during the violent riots in the summer of 2020 following the death of George Floyd and the shooting death of Rayshard Brooks. Williams reached out to news outlets to provide candid insight into law and order and justice and how he promotes community policing in his department. His voice has been broadcast several times on CNN, Fox News and other media outlets as one of reason and truth during a time of racial unrest.
"I have a saying in the agency, that our job in the community starts before the crisis ever begins," Williams said. "In community policing, we are building relationships and partnerships up front, being transparent and establishing trust and showing commitment to one another. We are not here to be served by people, but to serve people. If we keep that the focus, it becomes evident to others that we do care."
His ideology stems from those early days of seeing how the officers served his housing complex and how his mother raised him to be accountable to a higher authority. He says he's blessed to be in such a career.
Prior to becoming sheriff, Williams was also the first African-American chief of the City of Waynesboro Police Department. He has 31 years of law enforcement experience, starting with the Augusta Police Department and Richmond County Sheriff's Office. After graduating from high school, he completed the police academy and was soon promoted to detective. Throughout his career, he has received six Police Officer of the Year awards from various civic organizations and law enforcement agencies.
He graduated from Faulkner in 2019 earning a Master's Degree in Criminal Justice Administration. He earned an Associate of Applied Technology Degree in Criminal Justice from Augusta Technical College, a Bachelor of Science Degree in Organizational Management from Voorhees College and a Master of Education Degree (Instructional Technology) from American InterContinental University.
After Williams took office as police chief, he and his chief deputy took a class in Atlanta where Faulkner University was represented at a conference advertising half-off tuition for law enforcement officers. As a big proponent of education, Williams thought the offer was too good to be true.
"I picked up the phone and called Alison Cahoon, director of graduate and Adult Enrollment at Faulkner and introduced myself," Williams said. "She echoed what I had read and she drove to Georgia to speak with our department. I and several of my colleagues enrolled in classes and had a tremendous experience. It was like becoming a part of a family and it was unlike any type of college experience I had had before. Faulkner offers a quality education and the people have shown that they truly care."
Since graduating from Faulkner, he's had more than 15 of his employees with the department enroll at Faulkner. Likewise, he's given back to the university, is a part of the President's Circle and regularly attends the university's annual Benefit Dinner. He was honored at the 2021 Marketplace Faith Friday Forums as the College of Arts and Sciences' Criminal Justice Department Young Alumnus of the Year and delivered the 2021 Commencement address.
"Ever since Sheriff Williams graduated with his MJA degree, he and I have had a wonderful working relationship," Cahoon said. "We talk often and he is constantly recruiting for us. He is a wonderful speaker, a great leader, a huge advocate for Faulkner and one I would call a friend."
Just like Faulkner's mission, Williams' goal for his department is to build up educated, servant leaders.
"I impress upon my officers the understanding of what our purpose is and why we do what we do in uncertain and difficult times," Williams said. "When everyone might not appreciate what we do, we must fall back on our purpose, which is greater than ourselves. I stress to them the importance of service to mankind. Just as the Son of Man came not to be served, but to serve, we in uniform, serve and give our lives for others."
"As a servant leader, we should be working toward the betterment of mankind, one person as a time, which is keeping with Faulkner's mission," he added. "We are called to be good stewards and great ambassadors for Christ. I appreciate the fact that Faulkner gave me a Christian education and now I encourage my officers to do the same."
Williams is married to Shirleta Williams, and has two daughters. He is a member of the Forest Hill Baptist Church where he formerly served eight years as chairman of the deacon board ministry.
In 2020, Williams wrote three books: Not Here to be Served, Police on Policing: The Unsung Consensus, and Murder In Augusta. His fourth book, Truth Has No Color, was published in July 2021.