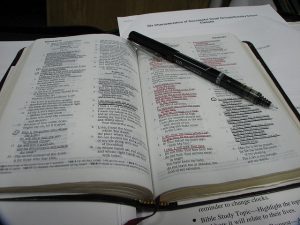 An online Ph.D. in Biblical Studies gives students a way to attain an advanced degree while delving into personal faith and spirituality. Working as a minister or pastor pairs well with a Biblical Studies degree, but these are not the only options.
Academia
Most postsecondary educators must have a Ph.D., according to the U.S. Bureau of Labor Statistics. A Ph.D. in Biblical Studies equips graduates to join faculties at universities and colleges. Graduates could teach courses such as Philosophy of Religion, Religious History, and Christian Education.
Primary or Secondary Teacher
Religious-based private schools require a faculty to teach students from kindergarten through high school. Someone with an online degree in Biblical studies would have the expertise necessary to teach a theology class at a private school.
Administrative and Executive Positions
Religious organizations and schools need administrators and executives on staff to manage the business and the employees. School administrators have responsibilities such as setting school policies, working with parents, managing faculty, working with a board of directors, and supervising students. An advanced degree in Biblical Studies equips administrators and executives to evaluate whether a religious organization is truly working towards goals consistent with the Bible, and to ensure all members of the organization are treated with Christian values.
Social Work
People with a strong desire to help others in all walks of life often pursue an online Ph.D. in Biblical Studies from Faulkner University. Social work can be a natural career after graduation. Social work enables graduates to focus on people of all ages experiencing hardships such as homelessness, poverty, abuse, and addiction. A social worker may work for a private organization, such as a faith-based agency, or work for the government at state and local levels.
Students may be surprised at the many career paths that open up with an online Ph.D. in Biblical Studies from Faulkner University.
Photo Credit: George Bannister