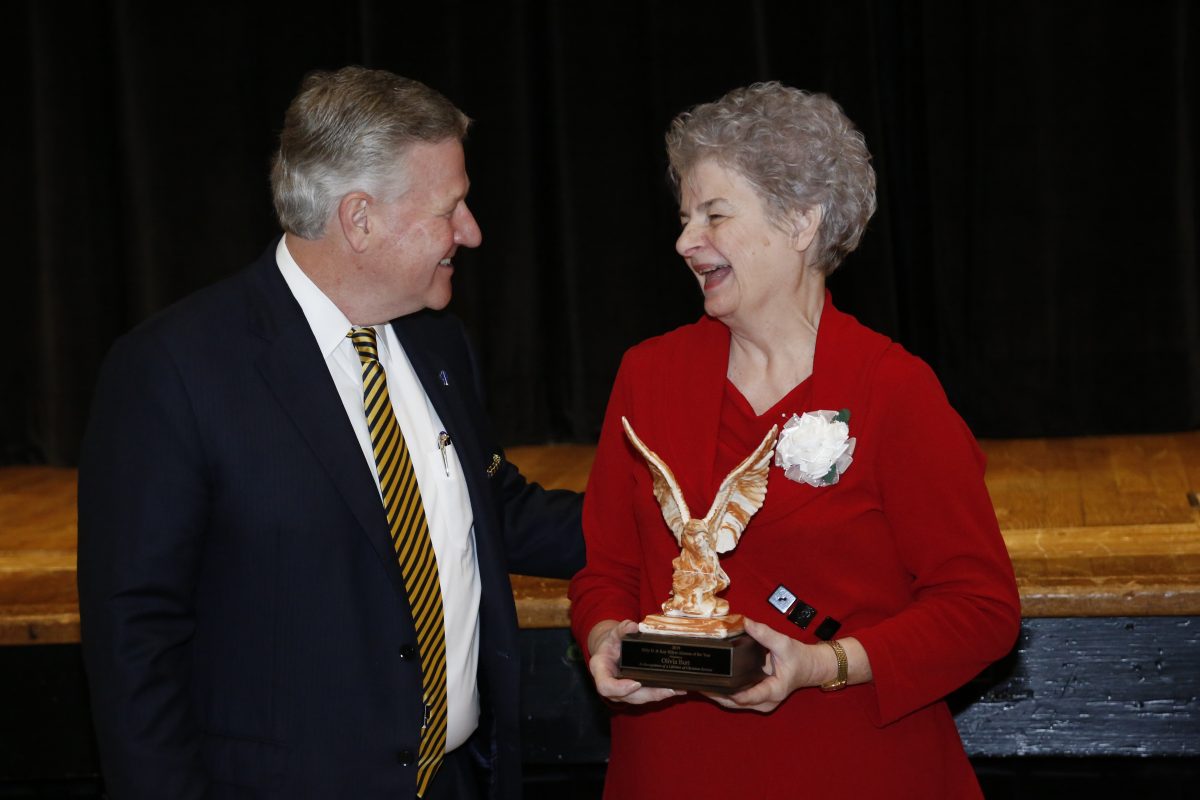 By Anna Shay Wasden
Olivia Mae Burt was told she would be named Alumna of the Year under the guise of meeting faculty and staff to discuss the history of Faulkner. When reflecting on her honor, a blush spread across her cheeks.
"It means a lot. I thought to myself, how did they pick my name? I never would have expected that. But, they did, and I am so thankful for this opportunity."
With hands clasped on the table before her and a fond smile on her lips, Burt talked about her time at Faulkner. Although she knew it as Alabama Christian College before its name change in 1985, the feelings she has toward the institution remain the same. "I love Faulkner because I went to school there. I love the people I met and knew there."
Burt highlights her father as a great influence on her family's faith, saying, "When he became a Christian, he became a Christian." He wanted his whole family to understand the importance behind a relationship with God. In 1951 he heard about Alabama Christian opening a first-grade program, he moved his family from Ramer to Montgomery, so his children could have a Christian education.
Burt's parents, "Momma and Poppa Burt" as many of her classmates fondly knew them, were staples in the Alabama Christian community. It was not rare to find a large group of children down the dirt-road at the family's apartment for Kool-aid, fudge and popcorn. Momma Burt taught kindergarten for years, four of which took place in the family's own home. All three of the Burt children attended the school and Poppa Burt took special care to ensure the success of such an amazing place.
Burt's father knew the impact Alabama Christian would have on his family. "Being around Christians gives you a strong background for when you go out into the real world. It was the biggest blessing." Olivia prides herself on the knowledge she has learned through years of studying the Bible. The simplicity of knowing a verse and opening her bible to find it exactly is something she cherishes each day.
In addition to her Bible skills, Burt's education gave her the ability to type and write shorthand. Although Faulkner's curriculum has changed over the years, the school still gives students the practical skills they need to be competitive in the workforce but also the skills to remain strong in their faith long after graduation. Burt's success is a true testament to the excellence demanded by her alma mater.
Following her graduation from high school in 1966, Burt went on to pursue her Associates Degree in Secretarial Procedures.
She remembers spending time in the cow pasture beside the "old campus" as she describes it. She and her school friends would watch the boys play intramural football and baseball as they toyed with funny hairstyles and discussed their studies. The Burt family's connection to the students did not disappear with her transition into college. When nights went late, the dorm advisors always knew where to find their missing tenants, hanging out with the Burts.  
Freshman initiation was a tradition on Alabama Christian College's campus and Olivia was no exception. She laughs, remembering the silly tasks she and her friends had to perform. Whether it was sporting a silly outfit or helping a sophomore carry their things, Olivia and her friends always enjoyed their duties. This fun-filled exciting time flew by and in just two short years, Olivia recalls being on her way to the "real world."  
Burt moved away for a short time but found herself back in Montgomery soon enough. She went back to school twice in her adult life but has always seen Faulkner as the foundation for her education. She says her education at Faulkner led her to a wonderful life full of excitement, adventure and life-long learning.
Burt's Christian education led her to a life of servanthood. She has been on many mission trips including seven to Thailand. Her tour of Israel is one that she says everyone should have the opportunity to do. She has been involved in the Lads to Leaders program on both the national and local level. She is always quick to volunteer in her congregation at University Church of Christ, particularly with the Hispanic outreach program.
As an active member of University Church of Christ, Burt feels a strong connection with the school that has given her so much. She finds ways each day to help the current students of Faulkner University. "When they have yard sales, I donate things. When they have lectures, I attend them."
Sometimes being a great alumna is not about giving great amounts of money and time. Rather, it's doing the smallest things which add up to the biggest impact.