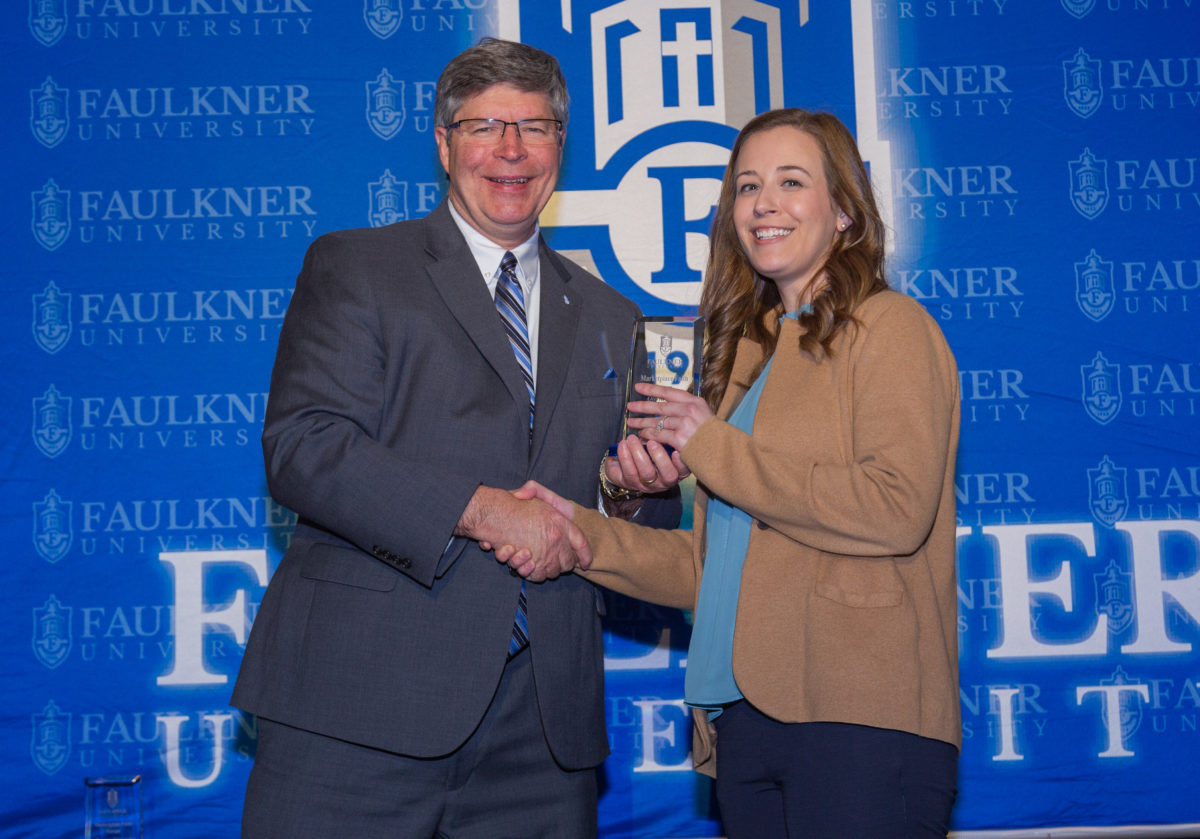 Speech and language have always been areas of interest to Faulkner alumna Olivia Boro, who decided to study English while attending Faulkner University. That interest would later expand to helping others find and rediscover their voice in a clinical setting.
As a Speech-Language Pathologist and Clinical Specialist with Covenant Healthcare in Knoxville, Tennessee, Boro shared her journey from classroom to clinic with students at Faulkner's 2023 Marketplace Faith Friday Forums. She was honored as the Distinguished Alumna for the College of Arts and Sciences' English, Humanities, Music and Great Books Honors programs.
"As a speech-language pathologist, I evaluate and treat disorders of speech, language, swallowing, cognition, and voice. At this time, I primarily work with adults with neurologic impairments, often due to stroke, traumatic brain injury, cancer, or neurologic disease, such as Parkinson's," Boro said. "The most rewarding moments for me, as a speech-language pathologist, have been seeing patients attain or very-nearly attain their highest level of function. God is the great physician and true healer. I like to think that He can use me to be just a small part of a journey to recovery for some patients."
Olivia graduated from Faulkner summa cum laude with a Bachelor of Arts in English in December of 2013. While at Faulkner, Boro was actively involved in campus life. She served as senator in student government and president of Sigma Tau Delta. She also participated in a service club, Delta Xi Omega and was a member of Alpha Chi and Sigma Alpha Pi. She served as a tutor in Faulkner's Writing Center and received the English Department award in 2013.
"I greatly enjoyed my time at Faulkner. I developed strong critical thinking, language, and professional writing skills as a result of my education at Faulkner, and these skills have served me well, both in pursuit of my graduate degree and in my subsequent career," Boro said. "Perhaps the greatest gifts my time at Faulkner offered, however, were the lifetime friendships I formed and the joy I discovered in my faith."
Boro found meaningful, lifetime friendships while at Faulkner, broadened her worldview and witnessed powerful Christian living.
"During my time at Faulkner, I witnessed powerful Christian living from my professors, as well my friends, and I carry those examples with me to this day," Boro said. "I have had occasions to pray with patients and discuss spiritual matters, but more often, practicing my faith in the workplace is embodied in striving to exemplify Christ in my interactions with patients. I aim to continually demonstrate kindness, mercy, and patience, and over the years, I have found that patients make the most gains when they are consistently met with encouragement and an environment of communication safety."
Following her graduation, Boro worked in Faulkner's Department of Student life until beginning graduate school at Harding University in the fall of 2014.
While at Harding, Boro worked as a graduate assistant during the fall of 2014 and served as a student clinician in the Harding University Speech Clinic throughout the 2014-2015 academic year. She received the Graduate Student Clinician of the Year award and subsequently completed three off-site externships, the final of which took place at the University of Arkansas for Medical Sciences and sparked her passion for medical speech pathology. She received Harding's Graduate Student of the Year award in 2016. Following the achievement of her Master's Degree in Speech-Language Pathology, Boro moved to Georgia to be near family.
Earn your Master of Science and Master of Arts in Speech Language Pathology at Faulkner now!
Boro worked for Piedmont Healthcare while in Georgia. During her time at Piedmont, she gained experience in program development, patient advocacy and evaluation/treatment of a variety of speech and voice disorders in inpatient and outpatient settings. While attending church, she met with her now husband Jake. In 2020, she moved to Knoxville, Tennessee and accepted a position with Covenant Healthcare as a clinical specialist. She is currently serving as a clinical fellowship supervisor and working in an outpatient clinic, where her caseload primarily consists of adults with neurologic disorders. She is certified in VitalStim and Lee Silverman Voice Therapy. She is also a registered MBSImP clinician.