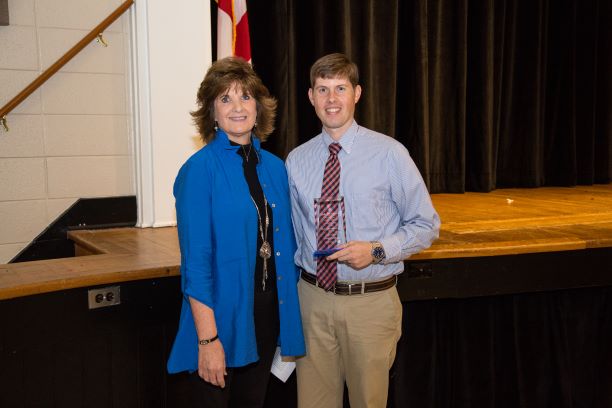 Paul Sullivan is now the senior radiation physicist for Office of Radiation Control under the Alabama Department of Public Health after graduating from Faulkner University in 2007. He left his home in Tallahassee, Florida to gain a Bachelor of Science in mathematics.
Sullivan was recently recognized as the Distinguished Alumnus for the College of Arts and Sciences at Faulkner's Alumni Honors Luncheon.
While at Faulkner, he played on the baseball team and then switched to play on the newly formed golf team. He was a member of Kappa all four years and served for Devotional Chair for two of those years.
He interned with the Alabama Sentencing Commission under the Administrative Office of Courts during his senior year and assisted the statistician in creating a new sentencing guidelines for judges to help with prison overcrowding. After graduation, he was hired as a full-time analyst for the Sentencing Commission.
In 2012 he changed careers and was hired as a radiation physicists for the Office of Radiation Control in the Alabama Department of Public Health and trained for a year with Oak Ridge Associated University, FEMA and the Nuclear Regulatory Commission in Health Physics.
Sullivan grew up in a Christian home, which gave him a strong foundation of making decisions and asking God what was the path he should take in life and for bringing others to heaven, he said.
"I knew I wanted to attend a Christian university because it would do nothing, but help me with my goals," Sullivan said. "Faulkner helped me to shape my physical and mental skills as well as my spiritual maturity."
"I am now able to bring these assets to every work environment. Although it is difficult to promote one's faith in a corporate setting, it is still very easy to promote a Christ-centered life and exude a Christ-like character."
Sullivan, who still enjoys golfing, lives in Montgomery with his wife Jessie, who also graduated from Faulkner in 2007 and they have a 13-month old son named Benjamin. They attend the Dalraida Church of Christ.