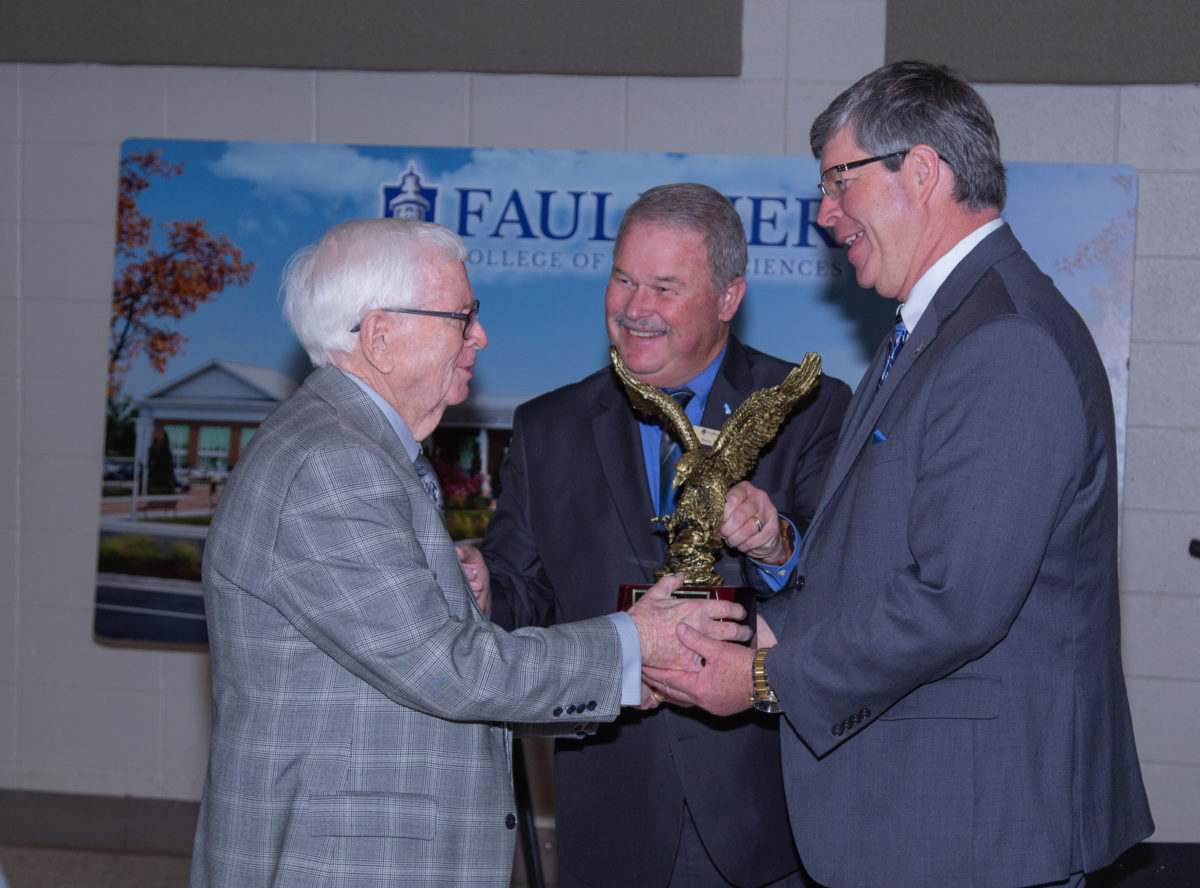 Fifty-two days after E.R. (Eulie Ross) Brannan was born, the world spiraled into chaos. The crash of the stock market in 1929 made millions of Americans homeless and jobless. He and his family were among those who lost their livelihoods and moved in search of work to survive the decade-long Great Depression. It's no surprise then that Brannan lived his life with grit, knew how to work hard from a young age, and was not deterred by hard times. With these values and his faith, Brannan would become one of the pillars of Alabama Christian College, now Faulkner University and served as the institution's third president.
Brannan was honored during Faulkner's 2023 Marketplace Faith Friday Forums as the Alumnus of the Year for his dedication and service to the university through the decades.
During those ten years after the Black Tuesday crash, Brannan's father lost many jobs as he moved his family around Ohio looking for work. Finally defeated, they moved back to the family farm in Gold Ridge, Alabama, located east of Cullman County.
They stayed there until World War II when the economy turned around thanks to the boost in military manufacturing. His father found work in the Alabama shipyard in Mobile, Alabama and Brannan, a young boy, was sent to Georgia Christian Academy, a boarding school in Dasher, Georgia.
It was always his mother's wish for Brannan to become a preacher.
They eventually sent Brannan to Montgomery, Alabama so he could finish both his high school studies and begin his college courses at Montgomery Bible College.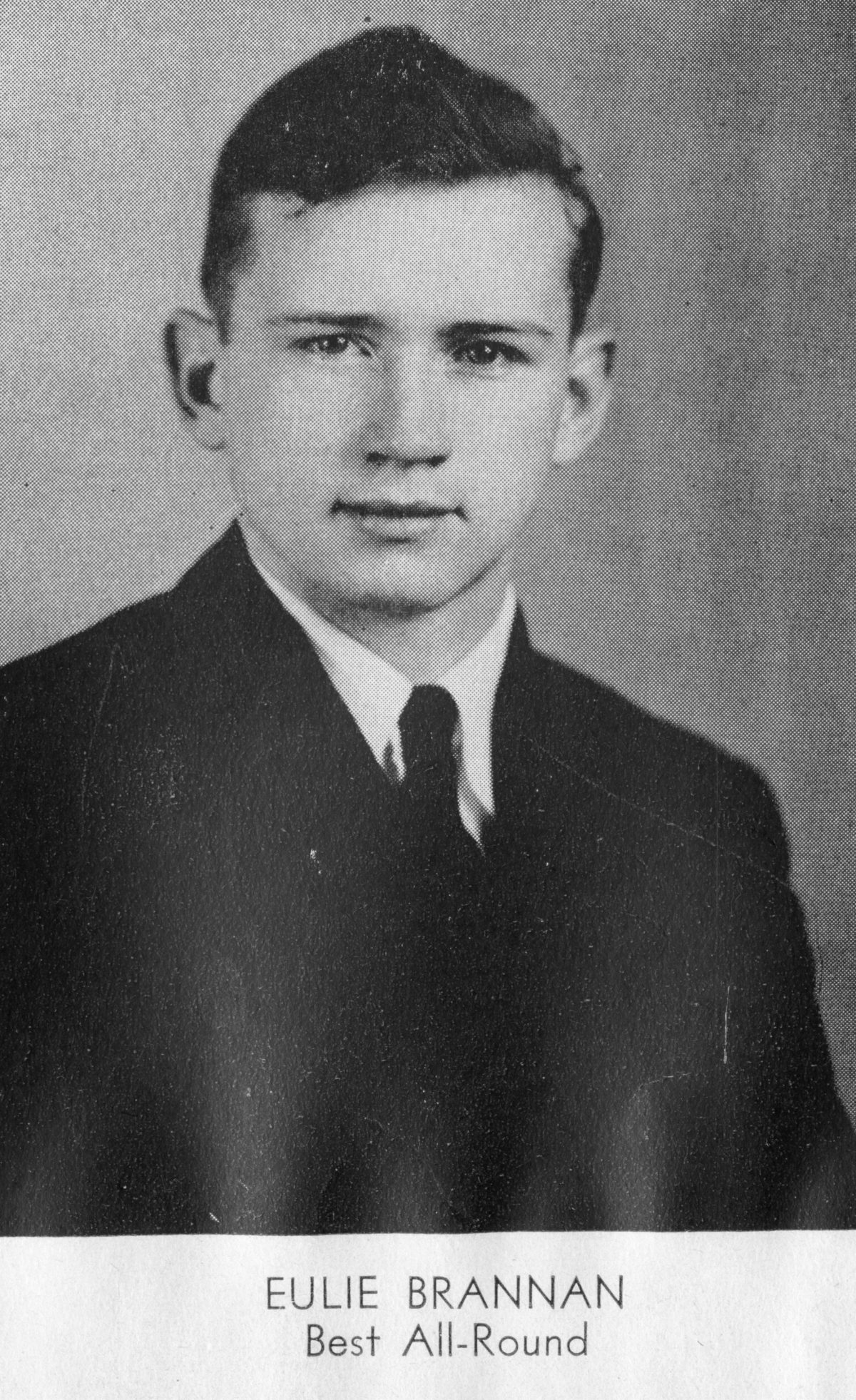 He was under the impression that the school was a rich antebellum campus with white colonial buildings like Tara in the famous movie, Gone with the Wind on a rolling 27-acre plot. However, when Brannan arrived, he was in for a surprise.
"I took a bus from Mobile to Montgomery and then paid a taxi a dime to take me to 914 Ann Street since it was within city limits," Brannan said. "We went up Court Street, turned on High Street and saw these beautiful homes. I couldn't wait. But then Ann Street was a dirt road, the dust was flying and the car was bouncing when we pulled up to stop in front of 914 Ann Street. The driver said, 'Sorry, I can't drive up the driveway. It is washed out.' So, I got out and walked up the drive to the school and Tara, it was not," he said laughing. "We slept in bunks in the boy's dormitories and the physical look of it was poor quality, but the teachers and the sacrifices they made, were some of the best instructors I ever had."
As a student, Brannan was active on campus as editor of The Vision School Newspaper, was an Honor Student and was named Mr. MBC as a junior and Best All Around as a senior. It was here that he met his first wife, Merle Moore Brannan who later died on October 3, 1980. She was a favorite among students when Brannan returned to the school to teach and serve as president at Alabama Christian.
Brannan would later marry Willie Metta Brannan, who died in June 2012 and Louise Wright Brannan who passed away in September 2022.
He earned his associate's degree in May 1947, five years after the school was founded in 1942. After graduation, Brannan transferred to Auburn University for two quarters and then to Huntingdon College where he received his bachelor's degree in March 1949 and began teaching junior high classes at the Montgomery Bible School. "At that time, we couldn't live on what the school paid us," Brannan said. "Our salaries were about $700 for the year."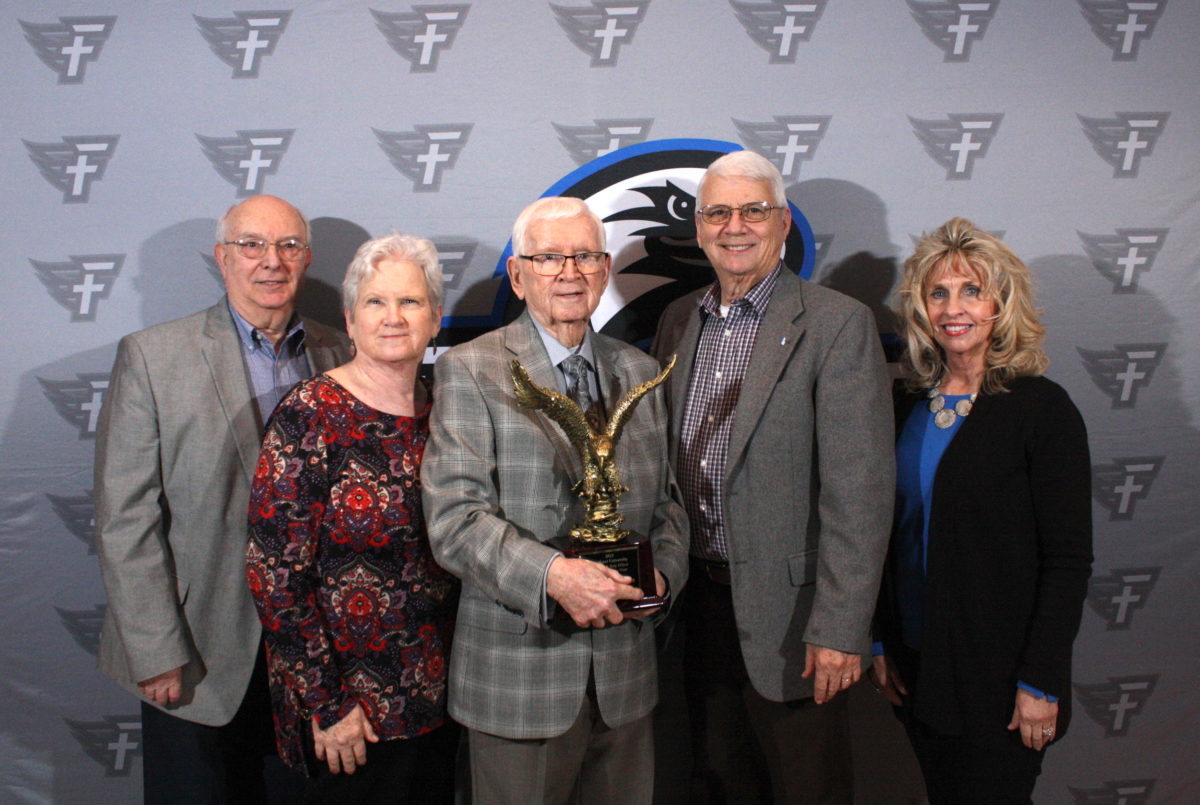 He enrolled in graduate school at Auburn and graduated in 1953 with a Master's degree and earned his doctorate in 1960. Through the years he was promoted to be the Alabama Christian high school principal and then assistant to the president, dean, vice president, finally becoming president in January 1973 and served as president until March 1981. Leaving the college for nine years he returned in 1990 to serve 14 years as special counsel to Faulkner President Billy Hilyer.
"What I really enjoyed about my role as president at Alabama Christian was the students. They have always been my primary interest through the years," Brannan said. "Helping to make them the best they could be was the greatest reward."
"When I was a student at Alabama Christian my desire was to be a preacher. Leonard Johnson asked me if I had ever considered teaching in a Christian school. He explained to me that teaching and preaching fit together like hand in glove when it came to furthering the Lord's work," he added. "That changed my whole perspective, and I went from preaching to teaching to president."
Brannan retired in 2004 and then served as the associate minister for Madison Church of Christ for the next 13 years. He retired from there at age 87 and then began writing and has five of his books published.
"It is hard not to feel indebted to Dr. Brannan," Henry said. "We are forever grateful for what you've done for this university."