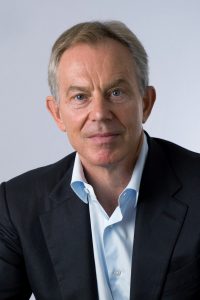 MONTGOMERY – The Right Honourable Tony Blair will make his debut visit to Alabama's capitol for Faulkner University's annual Benefit Dinner this October to help raise funds for student scholarships.
Faulkner University announced former Prime Minister of the United Kingdom Tony Blair would be the headlining speaker at the 2018 Benefit Dinner during a press conference this summer.
Each year, Faulkner successfully secures prominent and influential figures who are known globally to come to Montgomery for the university's biggest event of the year. Faulkner University's Annual Benefit Dinner has become a longstanding tradition and red-letter event on the social calendar for the River Region.
Although Blair has traveled the globe during his time as Prime Minister and in his work afterward, including the nonprofit, Tony Blair Institute for Global Change, this October will mark Blair's first visit to Montgomery. He's one the most "consequential global figures of our time," said Faulkner University President Mike Williams.
"Mr. Blair's unparalleled international experience, both as Prime Minister and since leaving office, gives him a unique perspective on global events and the political insight to offer solutions to the critical challenges of our time."
In the past Faulkner has brought renowned politicians, journalists, athletes, coaches, comedians and astronauts to speak in Montgomery.
Blair served as Prime Minister of the United Kingdom from 1997 to 2007, becoming the only Labour leader in the party's 100 year history to win three consecutive elections. In doing so he redefined modern, progressive politics.
During his time in Downing Street Blair implemented a major domestic reform agenda. Through record investment and reform, the education and healthcare sectors were transformed. Blair's New Labour Government implemented the largest hospital and school building program since the creation of the UK's welfare state. Overall crime was reduced by a third, and the first ever national minimum wage was introduced. There was also transformational progress on human rights and equality. All this while overseeing a period of record economic growth and levels of employment.
His work with Tony Blair Institute for Global Change focuses on helping nations deliver effective governance for their people, tackling extremism and promoting peaceful co-existence, working to deliver long-term regional peace and security in the Middle East and on developing the policy answers to the challenges posed by the rise of populism and insecurity in the West.
For tickets call 334-386-7257 or visit Faulkner.edu/blair.